Where the hell did 2016 go??
Did this year even happen? Or was it just some weird fever dream? Please let 2016 have been a fever dream.
It seems like we were just ringing in a brand new year, but it's almost been one full rotation around the sun and we're so ready for 2017.
Remember, there's only one rule about spending New Year's Eve in New York City– stay the fuck away from Times Square
If you want to forget what a doozy this past year has been or you're ready to party the night away well into the wee hours, here are some New Year's Parties you should definitely make a resolution to be at.
---
1. Parlor (286 Spring Street)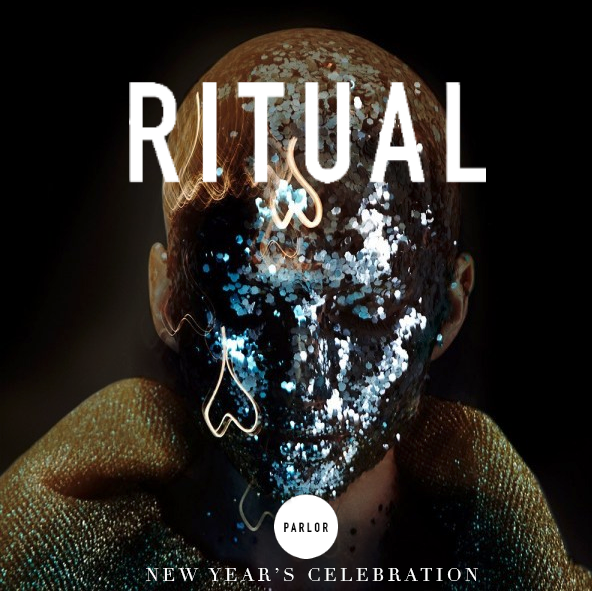 Step into a modern masquerade ball with Parlor for your last day of 2016 at Ritual, a masked black tie affair that's executed in four movements: Indulgence, Libation, Anticipation and Revelry, each offering a unique experience for a sublime New Year's Eve.
The evening starts off with a refined full-course dinner curated by the genius palates of Chef Matt Rojas (Eleven Madison Park, Rouge et Blanc) and Pastry Chef Brian Yurko (The Clocktower).
Enjoy carefully crafted cocktails and delicious champagne rounds crafted and curated by Salvatore Tafuri (Top of the Standard) and master sommelier Jared Fischer (Le Bernardin), respectively, all while dancing the hours before midnight to the beats of DJ MAAD.
[anad]
A NYE champagne toasts gives way to pumping sets by DJ Dorian Duvall along with dance performances from the members of the House of Ninja.

Tickets run between $120 for the open bar up through $200 for the full dinner package if you reserve your spot early. Get into it.
---
2. Eataly (Downtown & Flatiron locations)
Head to Downtown Eataly's upscale Osteria della Pace restaurant serving up an indulgent 6-course tasting menu from 5 to 10 p.m. for $145 with an optional wine pairing menu expertly paired by our Executive Chef and beverage team.
Check out the full menu right here, and make your reservation right here. If you haven't been to Eataly Downtown, you're missing out.
Or, go head to Eataly's Flatiron location and ring in the New Year at Baita, their Italian Alps pop-up restaurant that's been taking over Eataly's roof this winter. Climb up to their absurdly cozy mountain ski lodge for a magical evening under the stars and the New York City skyline!
Feast on overflowing buffet stations featuring traditional Alpine fare, while welcoming the New Year with their seriously legit selection of wine, beer, specialty cocktails, and an exclusive Prosecco Bar featuring 10 different wines.
There'll also be a photo booth, a great night on the dance floor, and a final countdown to midnight while enjoying a Prosecco toast, and a bite of their 22-pound (yeah, you read that right) Panettone, with your new Eatalian family! Get your tickets right here!
---
3. Brooklyn Bazaar (150 Greenpoint Avenue)

It's commonly accepted that 2016 was just the worst. So come send it off with a 'good riddance' and a flip of the bird at The Greatest New Year's Eve Party Ever: F**K 2016, hosted by the Brooklyn Bazaar. Indie bands Titus Andronicus, High Waisted and Toys in Trouble star as the night's musical guests.
You're encouraged to bring your worst 2016 memory on a piece of paper, tear it up in their shredder and watch as everyone's woes become a confetti explosion at midnight. Other fun features are an adult-size ball pit, jumbo see-saws and their party game classic, Pin The Blame On The Politician!
You can get $40 advance tickets into all three of their floors full of festivity, as well as $80 VIP spots, or just pay $50 at the door.
---
4. The Attic Rooftop (251 West 48th Street)
If you're crazy enough to brave midtown on New Year's Eve but rather not be standing out in the cold waiting for the ball to drop, take a ride up to The Attic, nicknamed 'Versailles in the sky' by its regulars, for a party and view that's hard to beat on December 31st.
Their sleek glass-covered roof gives off the affluence of a luxury penthouse while dancing the night away with music from the 80's any beyond. You can feel the vibrations from Times Square below as the final countdown begins, holding your champagne stories above it.
You'll drop a cool $199 on a ticket to get close to the ball without feeling a drop of cold, but some things are so worth it for the story.
---
5. The West End Lounge (955 West End Avenue)
Head to the Upper West Side to escape the insanity of midtown, where this intimate cabaret bar will transform into a forbidden speakeasy trimmed in gold, complete with a live big band, live singers, libations served in Prohibition-style paper bags and a secret password to get in. Comment secret!
Live music kicks off at 9 p.m. with emcees Jada Valenciaga and Cherry Lemonade. Say, "I'm Here For Bella" once through the door to be personally doted upon by one of the night's lovely drag hostesses. The frivolity continues after midnight as the cabaret turns into a massive backroom dance party.
All night open bar packages start at $75 and are accompanied by free light bites, live burlesque/boylesque performers and a champagne toast at midnight. Grab your tickets to this seductive soiree before they're gone.
---
6. The Way Station (683 Washington Avenue - Brooklyn)
This one is for all the nerds who wish they had a Time Lord handy to help them go back and redo 2016. This Dr. Who-themed den in Prospect Heights is throwing an End of Time Party and has invited the Wasabassco Burlesque dancers to join the cataclysmic event.
The TARDIS doors open at 8 p.m to some appetizers and go-go's, with full burlesque sets every hour until midnight, when you get your complimentary champagne toast. If you're feeling a little wibbly-wobbly from all the booze, their 1 a.m. bagel brunch should perk you right back up.
$55 general admission tickets are being capped at 70 people to keep things bigger on the inside, so get yours before they fly away.
---
7. Invite Only (63 Gansevoort Street)

Located in the rustic yet glamorous Meatpacking District, the contemporary Invite Only lounge lifts their exclusive velvet ropes for you to join in their VIP festivities with a five-hour premium open bar, which will keep your spirits high all through the night.
Grab some of the complimentary NYE party favors, as well as a glass of champagne, for when their special live DJ will do a countdown from the booth while spinning a high-energy mix of Top 40, Hip-Hop, House and Mash-Ups to keep the party rocking way past midnight.
[anad2]
General tickets are going for $89, with VIP packages that come with champagne and vodka bottle service as well as premium seating starting at $129.
---
8. Grand Prospect Hall (263 Prospect Avenue - Brooklyn)
Ever wanted to do new years in Paris? Well, you can certainly come as close as you can this side of the Atlantic over in Park Slope. The whimsical and decadent Grand Prospect Hall hosts Dances of Vice's Parisian Follies, a performance party taking a journey through the beauty of Paris.
Starting from Paris' Golden Age, the 1890s Belle Époque and ending up at the vibrant 1920s Années folles, the show encompasses classic cabaret entertainment, from opera to vaudeville to can can girls. Pair this with a full Parisian dinner and absinthe served up 19th Century style for an unforgettable NYE.

Tickets for this Parisian experience start from $80 and go upwards with more VIP options, such a balcony seating and bottle service. C'est magnifique!
[Feature Image Courtesy coztume.com]