February 14th… the day of love. Or, as some see it, twenty-four hours of extreme consumerism and making single people feel extra alone.
For those of you who have been #blessed by cupid's arrow, you're probably starting to feel the pressure. You want to make your significant other feel extra special and create the perfect fairytale ending to the evening.

FoodKick, the undoubtedly dope younger sister of FreshDirect, is saving us from no-food 'Oh, shit!' crisis by delivering fresh food, cold booze*, and essentially everything we could ever want or need right to our apartments in as little as an hour.
The pressure. You begin to sweat at the thought of it all. Finding a restaurant with a coveted reservation available. White table cloths. Fancy prix-fixes (who can pronounce that anyway?!). It's ALL TOO MUCH.
You—yes you—can take control of the night. Sounds appealing (in a totally non-weird, non-50 Shades of Grey kind of way), right? How, you may ask, can you pull off such a feat? One word, two syllables, endless possibilities: FoodKick.
FoodKick, the undoubtedly dope younger sister of FreshDirect, is saving us from no-food 'Oh, shit!' crisis by delivering fresh food, cold booze*, and essentially everything we could ever want or need right to our apartments in as little as an hour. Including everything you need to crush Valentine's Day.

When you're cooking for bae, FoodKick's got your back.
They've got a range of prepared meals and meal hacks, plus stuff you forgot like wine, flowers, and chocolate, and, oh yeah—fast AF delivery, take some of the dangers and guesswork out of cooking with love in the name of love.
---
1. Plan ahead
The worst (and least sexy) thing in the world is when you seem like a total fool in the kitchen. Seriously, how could you spend your life with someone who can't even handle a simple roasted chicken? Short answer: you can't.
Don't cha worry, FoodKick is the wingman you've always longed for. They're like your sous-chef so you can be Chef de Cuisine because, well, how would it look if you weren't the head chef in your own kitchen?
Whether you opt for a ready-to-devour prepared dish or a meal kit that will guide you through the cooking process step by step, FoodKick will (figuratively) knock the pants off your bae with your seemingly endless culinary mastery.
Whatever you decide, FoodKick's there for you. You want to cook a romantic steak dinner for two? They got you with everything you need.
It'll be there in as little as an hour. Don't want to lift more than a finger, but still want something incredibly delicious? Hit up their Chili-Garlic Halibut with incredible coconut rice and snow peas finished with an ever-so-subtly hot chili-garlic sauce. Boom. 5 stars for that.
Remember: You don't have to cook everything yourself, and you definitely don't have to tell bae whether you did or didn't. Or, you can cook everything.

---
2. Get the apartment ready
You're hosting a romantic evening and the last thing you need is for your lady or man friend to think you're a total barbarian.
Look around your place: are you realizing you're out of toilet paper and hand soap? Don't worry, we've all been there —and FoodKick knows it.
Fresh food - check. Cold booze - check, plus! Your average convenience store needs? Check one, check two, boom, bap! Toothpaste, shaving cream, deodorant, condoms—everything to get you and your apartment suited and booted for a big night of romance.
Don't let those drugstore cashiers judge your life when you can get it right to your door.
---
3. Get the drank
So... the apartment is ready. The food won't suck, you've got all the essentials... except one thing: ALCOHOL. Bubbles, wine, cocktails, straight liquor, beer—what's an adult evening without a little drink? Nothing, that's what it is.
And everyone knows that on nights like this, going to the liquor store SUCKS. It's crowded with long lines and nobody has time for that. NOBODY. With FoodKick, you don't have to deal with all that hassle because they'll deliver anything you need right to your door. Oh, and even ice.
That's right, with a couple of taps on your app or computer, you can have chilled wine and cold beer delivered right to your doorstep. It's kind of like having your own magical alcohol fairy.
---
4. Set the mood
OMG there are so many ways to do this wrong! So, let's just do a quick hit on doing this right.
Candles: Yes. Good.
Bottle of bubbles on ice/chilled white wine/cocktails ready to pour/cold beer/bottle of red wine opened about 10-15 minutes before they walk through the door: BOOM. Done.
Flowers: Look at you go!
Music: Don't be a goon. Jazz is always a safe bet—like, real jazz though, think the kind that Ryan Gosling is trying to save in La La Land rather than elevator music—and you can't go wrong with something sultry like Etta James, Tony Bennet, Frank Sinatra, or Boyz II Men (#sorrynotsorry).
Rose petals next to the bathtub: Are you giving them a bubble bath? If yes, good. If no, you're probably doing too much.
Engagement ring fastened with a bow to your ever-loyal dog who will, on cue, deliver said ring to bae: Contrived AF (but props to your dog, for real), but if that's really what you want to do, just. Don't. Screw. It. Up.
---
5. Desserts
Sure, squeezing whip cream into your mouth from a can is great on any other night, but this is Valentine's Day, people! Have some class!
Why settle for some crappy store-bought brownies when FoodKick can step in with some sensual scoops from NYC-based faves like OddFellows, Van Leeuwen, and Blue Marble?
Better yet, mix things up! Ready-to-Bake Chocolate Rugelach from Zaro's! Chocolate Chess, Lemon Chess, or Salty Honey pies from Four & Twenty Blackbirds! Live a little. Get fancy AF.
---
OR - The more the merrier
But remember: Valentine's Day isn't just about couples.
It's about love, actually—and not Love Actually because that's a Christmas movie, so don't even think about playing that.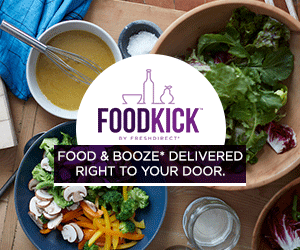 So even if you're not looking to cook for that special light in your life, you can still get down with what's easily just as great: anti-Valentine's Day parties, Galentine's Day parties, International Quirkyalone Day, Singles Awareness Day—the list goes on and on.
So, if you're the one looking to throw a Galentine's Day party of epic proportions (or the male equivalent without the fun name), FoodKick's still got you covered.
If you need to eat your feelings February 14th, we get it. We do. And so does FoodKick.
Don't Leave the Kitchen Brokenhearted—Get FoodKick. Head Over to FoodKick.com or Download the App for iPhone & Android.