We've been enjoying the sort-of-nice weather around here in New York City, haven't we?
Well, the universe just couldn't have that. "No comfortable commutes to work!" the universe shouts, which is why, as reported by NBC, another wintry storm is poised to descend upon the city on Tuesday evening.
The storm is expected to pound NYC, and the tri-state area, with heavy rain and winds.
So what should we prepare for? No, it won't be a massive snowfall, but it will be heavy rain and winds.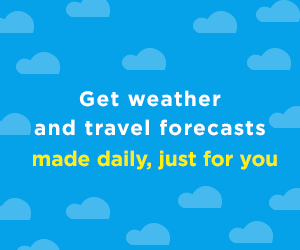 We'll also experience a significant drop in temperature, an increase in cloud coverage and, wait for it, "wintry weather in the afternoon and evening."
So, while we shouldn't all hunker down and prepare to skip work due to snow on Wednesday, we might experience some snowfall.
The roads probably won't freeze over, as temperatures are expected to hover above the freezing mark, though roads to the north and west of NYC should prepare for freezing-over and snow accumulation.
If you live in Rockland, Westchester, Orange, Putnam, Sullivan, Ulster, and Dutchess in New York, and Sussex, Warren, Morris, western Passaic, and northwest Bergen in South Jersey, you've been issued a winter weather advisory. Prepare accordingly.
[anad]
If you're a person who lives in one of those places, you should probably shack up with your NYC-residing friends. Or just get your ice scrapers ready.
Luckily, things are expected to move back into 50 degrees Fahrenheit on Wednesday, though high winds will be expected to continue into Thursday morning.
Still, sadly, it'll plummet back down again into the low 30s on Saturday, so it's not time to put away those winter coats, hats, and gloves for the season quite yet.
If reading all of this was sort of boring, download the cutest weather kitty app ever, Poncho, and it'll deliver the weather news to you in the most splendid way.
We mean it. Truly. Splendid. Like, it'll choose a song to play for you that coordinates with the weather. That's what we call style. Download the Poncho weather app here.
Anyway, bundle up, and get ready for some classic NYC sidewalk umbrella wars for the rest of the day, people. We hope you didn't spend too much time on your hair this morning.
Check out 8 Reasons You Might Need to Get Out of NYC This February.
[via NBC]
[Feature Image Courtesy Weather.com]