Oh, summer camp. Don't you just miss it? Shaking fireflies in a mason jar, mosquito bites, campfires and s'mores, the unforgettable yet eternally doomed romances of awkward youth. Ah, yes. Summer camp.
Nothing beats summer camp...
Club Getaway is the original summer camp for adults; an outdoor oasis where you can shed the clutter of your daily hustle and embark on your own adventures.
Except for a summer camp where you can chill, truly appreciate the scenery—something we're loathe to take for granted living in the city, and do adult things like drink and sleeping in spots that are more reasonably comfortable than literally under the stars.
Well, your dreams of an exciting adventure away at camp just grew up with Club Getaway.
Nestled in the quiet beauty of Kent, Connecticut is the extravagant outdoor play place we've been looking for all our adult lives.
[anad]
Club Getaway is the original summer camp for adults; an outdoor oasis where you can shed the clutter of your daily hustle and embark on your own incredible adventures surrounded by both the friends you love and the friends you've yet to make.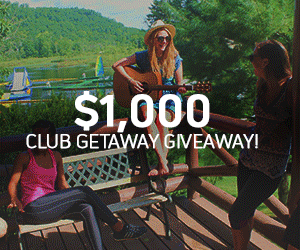 And we're giving you and a friend an opportunity to make summer camp great again with this incredible giveaway for $1,000 in Club Getaway credit. That basically covers any weekend you want (with the exception of some of the holiday weekends).
Yup. A thousand bucks for you to choose your own adventure.
There's none of that nonsense when it comes to camp counselors doing some tired shtick at a talent show. There's no touchy-feely camp camp singalong moments. There's no homesickness-inducing letters to mom or excruciatingly long hours of arts and crafts.
When we say summer camp for adults, we mean it. Club Getaway has figured out all of the worst, structured, routine parts of summer camp and basically just cast them aside. In their place?
Fun. Freedom. Friends. Good times. Relaxed vibes.
Fun.
There's a lake for you to wil' out and water ski, do flips on the water trampoline, or even just relax on the lake in a canoe or kayak.
You want to get a little rough and rugged? Mountain biking. Zip lines. Rock walls. Giant swings. Boom.
Looking for a more low-key adventure? No sweat. You can still treat yourself to a different kind of adventure with a bourbon tasting and tour of the Litchfield Distillery, hit up the largest flea market in the Northeast at Elephant's Trunk, or join other camper's on an epic pub hike!
Adventure is out there and not far. No, really. Club Getaway is only 90 miles outside of New York City which might as well be a hundred thousand considering you can actually see the stars.

Looking to make your next great escape? Check out their different weekend packages. You can get down in the great outdoors any weekend you choose from May until October.
Your summer vacation shouldn't be spent in airports on the way to something overrated. Stop wasting time with checked bags and jet lag.
Get out. Go out into the wilderness! Adventure is out there. Make your getaway with Club Getaway.
[Feature Image Courtesy via Club Getaway]