You want a dream vacay in the City By The Bay? Enter today, or it may slip away. You don't have to pay. Or eat any hay. Enter to win—you just may.
Ok, now that the Happy Gilmore segment is out of the way (no rhyme intended), let's get serious.
You live in New York City—arguably the greatest city in the world.
But as it turns out, there are some other really awesome, funky, foodie-friendly cities out there and San Francisco happens to be at the top of that list.
And Headlines & Heroes wants to send you there. With a friend. For three, free blissful nights at the W San Fransisco.
But they also want to cut down on your thinking while you're there, so they've taken the liberty of throwing in some unbelievable, Insta-worthy activities like a Helicopter Tour that lets you see the city from the air with all its rolling hills, the gorgeous Golden Gate Bridge and the glittering #sanfransiscobay.
Oh, and don't forget Alcatraz!
[anad]
You're sure to be hungry (and THIRSTY) after all that choppering, so they've also thrown in some dinner and drinks at Bar Agricole, one of SoMa's hottest haunts.
What's SoMA, you ask? (You really need to get out of New York.)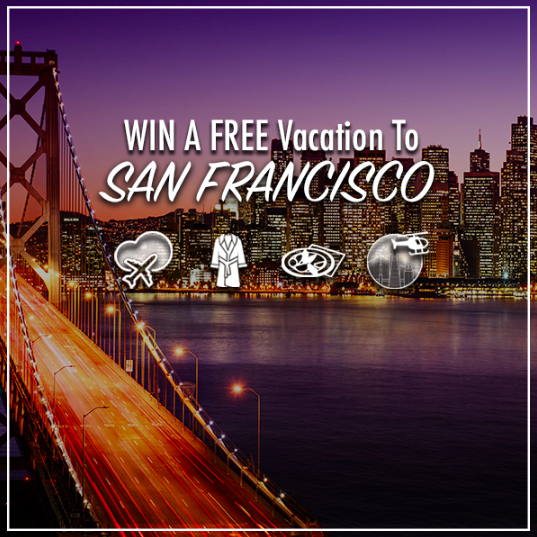 It stands for South of Market, and it happens to be the cultural nexus of San Fransisco, rife with techies, galleries, shops, clubs and you guessed it—great bars and restaurants.
Bar Agricole, where you'll be dining and imbibing, has a tempting artisanal cocktail menu, with concoctions like the brandy-based Hallelujah or the gin-based Monkey's Gland, and an extensive food menu with highlights like the citrusy Lamb Ribs appetizer followed by perhaps a Catalina Island Yellowtail Jack or the scrumptious Little Lamb and Pork Meatballs.
Sounds pretty good, right?
We thought so. So get to entering here.
Enter This Insane San Francisco Getaway Right Here Right Now.