By next summer, New Yorkers in growing neighborhoods across the city will have a new way of getting around — and all for the price of one subway ride.
Mayor Bill de Blasio announced Wednesday that the Citywide Ferry Service — expected to connect 21 neighborhoods — is on track to launch by 2017 with Hornblower, Inc. as operator.
The citywide service is the first in more than a century and will cost riders the same as a single subway ride.
The ferry will cover more than 60 miles of waterway and will connect neighborhoods in the five boroughs such as Astoria, Rockaway, the Lower East Side, and Bay Ridge.
"For the price of a single subway ride, tens-of-thousands of New Yorkers are going to have a new public transit option linking them to jobs, education and opportunities across the city. It's going to be a commute like no other: fresh air, harbor views and a fast ride on the open water," de Blasio said.
"We are selecting an operator with an incredible track record providing service in our harbor."
Hornblower, Inc. will be delivering about 18 new boats for the ferry service, which will be able to carry at least 149 passengers and all be equipped with Wi-Fi
The Boats will be fully accessible for New Yorkers with disabilities and will be equipped with an engine design that reduces emissions and noise.
[anad]
"We have already begun work to deliver a ferry system by the summer of 2017 which will revolutionize the way New Yorkers work, live and play, and we are confident this new system will become a local favorite for decades to come," said Terry MacRae, CEO of Hornblower.
The fare for the ferry service will allow for free transfers to any other ferry route within the system, which includes the East River Ferry. Tickets will be available as both paper or through a smartphone and discounts will be given to seniors, children and New Yorkers with disabilities.
Anyone who wants to bring a bicycle onto the ferry would have to pay a $1 fee.
The first routes scheduled to launch in 2017 are those in Rockaway, south Brooklyn and Astoria. The Rockaway route will connect to the Brooklyn Army Terminal and Wall Street.
The Astoria route will connect to Roosevelt Island (Cornell Tech), Long Island City, East 34th Street and Wall Street. The South Brooklyn way would connect to Bay Ridge, Brooklyn Army Terminal, Red Hook, Brooklyn Bridge Park's Pier 1 and Pier 6, and Wall Street — with a optional route to Governors Island.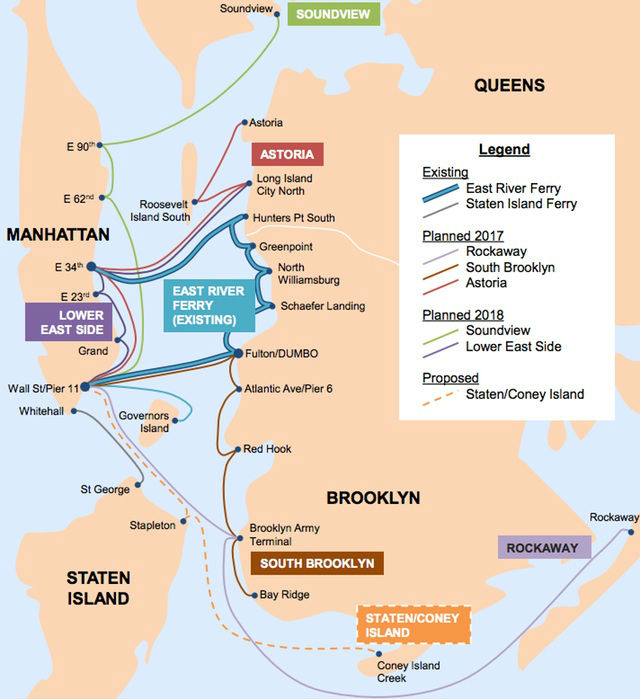 Commuting time from the first routes to Wall Street and East 34th Street ranges from 22 minutes to 1 hour.
In 2018 the service would launch for Soundview in the Bronx and the Lower East Side. Future routes from Coney Island and Stapleton in Staten Island are currently in the planning stages.
By the time it is fully operational in 2018, the service will carry about 4.6 millions trips per year and offer new transportation to area where housing and
"The greatest expansion of Citywide Ferry Service in New York in a century will provide direct connectivity to underserved waterfront communities around the boroughs, while enabling resiliency, redundancy and development for our city," said Maria Torres-Springer, president of the New York City Economic Development Corporation.
By: Angy Altamirano, Metro New York
Like what you see? Read more New York City news at Metro. Follow us on Facebook and Twitter!