Sure, having Halloween actually fall on a weekend would be dope BUT we're totally digging how Halloween on a Tuesday gives us an extended celebration. We hereby declare the Halloweekend lasts through Tuesday.
From now until the big day, there are plenty of exciting, festive events happening to really get you in the spirit (despite certain Christmas-themed events currently jumping the gun *cough cough* Winter Village *cough*)
Hopefully, all your costume arrangements are in order and you're ready to celebrate!
Friday, October 27th
This ghoulish tour explores Brooklyn's most infamous neighborhoods, visiting sites of both ancient and recent deadly events, even dating back to the 1600s. It even includes a visit to where alleged alien abductions took place near the Brooklyn Bridge.
You can book a tour individually or make it a private group outing!
mrpurplenyc Zombie Prom 💀 Friday Night / 10pm. Formal undead looks strongly encouraged 🔪 Table reservations suggested. 🎃 @gerbergroup @hotelindigoles . . . . . . #halloween2017 #happyhalloween #halloween #zombieprom #nychalloween #nycparties #les #lowereastside #nyc #newyork #newyorkcity #newyorkcitylife #gerbergroup #hotelindigoles
Starting at 10 pm, things are gonna be getting positively undead at Mr. Purple's Zombie Prom-themed Halloween party! Your deadliest formal attire is strongly encouraged and DJ Danga will be spinning all night.
Can you think of a better way to celebrate Halloween than with 360-degree breathtaking views of the city? Didn't think so!

The Devil's Birthday Bash at The Roof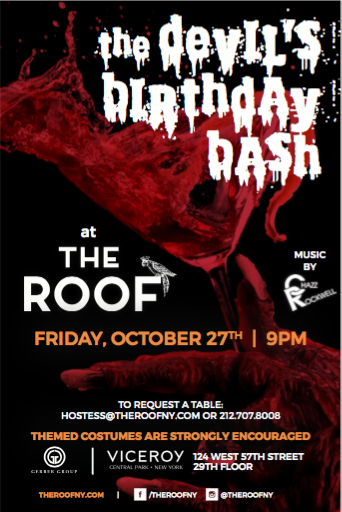 Come celebrate all of your sins at this demonic bash! Starting at 9 PM, music will be blasting by Chazz Rockwell, and you can enjoy luscious cocktails and delicious small plates as you take in soaring views of Central Park from on high.
Email hostess@theroofny.com or call 212-707-8008 to reserve a table. Themed costumes are highly encouraged.

Saturday, October 28th
loreleynyc The Haunted Beer Garden at Loreley is ready! All weekend long and Monday the 31st! Get here! . #halloween #nyc #halloweenparty #halloweennyc #halloween2016 #party #pumpkin #pumpkinkegs #pumpkinbeer #pumpkinale #southerntier #fall #harvest #october #oktoberfest #germanbeer #beer #beerme #beerstagram #beerporn
Loreley Beer Garden, located @ 7 Rivington St. Lower East Side, is hosting a haunted Halloween bash! Kicking off at 8 PM Saturday, the partying will continue through the night with Pumpkin kegs, Halloween specials, and if you're feeling confident in your getup, a costume contest at midnight with a first place prize of $250.
No cover, so you can just show up, and pay as you go!
nitehawkcinema 90s night at Nitehawk! @landlinemovie Q&A with Gillian Robespierre and Elisabeth Holm. LANDLINE is now playing!
To all our fellow film enthusiasts and connoisseurs, Nighthawk Cinema is hosting this awesome celebration of the horror film with "The Haunted Library."
Reserve your tickets and show up to the theatre at 11:45 PM Saturday night for the midnight showing of 5 consecutive horror films based on classic favorite books!
As per tradition, there will be a screening of a new horror short film and even a costume contest. More info here!
Sunday, October 29th
Night of 1,000 Jack-O-Lanterns
governorsisland 🎃We're going to light up New York Harbor this weekend starting Thursday! 🎃Come see more than 1,000 illuminated jack o'lanterns carved by artists, including live demonstrations! Only a few tickets left! Get yours at therise.org 🎃#governorsisland #therise #riseofthejackolanterns #nightofathousandjackolanterns #colonelsrow #pumpkins #jackolanterns
Tons of talented local artists are coming together to carve up 1,000 pumpkins for this brand-new NYC event. Attendees will start out at Battery Maritime Building then take a quick excursion through New York harbor and finish off at Governor's Island for a massive jack o'lantern show!
Make sure to get tickets in advance!
Monday, October 30th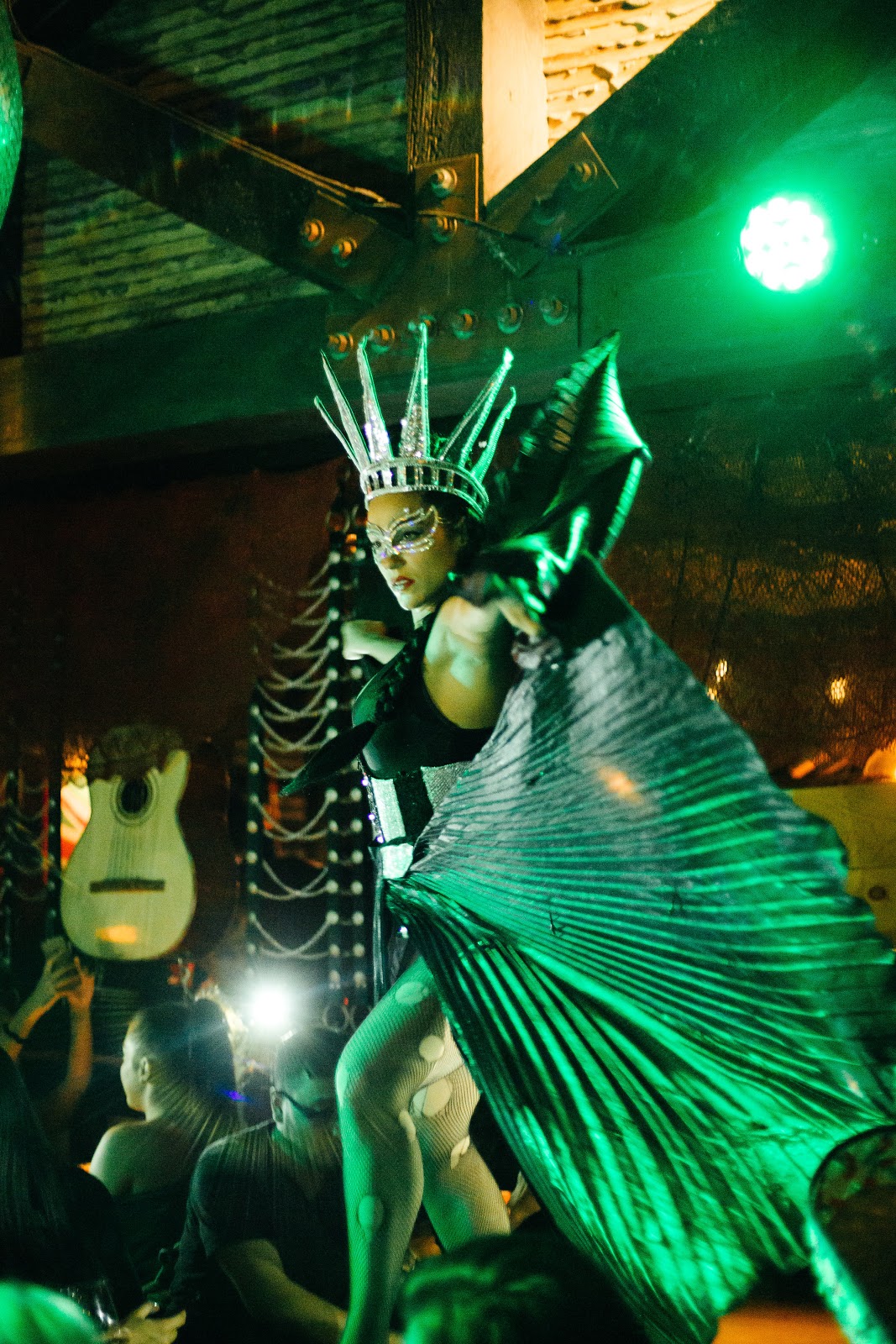 Bodega Negra's favorite Mexican dinner party will take on a spooky twist this Monday. The weekly suppers, held at Bodega Negra at the Dream Downtown hotel, are spiked with variety acts like fire-breathers, burlesque performers, and a tabletop dancer who prances to the Champ's "Tequila."
They're also hosting a costume contest where the top three best-dressed partygoers will win some creepy prizes. Guests can also enjoy some special Halloween offerings: an epic Don Huevo Orange dessert and a Loco Halloween cocktail with activated charcoal and an orange salt rim and dehydrated pumpkin garnish.

Tuesday, October 31th
nychalloween Some say to dance is to be out of yourself, to become larger, more beautiful... are you ready to dance with us? #ImaginaryMenagerie 📷 Dan Tom
This year will be the 44th Annual Village Halloween Parade and costume contest and we're looking to get in on the fun. The event will feature live music, Halloween-themed puppets, dancers, and much more!
You can watch it all in person, or LIVE on TV Tuesday night @ 7. Though it would be far more interesting to actually participate, costume required! Check out all the info you'll need on joining here.
conartistnyc @inmmezzure in the studio today, as one of the artist part of our current Street Art Residency with a showcase of the 5 selected artists this December 18-22nd #streetart #publicart #artforeveryone #conartistcollective #lowereastside
This artist-run Halloween celebration can add a unique twist to your typical holiday festivities. Tickets are $15, which includes an original, hand-painted mask that you will need to pick up beforehand and wear to the event.
The event itself will be a mesh of creative collaboration accompanied by plenty of drinks and festive shenanigans. We love the air of mystery! Get your tickets here.
amy_ezell 🔮🎼 #thevynl #nyc #music
Short for Vintage New York Lifestyle, this trendy venue might be the perfect place to spend your Halloween night. Starting at 8 PM, band Spells & Curses will be bringing some magical tunes to the main room and a special $10 cocktail called Black Sclera, including activated charcoal, beet juice and more, will be poppin' onto the menu.
Halloween 2017 Party at The Con Artist Collective
conartistnyc 7pm-11pm tonight! 119 Ludlow. Roll through and pick up a one of a kind mask. It also gets you into our Halloween party on the 31st! From $15
Looking for something on the edgier side to ignite your Halloween plans? For $15, you can grab an original hand painted mask and admission to this boozey Ludlow Street festivus on the Lower East Side. Unforgettable memories and creative synergy will def be in store at this infamously lit event! The party will be poppin from 7 pm until 2 am, so your All Hallows Eve will be all booked up!
ALL WEEKEND LONG
Dia de los Muertos at Street Taco (10/28-11/2)

streettacony Come fiesta with us Saturday! 🌮🍹☠️💃🏽 We're throwing a Dia De Los Muertos party with flowing drinks, specialty tacos, DJ-spun beats, costumes & face painting contests. We hope to see you there! #fiesta #diadelosmuertos #dayofthedead #event #halloween #party #costumes #drinks #tacos #margarita #margaritas #djmk #cocktails #costume #mexican #nyc #streettacony
Street Taco is going all out for Day of the Dead, offering food and beverage specials throughout the week, plus one big night full of deadly fun. On Saturday, the place will be decked out in Day of the Dead decorations, and DJ MK will be spinning all night. Costumes highly encouraged!
If you can't make it for the big event, from October 28-November 2 you can enjoy Pig Head Carnitas Tacos offered for $5 and drink specials like Blood Orange Margarita and Witches Brew Sangria. For inquiries, questions and reservation requests email them at info@streettacony.com.