Your favorite non-ice cream is showing no signs of slowing down.
Halo Top was recently named America's most popular pint of ice cream and it plans to keep that spot on top. How, you ask? By introducing all new flavors!
Halo Top took the world by storm this year, after its low calorie ice cream finally made its way to the public eye.
After years of sitting on shelves (they've actually been around since 2012), people began to take notice of the pints, which boast about 12 grams of protein each and average under 400 calories per pint.
Their original flavors were Chocolate, Vanilla Bean and several others, but they branched out earlier this year, introducing a Golden Ticket competition for Halo Top loyals.
The contest involved buying pints in order to find one of five around the country that held a Golden Ticket. If you were lucky enough to find a ticket, you had the opportunity to win a vacation to Maui, or even $5,000 at your grocer of choice.
Now, the ice cream giant has announced 7 new flavors. Read all about 'em, and try not to drool!
[anad]
---
Pancakes & Waffles: I'm told this is an office favorite, and I have to say, I'm intrigued. The pint comes with bites of buttery pancakes and waffles. In the ice cream. I'll give you a second to digest that before you imagine digesting it. But wait, there are also droplets of maple syrup, giving you the full breakfast experience with the added benefit of being ice cream.
Cinnamon Roll: Picture a cinnamon roll fresh from the oven. Now, imagine its being chopped up and swirled into your favorite ice cream along with the icing glaze on top. Yeah, I can't wait either.
Mochi Green Tea: I mean this one was inevitable, right? Green tea is another trend making waves in the past few years. The tea and ice cream combo is a match made in foodie heaven. Green tea taste combines with bites of mochi- a sticky rice dessert- to create a fresh taste that sounds like a perfect end to a meal.
Rainbow Swirl: This one got me the most excited. All I can think about is rainbow sorbet and the fruity, delicious burst of flavor that coats your mouth when you eat it. It's not exactly the chocolate ice cream some people crave, but when you want something more bright and less heavy, this sounds like a great option.
Candy Bar: Snickers-lovers, this one is for you. The pint layers peanuts, chocolate and caramel to remind you of your childhood... or the candy you secretly snack on every day on your work break.
Chocolate Covered Banana: These have been hugely popular, especially since Arrested Development. Halo Top must subscribe to their motto "there's always money in the banana stand" because this idea is pure genius.
Caramel Macchiato: Coffee ice cream. Caramel Swirl. Need I say more? I'm betting coffee-lovers have a new morning favorite.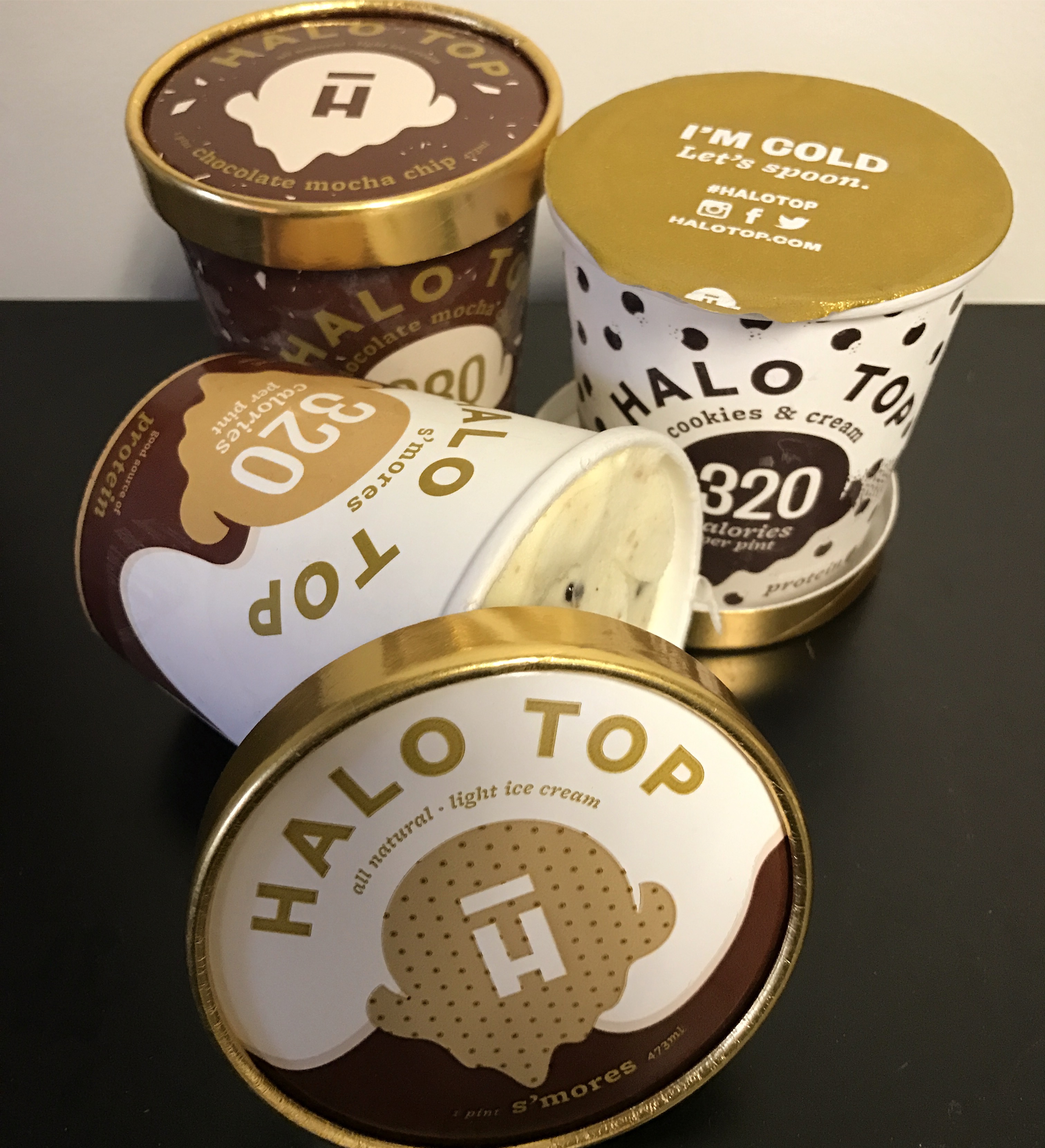 **Update: An 8th flavor has been announced today. PSL fans, get ready because Pumpkin Pie ice cream is also coming to a store near you! It's the company's first seasonal and limited time flavor offering, becoming available soon and extending until the end of November.
Halo Top currently has 17 flavors and these seven will change the game even more. If they're anything like the current flavors, these new ones will be just as big of a game-changer.
Die-hard fans can pre-order them here. But the flavors officially roll out mid-to-late August, so keep an eye out in your local store!

[Feature Image Courtesy Time]