Whether they were ready to pop bottles or they were broke AF, the guys came from all over New York City to stick it to Uncle Sam at the West End Lounge's first annual Tax Day Underwear Party.
And it turned out to be quite the night.
At 11 p.m., the party room's doors opened and the first line of revelers headed for the clothes check booth, speedily stripping down to just underwear and shoes before heading to the bar to cash in on the night's $6 drink special for anyone sporting their skivvies.
Descending down the West End's wrought iron stairs from the street, I was quickly swept up into the swing of things.
The front bar was littered with guys already in their underwear among others who were still building up the liquid courage to take the plunge themselves.
I made my way to the clothes check and debuted my pair of grey MeUndies with little blue notebook doodles all over them.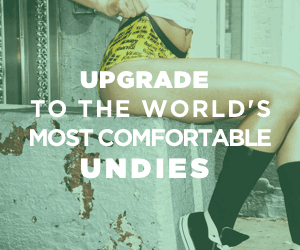 I had barely left the room and two guys asked me to spin around so they could see the all of the, erm, design.
DJ Nandi spun some sick beats as cascades of lights shot across and around the spacious dance floor.
It was barely 11:30 and the guys were pouring through the door.
Despite that the bar may appear to be a bit "uptown" compared to Hell's Kitchen and Chelsea hotspots, that didn't stop the boys from coming-- some all the way from Brooklyn.
It's clear that the West End Lounge has definitely found a formula that works when it comes to these parties.
NYC special events nightlife promoter Justin Luke, who throws one of these themed shebangs each month, has been seeing the fruits of his labor come alive every time, quite literally in the flesh.
"Each and every single one of these underwear parties we've had has blown the previous month's edition out of the water in regards to energy, crowd size, excitement and buzz," he said of the night.
"All of it. I can't wait to see how insane this event will be by the time summer gets here!"
Aside from just a night out drinking in your underwear, these parties not only bring many different circles together in a unique way, but also give a safe space for guys to feel good in their own skin, liberating a confident side of themselves they normally don't get to outside the confines of their home.
We'll keep you in the know with updates and details on next month's party, as it's something I highly recommend everyone should try at least once.
And a shout out to my MeUndies for being the most comfortable underwear at a time where it takes more than just a little liquid courage to feel comfortable.
Check out the Most Comfortable Underwear You've Ever Worn in Your Life Right Here.
[Feature Image Courtesy Instagram]