New York City is a place that is constantly building, and rebuilding itself. In the process, we've lost some amazing structures and gained many more. But city planning is where the face of this city can really change.
While it may not seem like it all the time, lots of thought goes into working out how the city moves, and people come up with ideas for improvement all the time-- rarely do they come to fruition. Part of the problem is that engineers are working with a limited amount of space.
A surprising amount of people have offered up solutions to the finite amount of NYC space, and some of them involve damming, draining, filling in and building over the East River.
Dr. T. Kennard Thomson devised a massive project in 1916 that was published in Popular Science. Kennard's plan would have built over the East River, and extended the island of Manhattan almost all the way to Staten Island.
He would have expanded NYC's surface usable surface area by 50 square miles. Norman Sper offered up the idea of fill in the Hudson River in 1934, but neither plan got very far.
So it shouldn't be surprising that there was another plan to fill in the East River from 1924.
Deputy Police Commissioner in charge of traffic John A. Harris hatched his plan for the waterway with much the same motivation as those who came before and after him: to ease the congestion in the City.
[anad]
At the time, the subway system was nowhere close to what it is today, and solutions to traveling around the City were popping up all over the place, like a converting Broadway into one big moving sidewalk all the way back in 1872.
Harris' plan would have converted the river into a "five-mile system of automobile and motor-truck highways, subway lines, parking spaces, and city centers."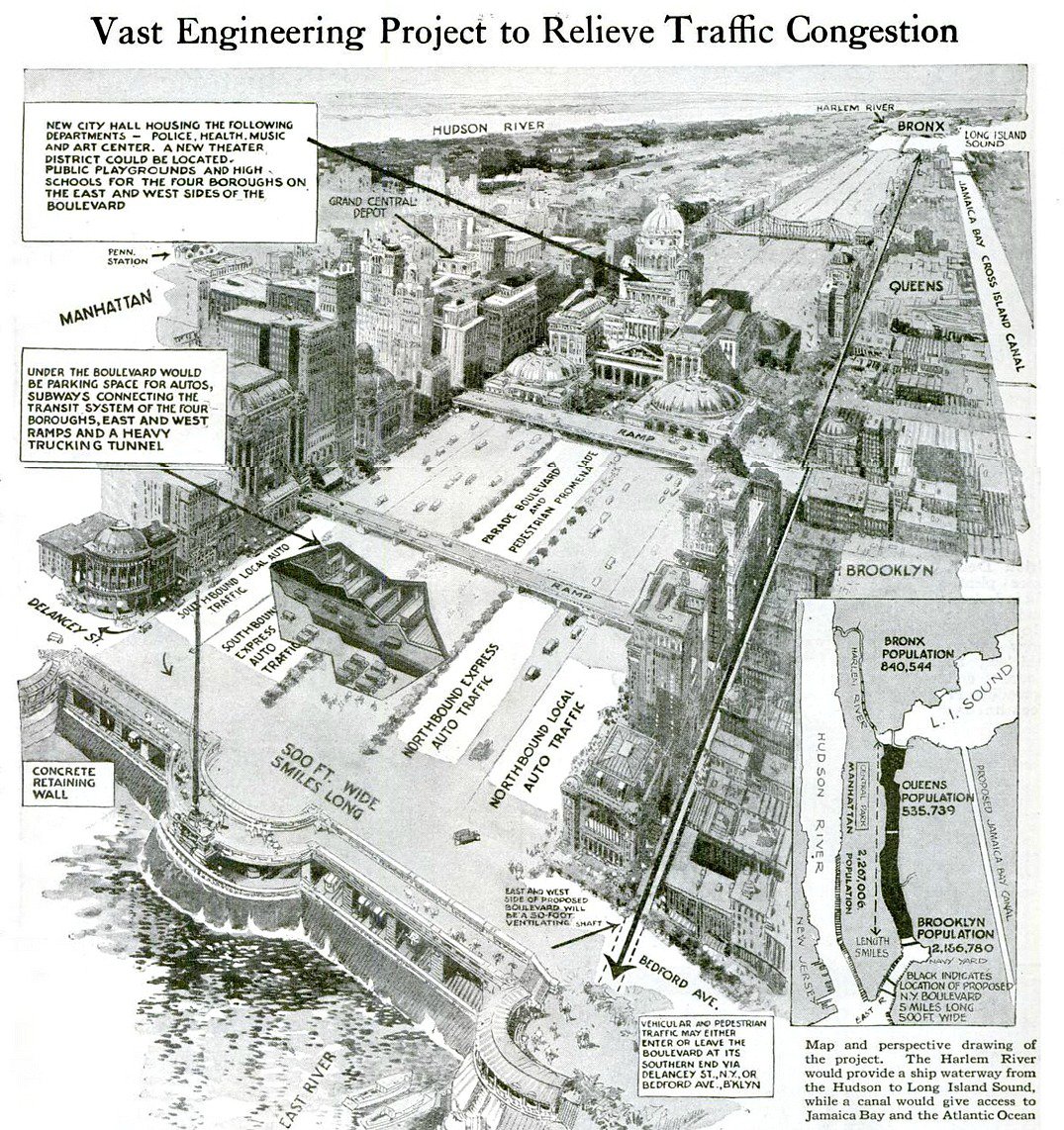 via 6SqFt
Much like the crosstown expressways many have proposed in the past, Harris planned for greater range of movement for vehicles and people with his plan, and it very well may have worked.
More roads could be a double edged sword. On the one hand, there's more room. On the other hand, there's more room for traffic to accumulate in...
Check out These Highways That Were Never Actually Built in NYC.
[via 6SqFt]