We're all pretty skeptical about the MTA's alternatives to our cramped-but-crucial L train, so imagine our surprise when we heard about another remedy to the L-Pocalypse.
More bus service, a skyway, and now an option that sounds pretty legit. We were sort of impressed with the MTA, until we heard that it wasn't their idea.
In addition to expanding service on the J, G, and M trains, the MTA might partner up with ReThink Studio to run the E train on the G line.
We say "might," and have all of our fingers crossed.
Gothamist reported that the Upper West Side design studio ReThink proposed an unofficial and simple idea for the coming service reduction: running the E train on the G rails in north Brooklyn.

They'll keep the G from suffering a fate worse than death (turning into another L train) by constructing a rail switch at Hoyt-Schermerhorn Station.
[anad]
Which is totally fantastic, because that means no extra tunneling. All the MTA has to do is install a switch like the one at the A/C/E on Canal St.
Even better? This reroute would cost New Yorkers only "a series of weekends or Fasttrack style outages," ReThink founder Jim Venturi said in an e-mail to Gothamist.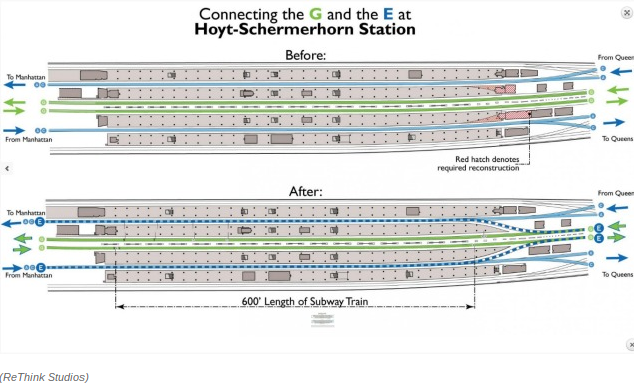 If you're commuting between eastern Queens and the World Trade Center, don't sweat it. The ReThink peeps think the MTA could pull this off by yoinking some trains from the L line when it stops service into Manhattan. And then...
Direct service to Manhattan. You're welcome, MTA. At least, that's what we'd say if we worked at ReThink Studio.
[via Gothamist]
[Feature Image Courtesy Instagram]