Even though we're just halfway through December, this month in art is already shaping up to be the one of the hottest and most exciting of 2017!
In this list, you will find exhibits that are interactive, and feature immersive and sci-fi inspired art. They will challenge your senses as well as your intellect!
So make sure you check out these art shows, conveniently located in the Chelsea, SoHo, and Lower East Side gallery districts.
---
1. Yayoi Kusama, Festival of Life, David Zwirner Gallery (Closes December 16)

The most exciting part of this month's art guide has to be Yayoi Kusama's Infinity Mirror Rooms, showing this month only at the David Zwirner Gallery.
The Festival of Life is an homage to Kusama's 65-year career, as well as a perfect display of this artist's unbounded creativity and ability to push the boundaries of artistic reinvention.
This exhibit also showcases Kusama's foray into the fields of sculpture and painting, although her immersive infinity rooms are the focal point of the Festival of Life. As you enter any of these kaleidoscopic rooms, you will become immersed in an environment where your mirror image exists within an endless reflection of fantastic landscapes.
These rooms will make you wonder about the notions of expansion and accumulation, concepts which Kusama has relentlessly analyzed and investigated throughout her career.
David Zwirner Gallery is located at 533 West 19th Street.
---
2. Tunji Adeniyi-Jones, Flash of the Spirit, Beauchene Gallery (Closes December 23)

The moment you enter Beauchene Gallery's glass doors, your senses will undergo a kind of modernist baptism by fire: an eruption of color, line, and emotion generated by eight Tunji Adeniyi-Jones paintings.
This artist's pieces deliver a violent intensity with their blindingly vibrant colors and subtle lines that portray his mystical characters.
Inspired by myths of ancient West African Kingdoms, Adeniyi-Jones' subjects exude a mystifying quality capable of hypnotizing you, if only for a fraction of a second.
Beauchene Gallery is located at 327 Broome Street.
---
3. Kenny Scharf, Inner and Outer Space, Jeffrey Deitch Gallery (Closes December 22)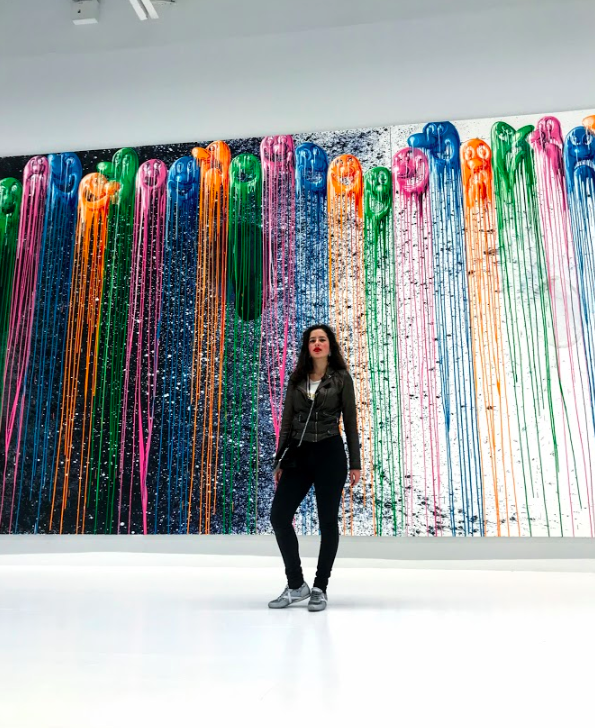 Photo by @museummammii
Jeffrey Deitch Gallery's latest show might be the most colorful and fun one of this month! It will mesmerize you with its brightly-colored rows of whimsical faces. Kenny Scharf disintegrates his subjects' faces in order to obscure and mystify the hyperbolic emotion contained in his comic art-inspired characters.
This exhibit delivers an explosive visual power that can only be experienced in person. It does so despite critics' commentary that Scharf's work is nothing more than a bizarre mixture of influences ranging from Dali and Pollock to Disney and to Basquiat, rather than part of a progressive art movement in itself.
Whether or not you conceptually connect with this artist's work, you'll be taken by the violent force that is conveyed by Scharf's chaotic superimposition of bright colors on large-scale canvases, which stand in high contrast against this gallery's massive white walls.
Jeffrey Deitch Gallery is located at 18 Wooster Street.
---
4. Laura Owens, Whitney Museum (Closes February 4)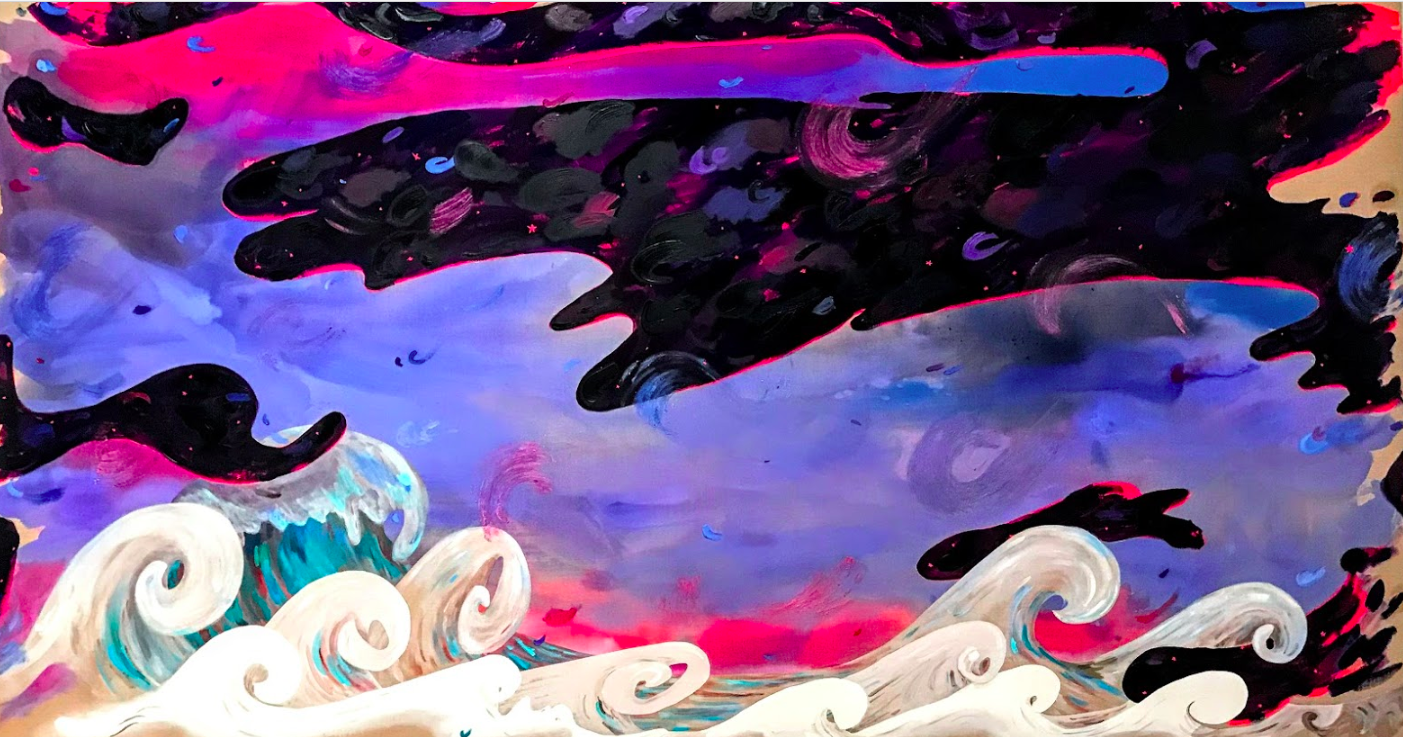 Photo by @whitneymuseum
This month, the Whitney is presenting a retrospective exhibit of Laura Owens' work. Throughout this show, you will be charmed and moved by her fearless and adventurous approach to painting.
Her body of work is a visually moving exploration of texture, volume, color, and perspective, which isn't limited by any rules. Owens harmoniously juxtaposes the heaviness of her brushstrokes with the lightness of pastel color palettes. She effortlessly interacts with high and low art, politics and humor as well as abstraction and image.
Her work is as political as it is playful. It explores feminist subjects without fear of "heavy pinks of frilly brushwork," which showcases her softness and feminine sensibilities.
Her textured brush strokes move with volume out of Owens' massive canvases, engraving the harmonious symphony of color in your mind.
The Whitney Museum is located at 99 Gansevoort Street.
---
5. Douglas Gordon, Back and Forth and Forth and Back, Gagosian Gallery (Closes February 3)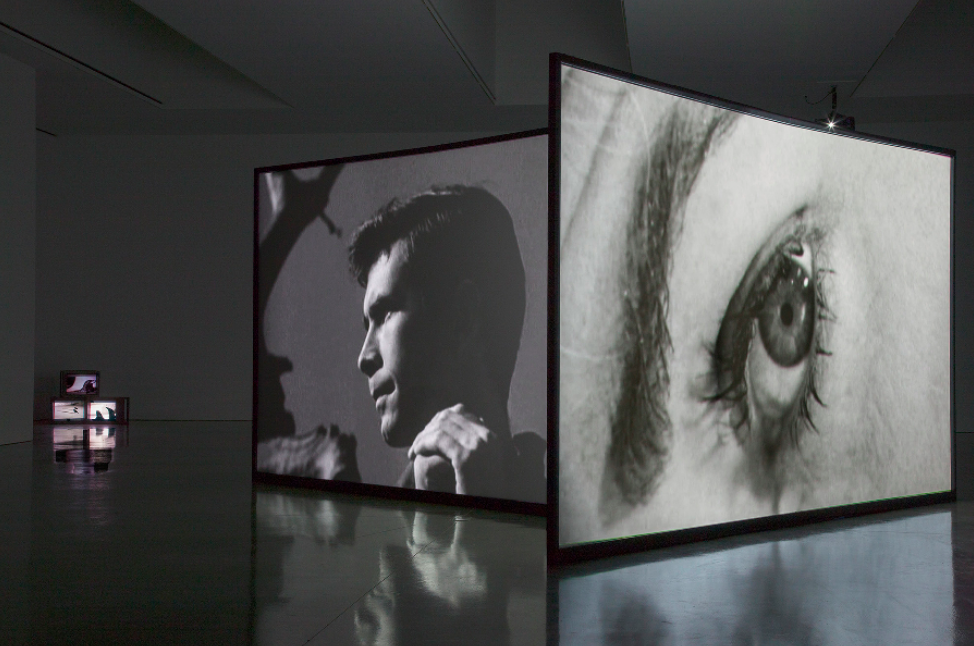 Photo by @gagosiangallery
This month, the Gagosian is showing two massive projections of the film Psycho, which Douglas Gordon has slowed down to a length of 24 hours. One plays forwards while the other is screened in reverse.
This show is as exhilarating as it is frightening. It manages to transfer a very physical experience of immobilizing horror through several techniques.
The high-pitch soundtrack of bird screeches, coupled with Psycho's large-scale projections, stands in high contrast with this room's all-consuming darkness, sending your mind and body into a state of high alert.
Psycho's masterful close-up of its characters' tense and fearful expressions was created to elicit feelings of primal fear. Gordon slows down the film to enhance these sensations in the most unsettling of ways. Moreover, the dualistic display of images moving backward and forwards, which make you feel disoriented in time and space, add to these feelings of tension.
Back and Forth and Forth and Back is a truly immersive art experience, one that awakens your instinctual survival mode as you irrationally feel vulnerable and claustrophobic inside the Gagosian's perfectly safe, massive rooms.
The Gagosian Gallery is located at 522 West 21st Street.
---
6. Benjamin Kress, New Paintings, Callicoon Fine Arts Gallery (Closes December 22)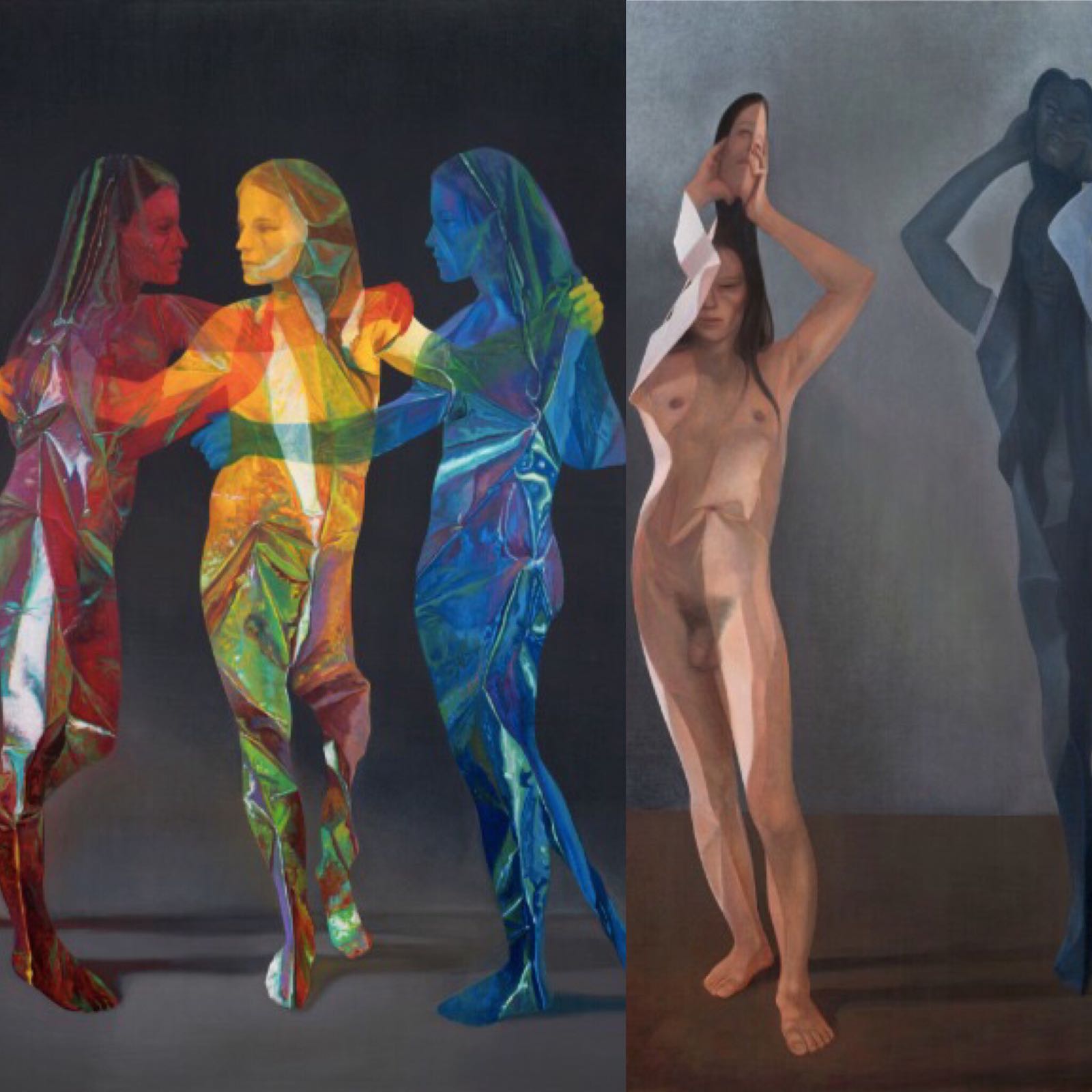 Photo by @callicoonfinearts
New Paintings will flood your mind with incisive political questions and threaten to blind you with the sheer beauty of Kress' paintings.
Kress' amorphous subjects don't conform to society's constructed notions of gender or the biological laws that rule our anatomy. They wear masks to emphasize complex and layered identities—ones that are susceptible and helpless to constant change. Also, the fact that it is impossible to pin down the gender of these paintings' characters sheds light on the absurdity of modern society's obsession with the socially constructed concept of gender.
The pieces aim to make us wonder whether it ever made sense to draw this arbitrary distinction between sexes, a division which has historically led to rejection, division and conflict among us.

This exhibit questions society and its intransigent rules that shape our identity and limit our ability to change the makeup of our identities.
New Paintings also shows that beauty can be manifested in ways that are divergent or contrary to Westernized beauty standards. This becomes evident the moment you are moved by the sensuality, raw emotion, and grace contained in Kress' amorphous, post-gendered characters.
Callicoon Fine Arts Gallery is located at 49 Delancey Street.
---
7. Group Show, I Dream in Technicolor, Castle FitzJohns Gallery (Closes January 7th)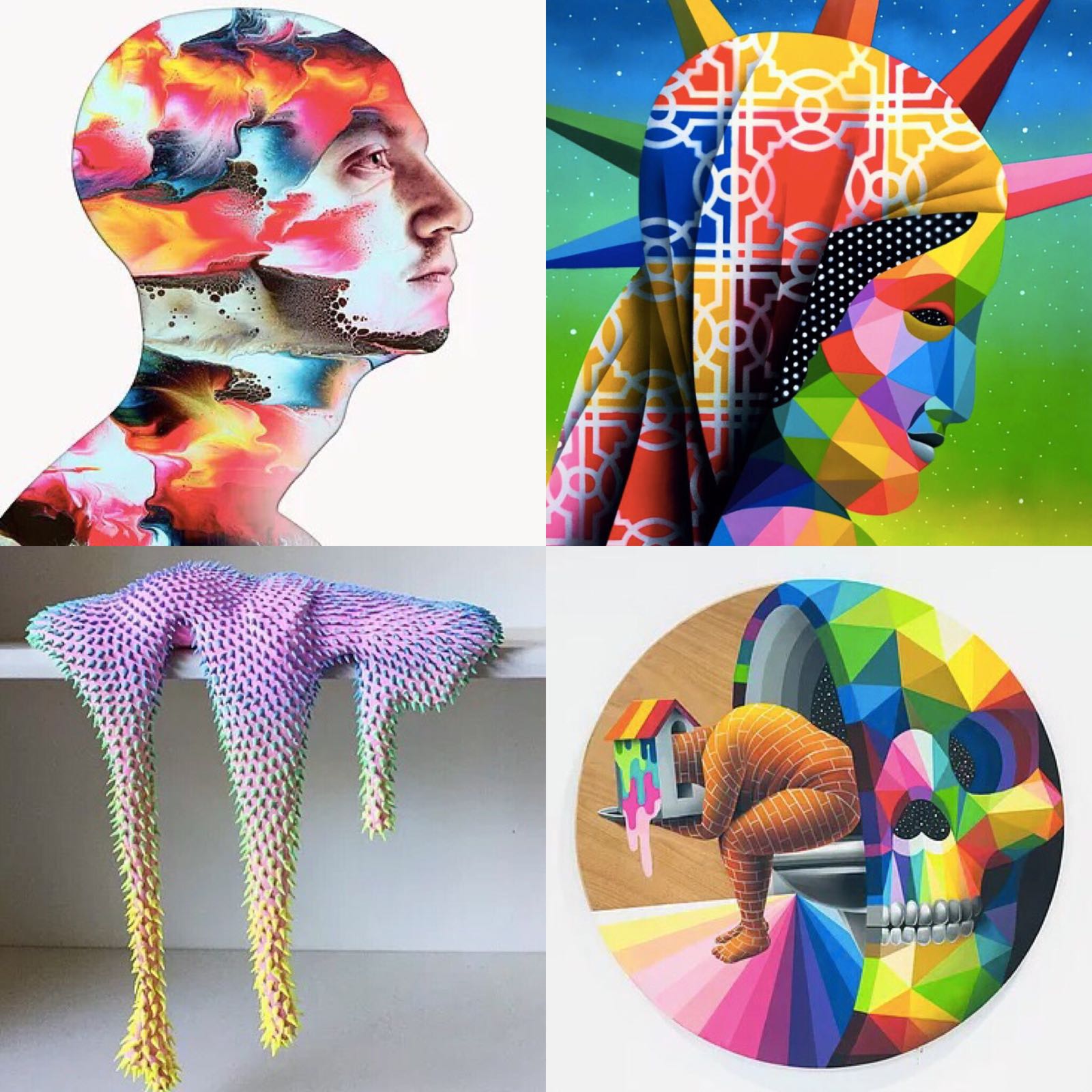 Photo by @callicoonfinearts
This exhibit will "transport you into an almost surreal and hypnotic technicolor environment, that enthralls and fascinates."
This show's participating artists display techniques such as "the use of piercing, vivid colors as well as 2D and 3D shapes" to spark a physiological and perceptual response to their exploration of color.
These pieces' playful experimentation with bright, intense colors might evoke a strong emotional response the moment your gaze locks onto one of this exhibit's paintings.
Castle FitzJohns Gallery is located at 98 Orchard Street.
---
8. Thomas Hirschhorn, De-pixelation, Gladstone Gallery (Closes December 22)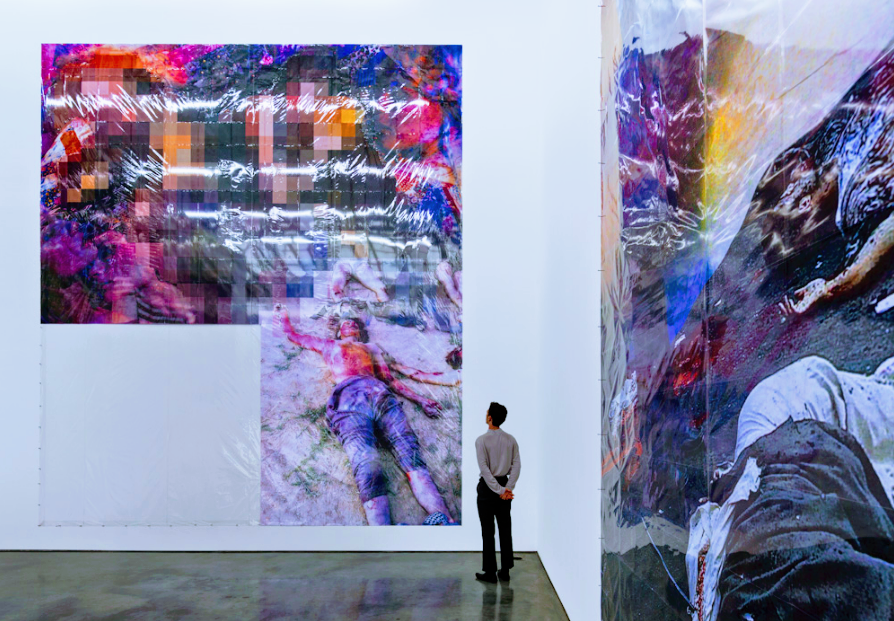 Photo by @gladstone.gallery
This exhibit both conceals and reveals "unpleasant depictions of human suffering and violence" and unveils the horror of our current reality as well as the beauty found within the grotesque and gruesome.
It's easy to forget the sense of terror and dread that these pictures are meant to convey when you see the red shades of blood contrast with an overall opaque color palette as well as vibrant colors covering the anatomy of the victims.
At first, you're mesmerized by the exuberant colors that dance harmoniously and then confronted by raw and horrifying depictions of death and violence. This show is deceptive and disorienting because it provides its viewers with visual pleasure through images that should produce feelings of fear and disgust.
Thomas Hirschhorn explains why he enclosed these gruesome images with massive, brightly colored pixels: "to call into question the legitimacy of imagery that has been altered by the mass and social media to protect the viewer from unpleasant depictions of gruesome human suffering and violence."
By choosing to highlight the universally violent reality which we live in, Hirschhorn is standing up against the "blurring, masking, and/or censorship in general" of the truth.
Gladstone Gallery is located at 530 West 21st Street.
[Feature Image Courtesy Instagram]