This weekend is going to be cold. Like really, really cold. So you're probably going to be bundled up in every sweater you own and hunkering down by your radiator because you're a sane individual.
There will, however, be some less than sane individuals who will be running through the streets of New York City in nothing but their skivvies tomorrow in Cupid's Undie Run.
You read that right: there will be plenty of half-naked men and women participating in a one mile fun run to raise money and awareness for Neurofibromatosis (NF).
The event starts at noon tomorrow at Stage 48, and the run starts at 2 p.m.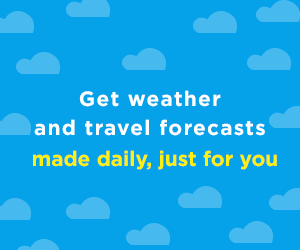 Unfortunately for the scantily clad runners, the temperature for New York City at noon is a projected high of 17˚F, with a high of 16˚F for the start of the race.
Regardless, the fun run is all for an excellent cause. NF affects one in every 3,000 births and the Undie Run has raised over $8 million over the years and different cities.
How Valentine themed lingerie and boxer briefs tie in to NF fundraising, we're not so sure, but it sure does make for good advertising.
This is not the first year that NYC has hosted Cupid's Undie Run, but it's certainly going to be one of the coldest.
[anad]
So if you're interested in joining this potentially pneumonia inducing activity, you can still sign up here.
For any and all weather updates, download the Poncho weather app. Poncho keeps you up to date with weather alerts from the moment you wake up in the morning to the last second before you leave the office for the evening. Download the Poncho app here.
Check out Poncho Just Launched the Most Amazing Weather App Ever.
[Feature Image Courtesy Instagram]