As far as American summer music and arts festivals go, there aren't many on the level of Coachella.
As with all the major festivals around the country like Bonnarroo, Burning Man, and Governor's Ball, Coachella's identity is all its own.
Over the last few years, festival goers have become accustomed to absolutely giant headliners. Just last year, Jack White, Drake and monkey wrench AC/DC topped the bill. This year is no different, and there are reunions afoot.
The news that Guns N' Roses members Axl Rose, Slash, and Duff McKagan is centered around their headlining Coachella sets-- plus, LCD Soundsystem is reuniting for the festival.
But the full lineup announcement holds more concert gold than just a couple of amazing reunited headliners.
There are also a litany of established artists playing the festival that merit excitement as well, in addition to some newer acts that are making waves.
[anad]
Dance music kings Skrillex and Diplo will be together again playing as Jack Ü, sure to slay with a number of hits they've accumulated over the last year. Another electronic act sure to draw plenty of shakable booties is Disclosure, without a doubt. Let's not forget Calvin Harris and Major Lazer.
In terms of hip-hop, there's Ice Cube, Run the Jewels, Joey Bada$$, A$AP Rocky, and much more. But one act on the list that had a seriously impressive 2015 is Anderson .Paak, who's the most featured vocalist on Dr. Dre's latest album, Compton.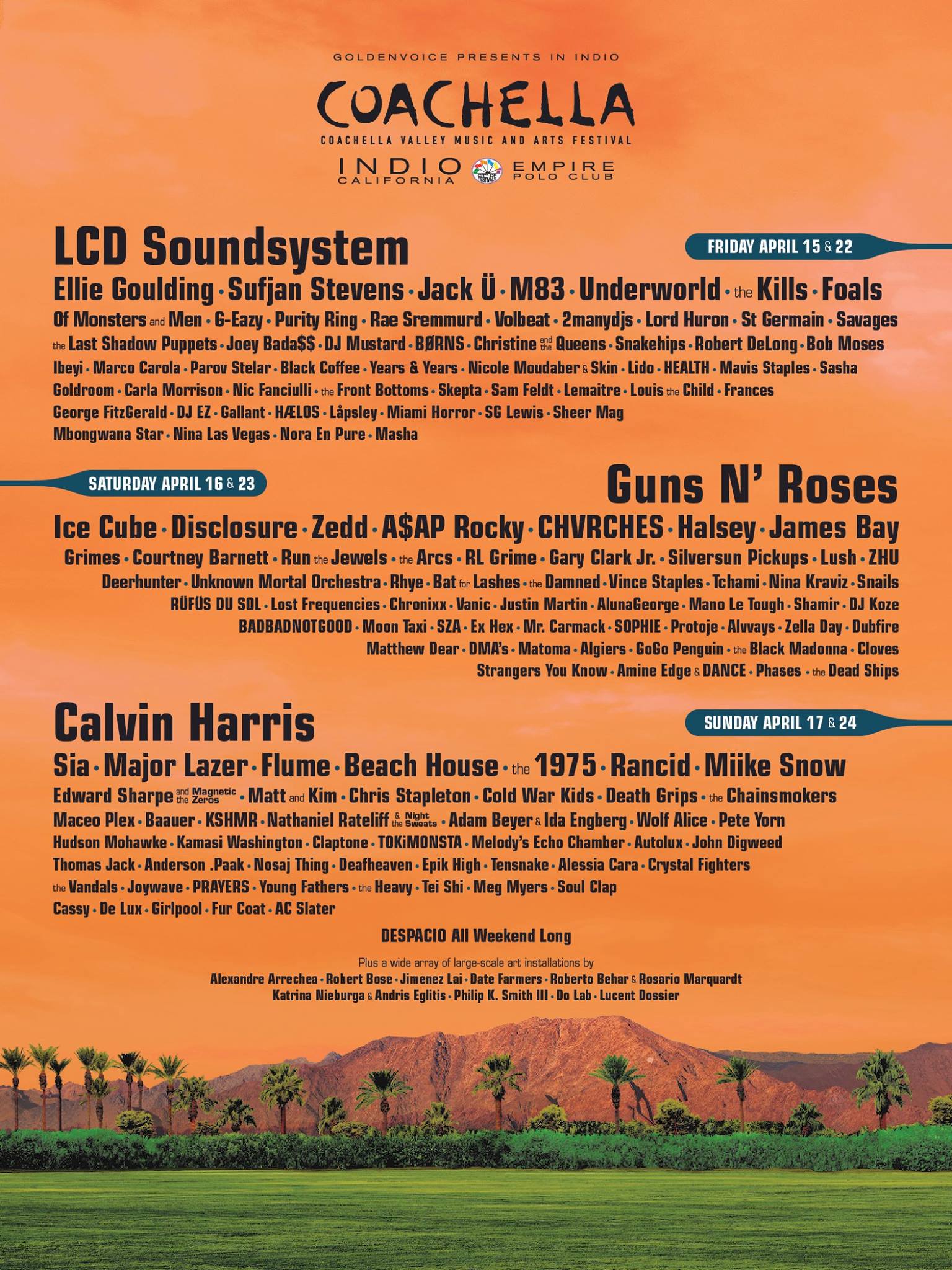 via Consequence of Sound
Some of our other top picks include modern jazz master and Kendrick Lamar-arranger Kamasi Washington, roots reggae whirlwind Chronixx, now legendary punk outfit Rancid, and indie jam weirdos Edward Sharpe and the Magnetic Zeros.
Now, you may not have to schlep all the way out to California to catch your favorite festival acts this summer. It's entirely likely that many, if not most of the artists playing Coachella will also be playing much closer to New York City.
But if you want an adventure, surely filled with some of those stereotypical California flower crown girls, by all means, jump in the car and road trip to Indio for Coachella.
Check out Tony Award-Winning, 'American Idiot' Star, Johnny Gallagher to Release Album.
[via Consequence of Sound]
[Feature Image Courtesy Instagram]