National Beer Day is almost here!
Ahhhhh! Panic— at the disco? No! At the train station!
Get over to Grand Central Terminal on April 7th, where the many restaurants and shops will be offering specials and discounts, overwhelmingly on different beers.
We've got a long and storied list to share, so let's get down to business:
Beer Table, for starters, will be serving all draft beer at 20% off, available in 64 oz reusable growlers or capped mason jars.
Great Northern Food Hall will be offering all its craft beers at The Bar and Grain Bar at a flat $8 (which normally run between that and $16). There's also a special beer pairing available with its pork, apple, and red cabbage sandwich for $20. Its latest beer, The Ruggernaut will also be highlighted throughout the day, which is a new rye developed in collaboration with Brooklyn Brewery.
La Chula is going to be practically giving away its supply of Model and Cheladas for $3 each, and has Modelo Braised Brisket to match.
[anad]
Michael Jordan's The Steak House N.Y.C. will feature a complimentary tasting of seasonal beers from Anheuser Busch, including New York's Blue Point Brewery, Stella Artois, and Goose Island.
Murray's Cheese will supply its very own Beer & Cheese pairing guide to mark the occasion. There'll also be a cool 20% off their Challerhocker and Cabot Clothbound Cheddar cheeses.
Prova Pizzabar will have buckets of Montauk Beer for $25 in all varieties, all day. Also, everyone who buys a Montauk bucket will automatically be entered in a raffle, with the potential to win key chains, openers, hats, and t-shirts.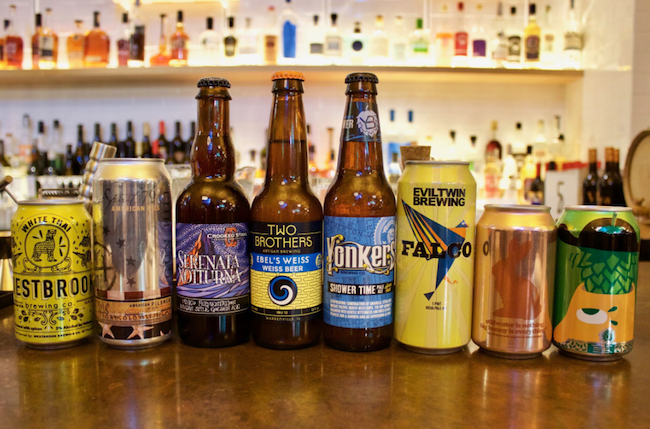 courtesy of Grand Central Terminal
Shake Shack will give you a free koozie with any beer (while supplies last, that is).
Shiro of Japan will sell 12 oz cans of Sapporo Beer for only $1.99 with the sole stipulation that you buy a chirashi or poke bowl (again, while supplies last).
Zaro's Bakery will be going against the grain, and offering half-off a pretzel or bag of popcorn with the purchase of any beer.
[Feature Image Courtesy Instagram]