Subscribe to spoiled NYC's official newsletter, The Stoop, for the best news, eats, drinks, places to go, and things to do.
We're gonna get real with you guys for a sec. We owe it to you. But it's going to get uncomfortable. Here's we go. *deep breath*
East Coast music festivals ain't sh*t. We know. It's hard to hear. It's not about the lineups (I mean, have you seen this year's Gov Ball??), it's just like, the vibe. You know. The vibe.
Any hardcore music lover and festival junkie will tell you, get yourself out to the West Coast– however, that can be a little tough when one, you only have enough $5 to put on a MetroCard and two, the best music festivals out there have totally sold out anyway.
Of course, we're gonna help you out a bit. In partnership with DarbySmart, Guest of a Guest, BottleRock Napa Valley, Harper's Bazaar, and Travel Curator, we're sending you and a friend to Cali for BottleRock Napa Valley this May.
Yup, you'll be getting two passes to this this completely sold out music festival, and that's not all– we're throwing you $1,000 in airfare credit and $500 in hotel credit, so all you have to worry about is building your flower crowns.
Somehow need more convincing? This year's headliners are The Foo Fighters, Maroon 5, Tom Petty & The Heartbreakers. Need more? Macklemore & Ryan Lewis. Modest Mouse. Fitz & The Tantrums. Michael Franti & Spearhead. The Roots. The Naked & Famous. Oh. My. God.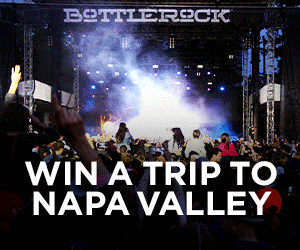 We don't know what the musical equivalent of salivating over food is, but that's totally happening right now.
Also, because you're going to need to keep your energy up so you can dance your *ss off for 3 days, we're also sending you to Hurley's Restaurant and Bar for a dinner for two.
Obviously, you can bet that they're wine menu is expansive, but don't count out their specialty cocktails either.
Their cuisine focuses on Mediterranean flavors, with a number of gluten free options (lol West Coast lyf), and some seriously decadent desserts.
If you've never been to wine country, Hurley's is the quintessential Napa style restaurant. Their lively bar and sprawling outdoor patio is frequented by many local winemakers themselves.
bottlerocknapa #BottleRock 2017 single day lineup is here! What day will you be rockin' out with us? Don't forget, 1-day tickets on sale tomorrow! 🔗 in bio for more info.
While Cali weather doesn't exactly need much enhancement, their stone fireplace and large windows ensure Hurley's is an ideal destination all year round.
Anyway, BottleRock goes down the weekend of May 26th, so trust us, you won't have to worry about the weather at. all.

Don't miss out on the chance to win this incredible California Getaway.


Got a hot tip or correction? Drop us a line at tips@spoilednyc.com