Picture the perfect day. It's nice and warm but not too hot, bright and sunny and you're outside, heading off to a big, fun party.
You hop on your sweet bike and cruise to the nearest store to pick up some beer to bring. And then - the perfect day screeches to a halt.
How on earth are you supposed to carry a six pack of beer on a bike?
Here's how: with this leather six-pack caddy that's just $59.95 and not only fits over your bike frame, but makes your bike look pretty darn handsome.
This leather beaut is made by hand from artisans in America's own heartland: Milwaukee, Wisconsin, where they know a thing or two about beer. It's super easy to use.
Just clip the top of the strap over the bike frame and snap - it's on safe and sound. Want it higher or lower? It adjusts to any height you need.
The adjoining tube areas snugly and safely hold up to six full beers, cans or bottles, with two levels of horizontal security and a bottom strap for peace of mind.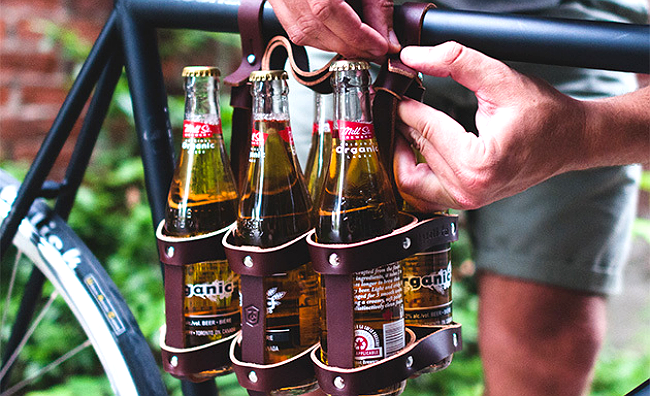 The leather is a deep, rich, buttery brown made with full grain that matches any style, no matter what color your cruiser is. The caddy just looks absolutely timeless and is certainly an upgrade over toting brews in a plastic bag.
This is a city - or country - essential if you're bringing brews to any event or simply carrying some around to pop open a bud on the go.
Nothing like a cracking a celebratory for the happy hour ride home, and now you can live that dream with this caddy for $59.95.
Check out Your New Favorite Shop on the Internet. You're Welcome.