We're venturing to guess that you're probably not a morning person. Who is, really?
Morning signifies all the groan-worthy aspects of our lives: it involves having to leave the comfort and security of our beds, putting on pants (WHY?!), and schlepping to work where we put on the facade of adulting for 8 hours.
The promise of the weekend ahead can only get us so far.
And we're not about that deep breathing/yogi/acai bowl way of life to start the day. It looks great on Instagram ― don't get us wrong ― but in reality, it's quite a miserable morning routine.
That's where DAYBREAKER comes in. It's morning dance party community throwin' down all over the world, getting people pumped for their work day in the best way possible.
DAYBREAKER gets you up and at 'em with wellness-minded fitness classes and dance parties thrown in the early hours of the morning.
They're focused on the things we rarely seem to emphasize, or even readily accept, as important: wellness, mindfulness, mischief, self expression, and camaraderie.
Their morning dance parties get you goin' in the best possible ways with thumping beats, a community of people getting wild and healthy with you, complimentary juice and coffee, and a contagious vibe that'll leave you ready to take on the world.
And this August, DAYBREAKER is taking their parties to a whole other level - and to the high seas.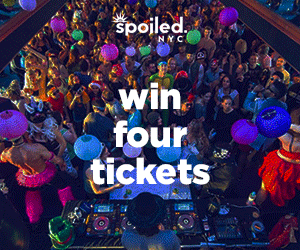 On August 5th, DAYBREAKER is paying homage to one of the most classic songs of all time and an epically zany historic era.
They're taking it back to 1960's Britain with a Yellow Submarine party on the Hornblower Infinity for what will surely be the most unforgettable and whimsical morning of your summer.
You'll dance the morning away, enjoy live DJs and dance performances, as well as free Califia Farms Cold Brew and breakfast goodies.
And best of all? Take in some killer views of a stunning Manhattan morning. What could be better than that? Free tickets, that's what.
That's right - we're giving away 4 tickets to the event so you and your friends can enjoy the madness in style.
[yellowsubmarine]

Who needs coffee when you start your day with an epic, Beatles themed dance party?
Enter in the form above to here and get ready for the ultimate morning kick in the pants you never knew you needed.
Not a Wait-and-See Person? Get Tickets for DAYBREAKER's Yellow Submarine Party Here.