Raise your hands high if you wish hard for incredible views, proximity to new adventures, and new experiences as part of your everyday regular. Yeah, okay, all of us.
But seriously, imagine a life where you sip your morning smoothie while watching monkeys in the trees, typing away on your computer to finish that project you've been putting off so you can make that afternoon waterfall expedition and promised happy hour drinks overlooking actual rice fields.
Sounds like a dream for real.
Well, that's what co-working spaces around the world are promising, and they're popping up all over the world.

Don't just go somewhere different on a vacation...live and work somewhere different.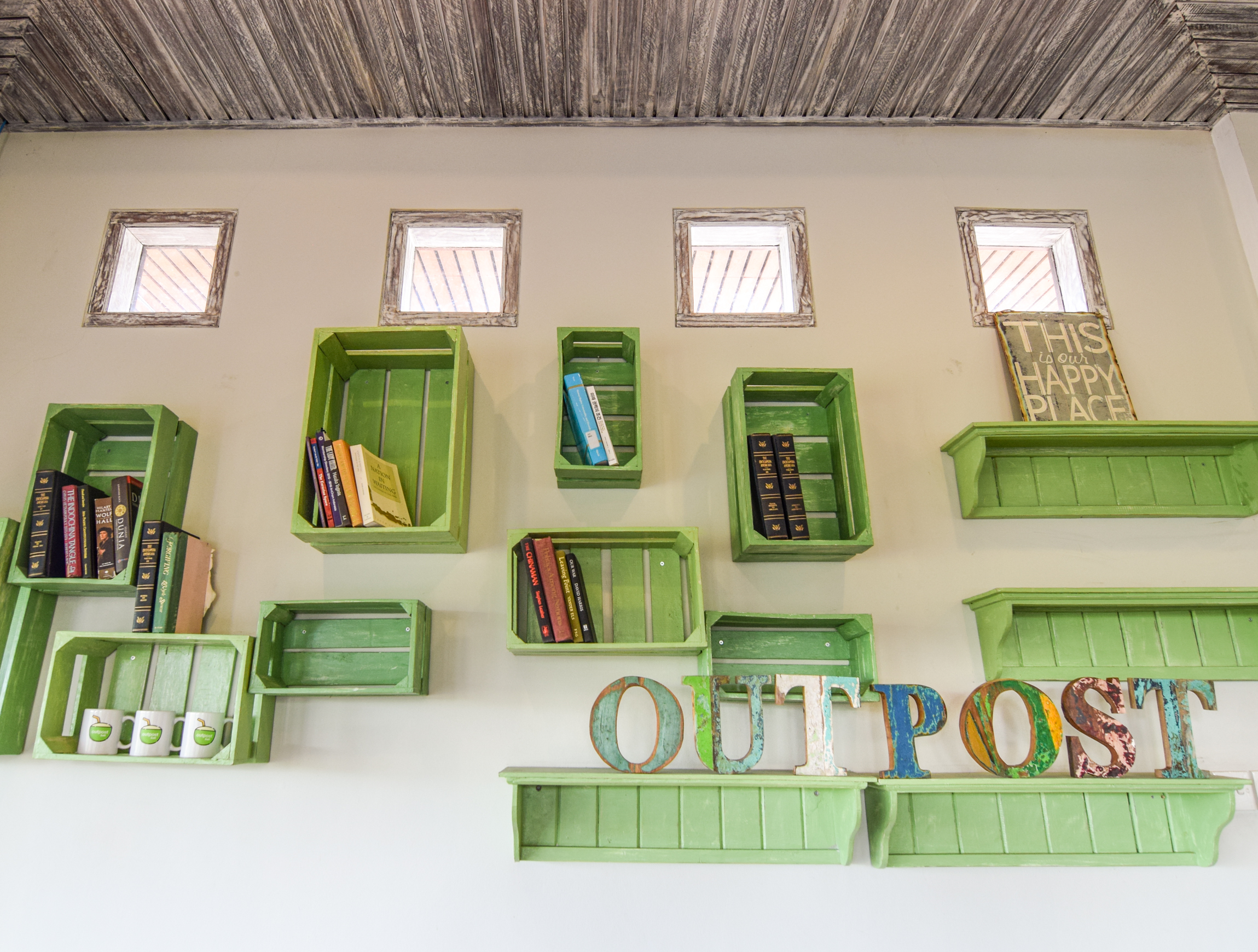 by Lauren Breedlove
What is Co-working?
It's a common space for work and play, with the potential for magical bits to rain down on the regular.
You're not just sharing a space, desks, and chairs. You're sharing ideas, skills, and energy. And, if you're anything like me, after-work tacos and adult beverages too.
Co-working abroad is the opportunity to be part of a really cool community, chock full of like-minded people in foreign lands. If you have the ability to work remotely, get ready to put your work-cation shoes on and be revolutionized. Now that that's settled, insert all the questions. How? When? Why? WHEN?
I'm here to gift you with a full run-down of co-working/co-living abroad (specifically in Bali, Indonesia) knowledge. I just did a month-long stint at Outpost in Ubud, Bali and it was absurdly incredible. So take notes folks, this will be your co-working in Bali bible. And...go.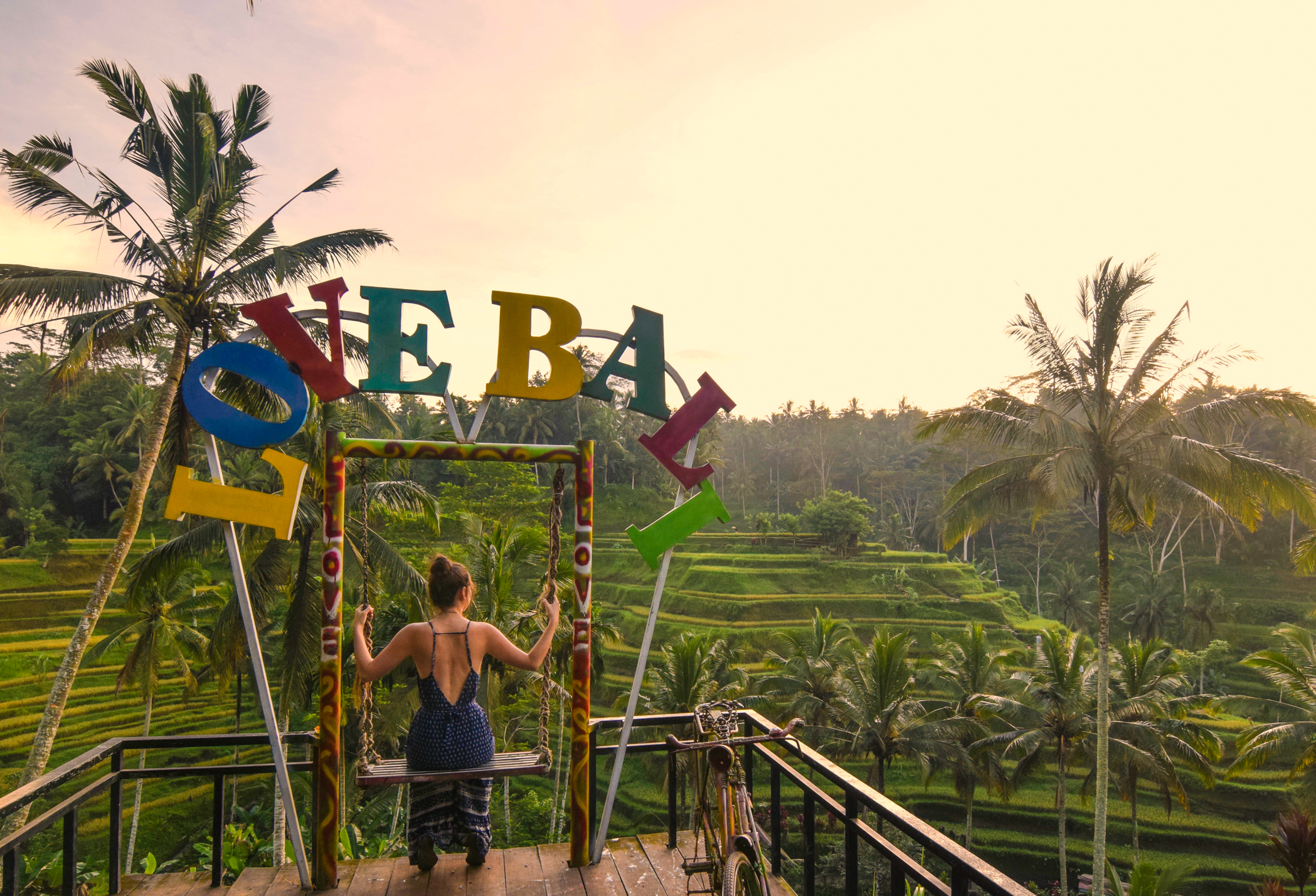 by Lauren Breedlove
Packing & Prep
Ew, packing. We hate doing it for a regular trip, no matter the length. (Despise, even.) Embark on a month-long co-working adventure and well, there's a fair amount more to overwhelm you in the packing and prep category.
We just wanna be there, with all the things we need tucked in our bags, all the logistics figured out, and arrangements made. If only it were that easy. Fortunately, though, I've got a smattering of the 'P & P' info for ya to make it as smooth as possible.
Bring: Passport, travel insurance, band-aids, antiseptic like Neosporin, bug-spray, raincoat, flip-flops, waterproof sandals for waterfall trekking, a backpack, dry bag for getting caught in the rain with electronics (and you will), sunscreen, laptop, chargers and other work necessities (obviously), and an outlet adapter (type F) so you can do all that charging. Oh, and a sense of adventure, that too.
Visa Requirements
Good news for Americans, no need to purchase the visa-on-arrival (saving you $35 buckaroos) as long as you plan on being in Bali for less than 30 days (and be prepared to prove your exit flight details upon check-in). Otherwise, you'll need to get that visa, so that you can then arrange for a visa extension at the two-week mark of your stay. A trip to Denpasar, fingerprinting, and a fee will be the visa trifecta if you'd like to double your island stay up to 60 days.
Flights
NYC to DPS: set your flight alerts now for the best deals. Luckily, New York has a trio of airports, increasing our chances for a solid deal to pop up. Consider going during shoulder season for better rates (November or May).
Vaccines
Other than the routine vaccinations you likely already have, the CDC suggests most travelers get Hepatitis A, and Typhoid for well-rounded protection.
Transportation
Getting around while staying at the villa, or really anywhere in Ubud, is a helluva lot easier if you rent a scooter. It's super cheap (equivalent to around $4-5 a day) and gives you the freedom to explore on your own. Don't forget to wear your helmet, scrapes from a stone wall on a steep hill after a sketchy right turn are no fun. (I may, or may not, be speaking from experience.)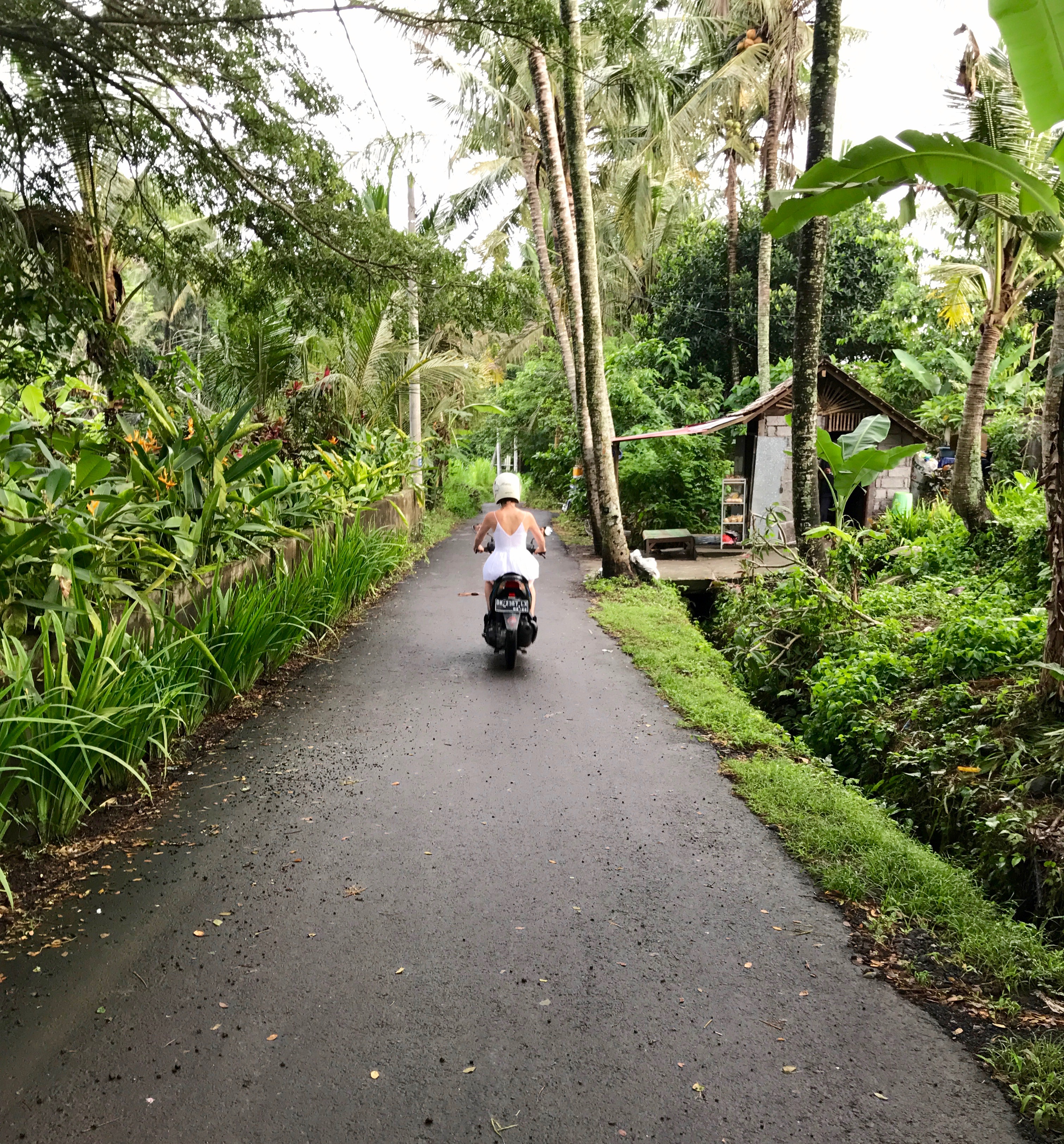 by Lauren Breedlove
Co-Living
You can choose to do the co-working/co-living experience full-circle style by reserving a room in the Outpost villas, and I wholeheartedly suggest you do. The six-room jungle abode, complete with AC, working wifi, and gorgeous infinity pool is about an 8-10 minute walk (6-8 minutes for New Yorkers) from the Outpost workspace.
Each room has an outdoor bathroom for all the jungle feels, and the common spaces are authentically decorated for the perfect in between work & adventure hangs with your new co-working friends.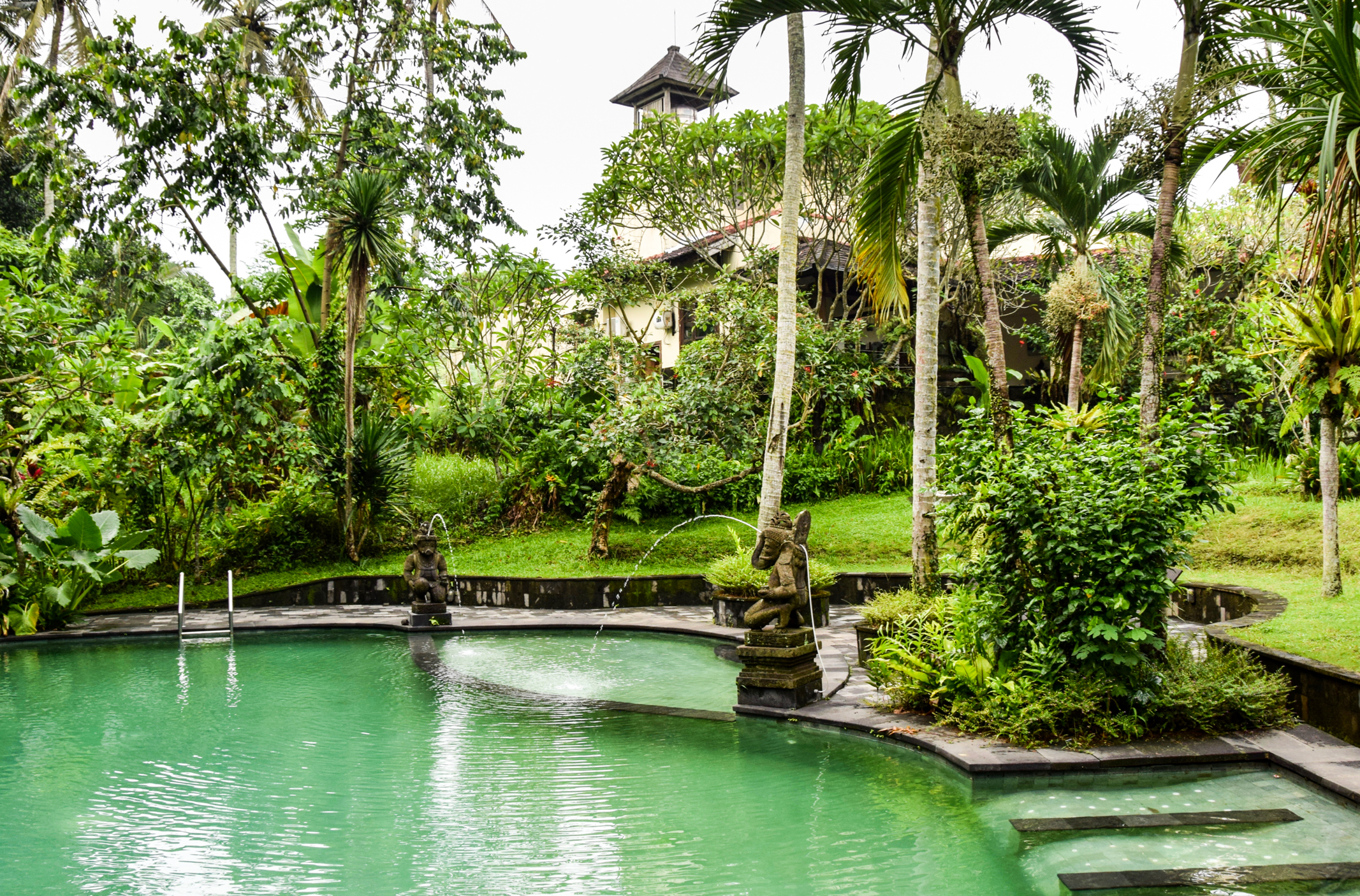 by Lauren Breedlove
Co-Working
With the most bandwidth in Ubud, Outpost is a solid choice to make sure your shit gets done. With two levels and an epic balcony space, it's a choose-your-own-adventure when you get to work each day. Downstairs is the air-conditioned 'quiet room', and upstairs is the 'open-air-chatting-is-okay' room.
Did I mention the on-site coffee shop (with killer smoothie bowls) and use of the adjacent hotel's pool for a midday work break? All that sounds great, but did I also mention you'll be mere minutes from all sorts of jungle island endeavors?
Squeeze them in before work, after work, and allll weekend long, if you'd like. Adventures majorly await when working in Bali. Perhaps one of the top perks of working remotely is the potential to make your own schedule because that sunrise isn't gonna see itself, is it?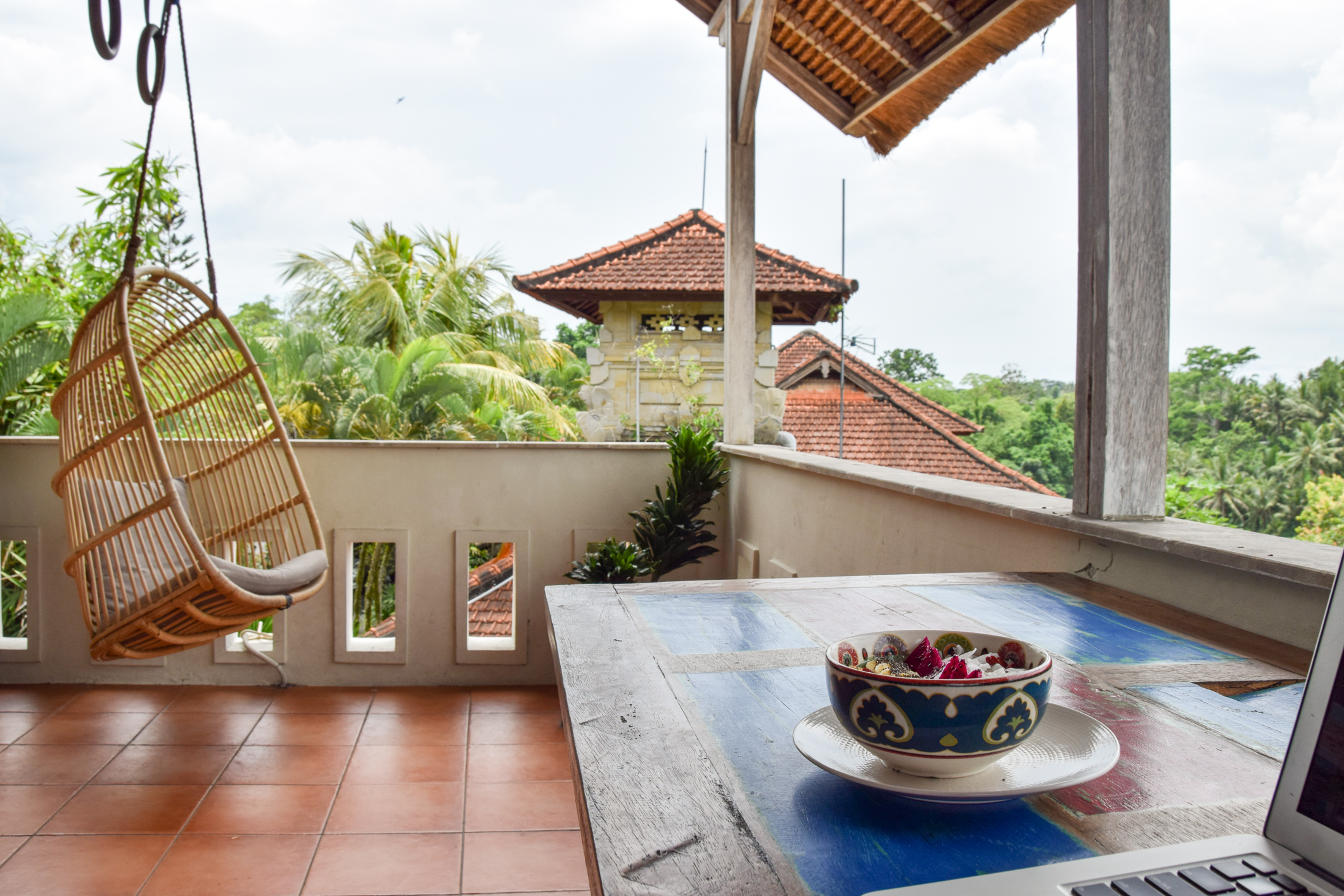 by Lauren Breedlove
Expectations and Tips
Time Difference: take EST, and add 13 hours. Basically, you're in the future, so that's cool. A key piece when organizing meetings, etc.
Creepy Crawlies: the insects are bigger in Bali, it's an indisputable fact. Sometimes, those sizable bugs surprise you in your outdoor bathroom. There are also judge-y geckos that enjoy hanging out in the aforementioned outdoor bathroom, cackling as you check your outfit in the mirror. Just consider them part of the jungle decor, and maybe give them a name because somehow that helps.
Scooter Traffic: it's crazy. Once you learn the flow it's a little bit less intimidating, but just note that driving is on the opposite side of the road in Bali so right-hand turns are the ones you gotta watch out for.
Walking: the majority of the walking roads are unpaved, so stick to walking the streets during daylight hours when everyone can (almost) see everyone.
Monkeys: the monkey forest is in Ubud, and as I may have mentioned, its residents are unsavory characters. They spill over onto the bordering street as well, so beware. Just don't look them directly in the eyes...or carry food. DO NOT CARRY FOOD.
Food: um, it's delicious. Try the traditional Mie Goreng or Nasi Goreng. In Ubud smoothies abound, and fresh fruit is bountiful.
Town: Outpost is a touch out of the center of Ubud, which is mostly great and occasionally not-so-great. If you have a scooter it's NBD, if you don't, getting into town can involve a half hour walk or a quick taxi ride.
Taxi, Taxi: although Uber exists, it's not recommended to use as it's kinda sorta banned in some areas. You can download Go-Jek or Grab, and give those a try. Or, hire a local taxi driver but agree on the price before getting in and going.
Currency: the Indonesian Rupiah is the name of the game, and the exchange rate is currently about 13,560 IDR = 1 USD.
ATMs: you'll need to pay cash for most things while in Bali. Some reputable ATM companies I used are BNI and BDO and Mandiri. Outpost had a super convenient ATM right by the entrance. Most ATM's cap you off at 2 million Rupiah per transaction. Look at that, you just became a millionaire. (It's about $150 USD)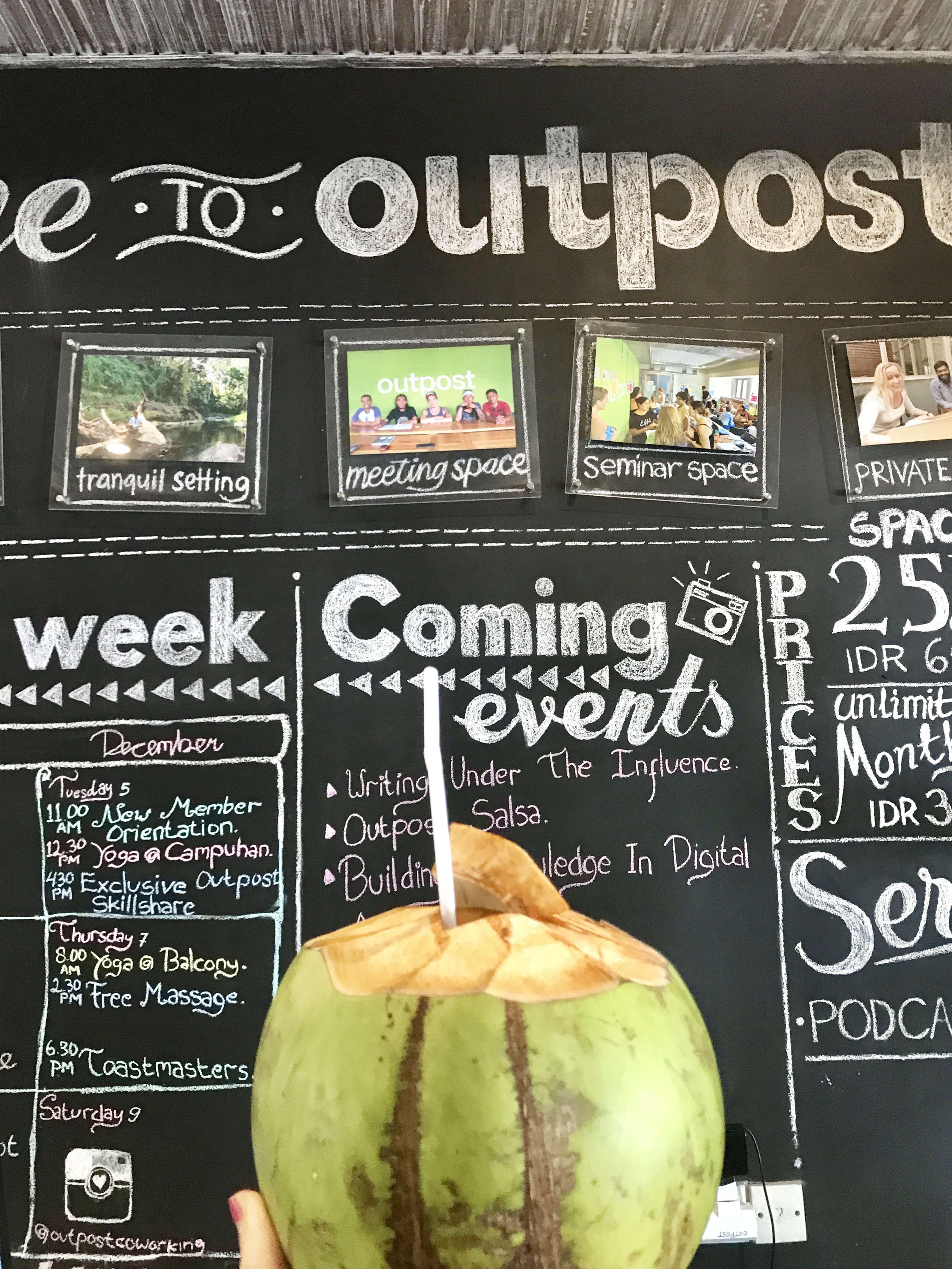 by Lauren Breedlove
Do something out of the norm. Channel your motivation from the jungle and like-minded peeps. Mingle with monkeys...or, actually, don't, they're jerks. But, you get the point. Try different; I mean, where else can you sip from a giant fresh coconut at your desk?