New York's art scene is particularly arresting this month.
You will find exhibits that feature street art, audiovisual, immersive installations, socio-politically charged pictures, and whimsical paintings by the world-renowned artist Jeff Koons.
Jeff Koons, EasyFun-Ethereal, Gagosian (Closes April 21st)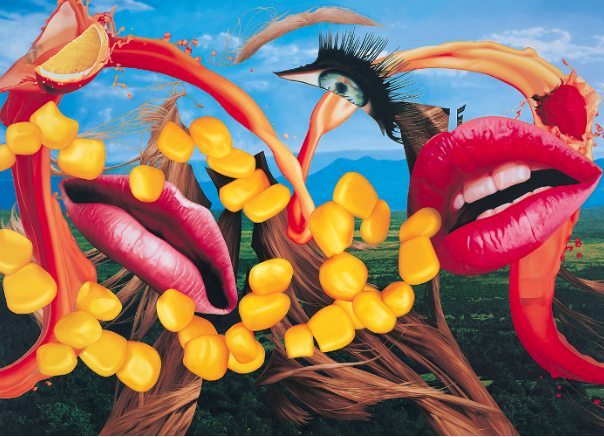 Photo by @gagosian
Jeff Koons' "balloon animal" sculptures, found in Paris, London, and in New York's World Trade Center, have cemented him as one of the most recognizable and prolific living artists of all time. The Gagosian is presenting Koons' latest work, featuring sculptures as well as seven large-scale paintings.
This artist's collages juxtapose eyes, lips, and cascading hair locks with food items and brightly colored landscapes to create whimsical images that are interesting because of their strangeness.
In his paintings, Koons uses images of eyes that convey intense emotion and full lips that are slightly open, to bring to life pieces that are as deeply romantic as they are sensual.
Gagosian Gallery is located on 555 West 24th St.
---
Zach Blas, Contra-Internet, Art In General (Closes April 21st)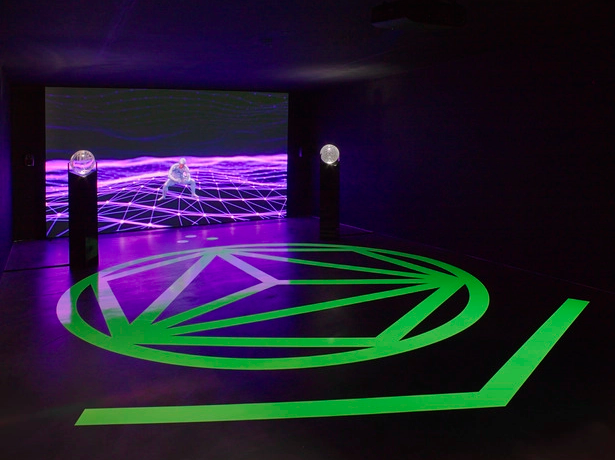 Photo by @art_in_general
Art In General is presenting Contra-Internet, "a queer science fiction film installation that includes live action, CGI animation, blown glass sculptures and a single edition publication titled The End of the Internet (As We Knew It)."
This exhibit by world-renowned trans artist Cassils creates an alternate universe that viewers can see projected on the screen but can also experience sensorially as this show's neon moving lights were designed to be projected on people's bodies.

Based on the opening sequence of British filmmaker Derek Jarman's seminal 1978 queer punk film Jubilee, this show confronts the "growing hegemony of the internet," and does so by delving on feminist and queer approaches to technology and sci-fi resistance.
Art In General is located on 145 Plymouth St.
---
Cyprien Gaillard, Nightlife, Gladstone Gallery (Closes April 12th)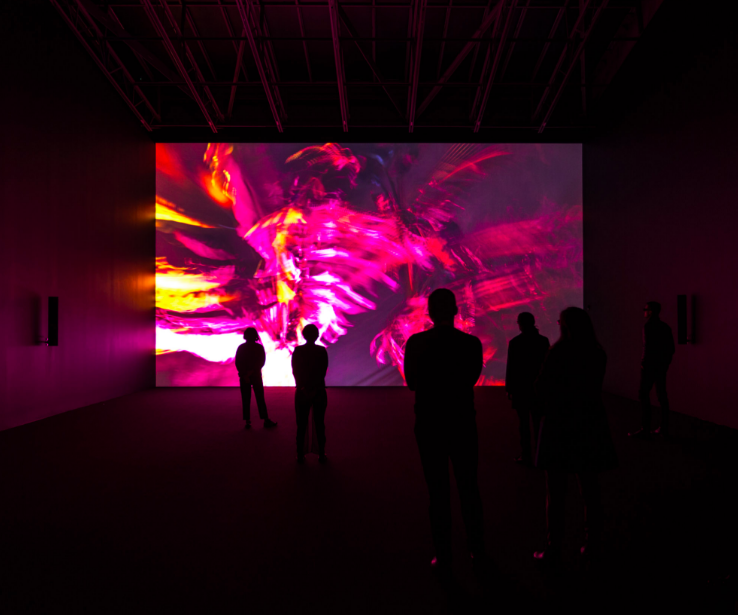 Photo by @gladstone.gallery
This month Gladstone Gallery is presenting Nightlife, "a three-dimensional film that connects a series of divergent natural and cultural phenomena throughout Cleveland, Los Angeles and Berlin."

Cyprien Gaillard combines the reproduction of a soothing soundtrack that echoes inside this gallery's walls with brightly colored projections of fireworks, city monuments, and nature, move and dance around this space to create a "hyper psychedelic experience."
One of the projections is of the fireworks that were lit up during the 1936 Summer Olympics in Berlin. Gaillard's close up on these distorted neon lights, which move across Gladstone's walls while changing in form and incandescence, overall look like a cosmic blast that blurs the "line between reality and a hallucinogenic trip."

Gladstone Gallery is located on 530 West 21 St.
---
5. Dalek & Buff Monster, Space Out, GR Gallery (Closes April 28th)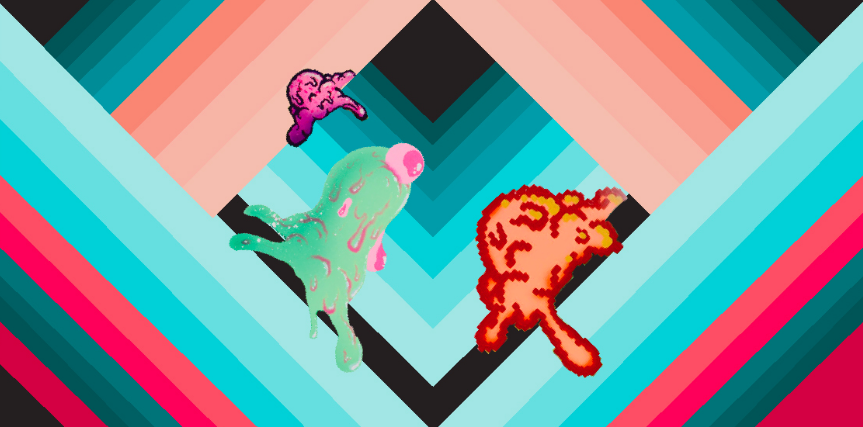 Photo by @grgallery_ny
Dalek and Buff Monster are not only internationally recognized street artists; they have more recently become figures of the 'New Pop Culture' wave. Their artwork is not only popular on Instagram, but can be found on the streets of Lower Manhattan, ads for major brands such as Nike, and featured on films like Exit Through the Gift Shop.

Space Out will showcase these artists' latest work in which they mix their famous alter egos and characteristic mazy colorful shapes to create their own psychedelic cosmos. In contrast with other exhibits happening in New York this month that intend to tackle serious socio-political topics, this exhibit with its display of colorful and witty characters and an anarchic array of lines and patterns is one to be see through a comedic lens and to be taken in more lightly.
GR Gallery is located on 255 Bowery St.