Rent in New York City is expensive, but if you get an application accepted by the New York City Housing Connect, it doesn't have to be.
Why shouldn't you apply for NYC's affordable housing? If your income fits into the application's requirements, there's no reason you shouldn't have an excellent apartment at an excellent price.
The apartments at 21-03 46 Avenue in Long Island City cost $918 per month, a price essentially unheard of for New Yorkers without rent control.
There are two one-bedroom apartments available, and to apply for them, you have to earn between $31,475 and $36,300 a year.
If you're applying for the apartment with another person, you have to earn that much between the two of you.
The best part? The apartments are beautiful. 6sqft reported that they have private terraces, ten-foot ceilings, Brazilian cherry floors, chef's kitchens with stainless steel appliances, and in-unit washers and dryers.
You'll also be a single block from MoMa PS1 and the E, M, 7, and G trains. So, we mean, you could definitely do much worse. There's also a stunning view of the Manhattan skyline from the ground floor.
[anad]
Just for context, renting an apartment in this building without the help of the NYC Housing Connect costs $3,300 per month for a two-bedroom, and $2,600 for a one-bedroom.
Yes, odds of your application being selected are small, but the deal is sweet, and you have nothing to lose. Also, if you fill out the application now, you'll be able to apply for apartments with the press of a button in the future.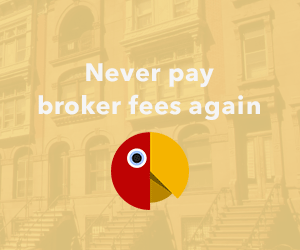 The application is due on January 28th, so get on it. You can apply here.
That being said, if you're looking for a sweet deal on apartments in Brooklyn instead-- where you won't get burned by some bum of a broker with their hand in your pocket-- check out the Oliver app here.
Check out Apartments for Less Than $500 a Month? In Greenpoint? Um, Yes Please.
[via 6sqft]
[Feature Image Courtesy 6sqft]