If you happen to be blessed with the opportunity to visit Seattle, we have got a guide that will show you the best art, food, drinks, and activities that this beautiful city has to offer.
Get ready to go to all the cool places that locals are currently obsessed with.
Let's jump right in so you can enjoy this city in the best possible way– all of this in under 24 hours!
Even though you just got to Seattle and are probably feeling a bit jet-lagged, you should not let that bring your energy down, because we have an amazing night planned for you!
Images by by @eater (left) and @starchefs (right)
Make your first stop at No Anchor. Here you will find succulent, inventive food made with local ingredients, which your server will match to this bar's unique list of beers and cocktails.
Some of the highlights that you will find at this beautiful little establishment, which features a romantically lit beer garden on its front and back yard, are the crunchy mushrooms, smoked mussels, and the vanilla cream cheese custard, all of which are to die for.
Now that you are most likely full and a little tipsy, it's time to head to the top of the Space Needle, where you will get to see Seattle's shimmering skyline.
Here you can decide to sit down on the Space Needle's deck while having a glass of wine or head to the SkyCity bar, which features a rotating panorama that will enable you to see this city's nocturnal activity in its entirety.
[anad]
There's no better way to start your morning than with great food, so head to the Pike Place Market where the options for gourmet foods seem to be endless. On the way to the market, make a quick stop at the Seattle Art Museum and purchase tickets to Yayoi Kusama's Infinity Mirrors exhibit, which you will go to later in the day.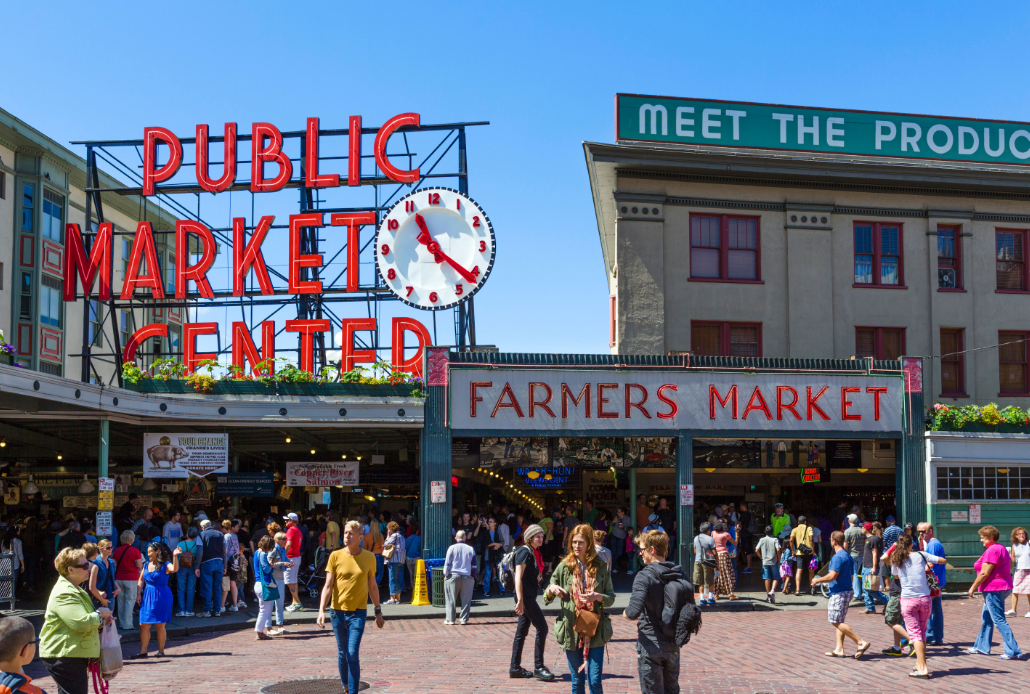 Photo by @condenasttraveller
The Pike Place Market is more than a beloved historic institution but it is in itself a "vibrant neighborhood comprised of hundreds of farmers, craftspeople, small businesses, and residents."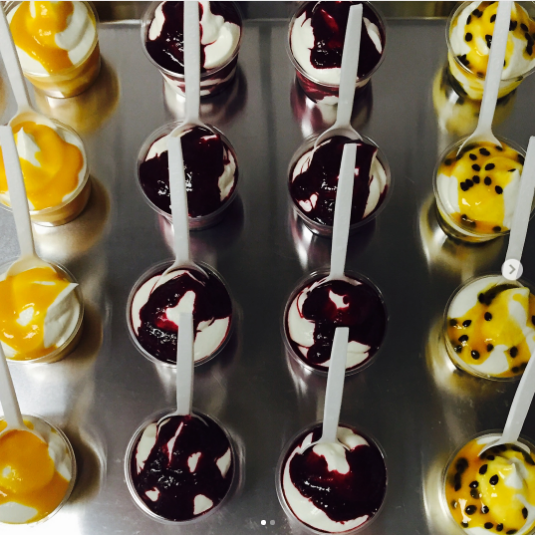 Make Ellenos Real Greek Yogurt your first stop. After you take a bite of any of this shop's freshly made yogurt selections, which are tangy and creamy, we promise that you will become a fervent fan.
As you try some of this shop's all time favorite flavors– ginger, lemon pie, and chai– wonder what it would feel like to move to Seattle just so you could make coming here a new morning ritual.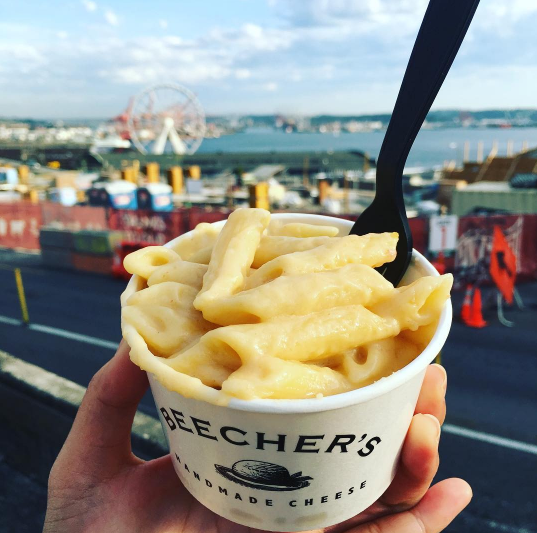 We hope that you didn't fill yourself up too much on our first stop because Beecher's Handmade Cheese offers one of the best mac and cheese that you will ever have! We know that this is quite the statement to make, but that is just how good this place really is.
This award-winning cheese shop hand makes its products on a daily basis and allows its customers to see part of this process through a massive glass window, which gives you a peek into its cheese factory.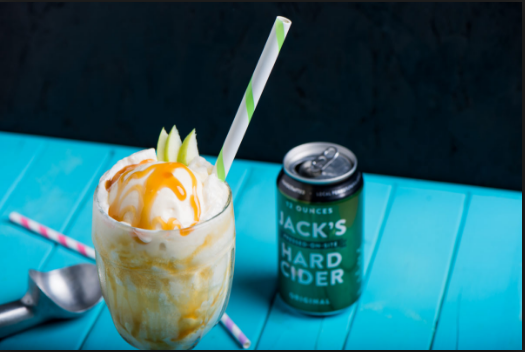 Now head to Capitol Cider for a sweet refreshment, order the whimsical yet delicious cider floater, which combines your choice of one of their exquisite ciders on tap with vanilla soft-serve.
Your morning is about to get even more fun! Head to Seattle's Gum Wall to see exactly what we mean.
This weird and colorful display of communal art is the perfect example of Seattle's unique and whimsical approach to art.
Seattle's Gum Wall has got to be one of the best photo ops that you will find in this city! Take some cool pictures, while taking in the fascinating imagery that is produced by the accumulation of thousands upon thousands of pieces of chewing gum on the walls of what used to be a desolated alley.
North of the Gum Wall, you will encounter some of the coolest street art that Seattle has to offer. The over-imposition of gum on a diverse array of stickers, paintings, and posters gives the street art found here a unique 3D effect, that almost makes it look as if the subjects are emanating from this alley's walls.
Another interesting characteristic of the street art that you will find here is a strong left-wing political message that range from Anti-Trump, pro-LGBT rights, and feminist, but put forward in a comical, witty way.
Head West towards Seattle's Pier 57 where you will encounter one of this city's architectural gems: Seattle's Great Wheel.
We recommend that you sit down for a while by the water and admire the panoramic views of the Seattle skyline, Elliott Bay, and Seattle's Great Wheel, which almost seems as if it was floating over the bay's translucent water.

The most exciting part of this guide has to be Yayoi Kusama's Infinity Mirrors, which is only showing this month at the Seattle Museum of Art (SAM).
This exhibit is an homage to Kusama's 65-year career, as well as a perfect showcase of this artist's unbounded creativity and ability to push the boundaries of artistic reinvention. Even though Kusama's six immersive infinity rooms are the focal point of this exhibit, this show also showcases this artist's incursion into the fields of sculpture, painting, and photography.
As you enter any of these six kaleidoscopic rooms you are going to become immersed in an environment where your mirror image is going to exist within an endless reflection of fantastic landscapes.
These rooms hopefully make you wonder about the notions of expansion and accumulation, concepts which Kusama has relentlessly analyzed and investigated throughout her career.
Kusama's exhibit culminates with the Obliteration Room. This room, which marked Kusama's engagement with the rising 'participatory art' movement back in 2002, is going to invite you to collaborate with other visitors to gradually cover this white room with colored dots, in an attempt to obliterate the pristine quality that this room used to have.
After you descent from Kusama's alternate reality, make sure you do not miss out Andy Warhol's iconic Double Elvis, which is on display on the SAM's top floor.

Even though the Museum of Pop Culture's (MoPC) exhibits tend to be interesting and insightful, we recommend that you to stand in front of this museum's main entrance just to appreciate MoPC's magnificent design.
Inspired by the legacy of rock and roll, the exterior design of the MoPC, which features a fusion of textures and prismatic colors, conveys "all the energy and fluidity of music."
[anad2]
The MoPC's individual finishes, which are responsive to different light conditions and change when viewed from different angles, were precisely designed by architect Frank Gehry to remind this museum's visitors that "the culture of music is in constant evolution."
From the Museum of Pop Culture, you could take a scenic walk uphill to Kerry Park; however, if you are already feeling too tired, just Uber it.
Kerry's Park panoramic views of Elliot Bay, Downtown Seattle, and the occasional backdrop of Mount Rainier are so strikingly beautiful that they might make you lose touch with your perception of time, even if it is just for a second.
Take a quick car ride to get a much deserved late lunch! Even though NYC is the home to some of the best pizza in this country, Serious Pie will not disappoint.
This establishment's "wood-fired pizzas, cracker-thin crusts, and seriously inventive toppings of fresh artisanal ingredients" will make you want to close your eyes throughout your meal, so every bite takes you closer to a place of pure culinary ecstasy.
Now to finish your 24 hours in Seattle, head to the neighborhood Hilltop, located on the east of the city, and walk along East Pike Street. This part of the city is where skateboarders, hippies, and the underground "cool kids" have migrated to thrive. Here, you will find an array of specialty products such as uniquely designed skateboards, t-shirts, hats, sneakers, vinyls, and everything in between.
Hilltop is also home to Seattle's coolest dive bars. Spend the rest of your afternoon doing a little shopping and checking out Seattle's dive bar scene, which will transport you from Unicorn Narwhal's whimsical, city fair world, to Mario's vintage/retro atmosphere, and Cha Cha Lounge's universe where Mexican art and Neon paintings rule supreme.
This part of the city is also where you will find some of this city's coolest street art.
So be delighted by the psychedelic and explosively colorful mural that can be found next to Mario's and be especially aware of the diverse array of sticker art that can be found on every inch of this neighborhood, which only reveals its unique beauty to the ones paying attention.
[Feature Image Courtesy Juanita Tovar]