Welcome to the A New Yorker Abroad series where each month our writer Lauren Breedlove will be jet-setting somewhere different, all around the world in the hope that her adventures will transport, inspire, and give you at least a hearty handful of boss planning ideas, from a wild wanderer who's been there, done that.

If there's one thing we love, it's pioneering. We jump at the chance to be the premiere peeps on the scene. We want to be discoverers in our everyday lives, trying the newest restaurants, experiencing the latest happenings, getting our hands on the next big thing.
Whatever it is, we want to do it first, and then tell everyone else about it. I mean, who doesn't love being the leader, and why would it be any different in our travel lives?
There's little travel territory left undiscovered these days, but on the world's largest island, pioneering is a promise; even their tagline says so. Enter Nuuk, Greenland.
Swap NYC rush hour for what locals call a "rush minute" in Greenland's big city. Trade the Manhattan graffiti for some narwhal street art... because, Greenland.
From foggy mornings to lit AF sunsets, Nuuk does not disappoint. Here's your definitive guide to being an authentic pioneer…in Greenland.
[anad]
---
Arrive.
You can fly straight into Nuuk via Keflavik, Iceland, so boom, two epic vacays in one. At KEF, you'll trade in your regular airplane for a small but flashy Dash-8 propeller plane, in bright red, of course.
Prepare for a serious mic drop just before landing. It's one of the coolest air entrances you'll see. Fjords, icebergs, and glaciers are waiting to blow your mind from below as you soar into Nuuk. But wait, it gets better.
You'll think there's no way you can go up from here, but the adventure has truly only just begun.
---
Stay.
Nuuk being the sprawling city that it is, has a five star abode, Hotel Hans Egede which features, quite possibly, one of the best breakfast spreads ever to fuel your daily adventures.
You're gonna need it, so pack it in. Oh, not to mention the sky lounge sporting ridiculous views. Unless you don't like mountains, then are we even friends?
---
Culture.
Us New Yorkers are culture craving creatures. Although we live in a city peppered with culture, we just can't get enough, and lucky for us, Greenlanders are more than happy to share what is wildly interesting and contrasting to our own.
Even if you're not typically a museum buff, this sh*t is riveting. Head to the old harbor area to the National Museum of Greenland for some bits of history.
When you're feeling artsy, take in various forms of art at the Nuuk Art Museum, housed in an old church– which is cool in itself.
---
Stretch.
...Your legs. You'll be hard pressed not to feel inspired by the massive mountain scenery. The peaks surrounding Nuuk are just begging to be explored and you're just the one to do it.
Luckily, you can access a perfectly well rounded hike just outside of Nuuk, with Lille Maline. Mountain Lakes, streams, waterfalls, and views of the resident mountain, Sermitsiaq, abound.
---
Eat.
- Katuaq Cultural Center: It's literally the center of Nuuk, a gathering place for locals for socializing, live music performances, and some super delish eats to boot.
- Café Esmeralda: Solid in taste, and portions.
- Café Inuk: Greenlandic specialties complete with postcard views.
- Restaurant Sarfalik: Put your fancy pants on for 5-star dining with a view.
---
See the Sea.
Boating is a big way of life in Greenland. Like, NY pizza slice BIG. Take a boat tour out of Nuuk into the many surrounding fjords and watch mountain giants tower above in 360, as you wonder what kind of fresh paradise this is. Book a tailored tour with ABC Boat Charters and Captain Eric will regale you with facts, tales, and oh, the wildly epic scenery. He has cookies too, just sayin.
For a slice of local summer life have Eric bop you over to Qooqqut Nuan, a remotely remote mountain cabin resort of sorts, where you can deep sea fish en route, and have it prepared fresh for what will be a feast of unbelievable deliciousness for dinner.
Watch the midnight sun highlight the mountain tops before tucking yourself in one of the adorable cabins, in what feels like the end of the world; a beauteous one at that.
---
Cheers.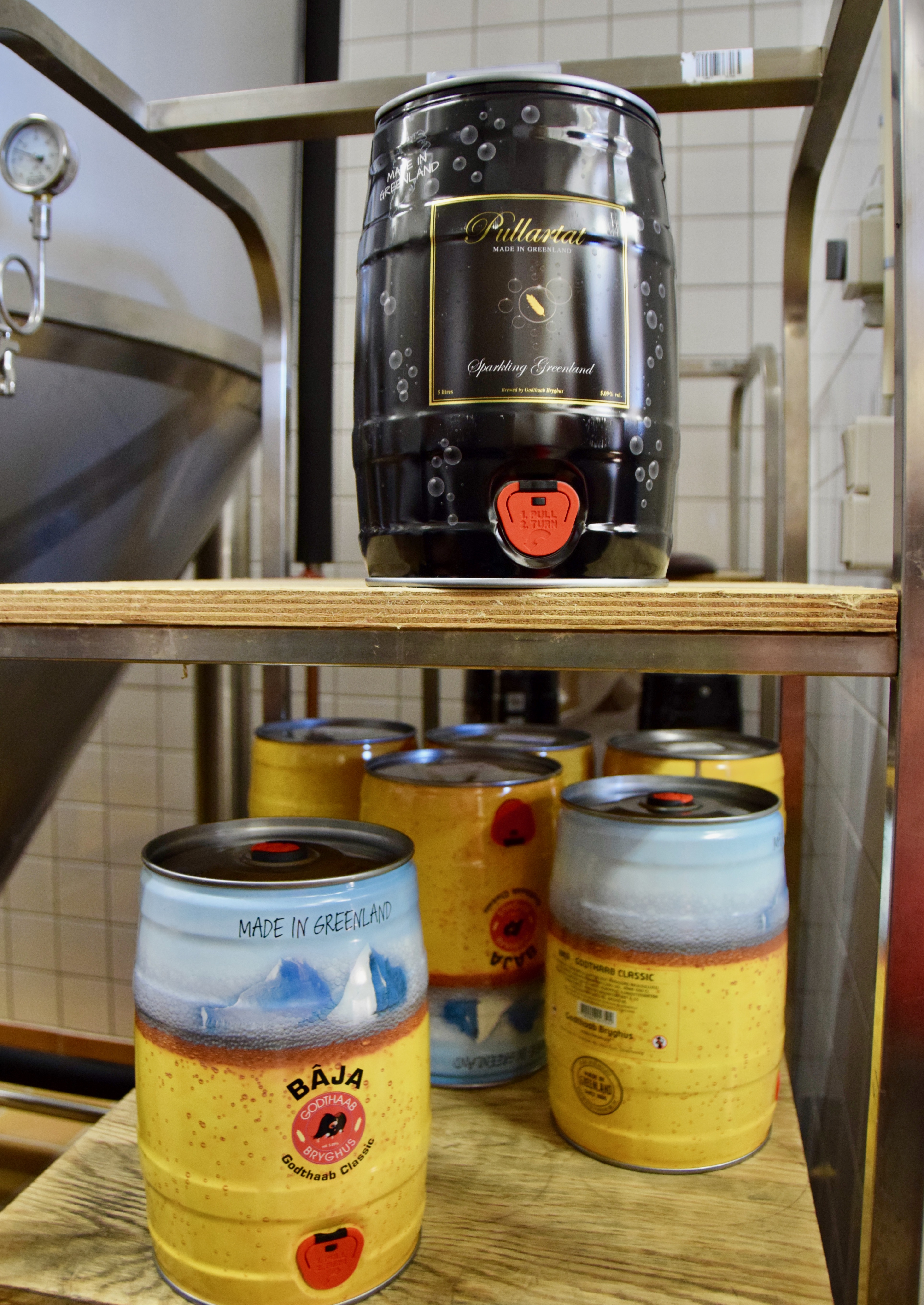 via Lauren Breedlove
Hit up the local watering holes like Takuss, or take a tour of the brewery and try their unique champagne beer. A brewery in Greenland, who knew?
---
Locals.
Greenlanders are friendly, funny, and for the most part, speak fantastic English. Chat, break bread, & cheers to complete the locals trifecta. Ask for "ghost stories" as the culture is rich in belief of superstitions, spirits & legends. Find out the stories behind the statues, especially the myth surrounding the Mother of the Sea, positioned in the old town harbor.
---
Eye Candy.
A layer cake of views. Make sure you climb the small coastal hill overlooking mosquito valley for sunset. You'll easily learn how Nuuk got it's hashtag #colorfulnuuk.
---
Cool Tips (because, the Arctic).
- If you go during the summer months you'll have the opportunity to experience the midnight sun which means more time for activities, and the need for blackout curtains. If the blackout curtains aren't enough for you- pack a sleep mask.
- Invest in a mosquito net for your head. Seriously.
- Purchase trip insurance in case of grounded flights due to weather and such as this happens a little more on the regular in Greenland.
[anad2]
- You're allowed one duty free bag on your flight, so might as well fill it with adult bevvies from your Keflavik layover at half price, know what I mean?
---
Ready... go!
Slap on your pioneering pants and get planning people. Nuuk will only remain relatively undiscovered for so long. Head to Greenland.com to unearth a trove of helpful information for pioneer plotting.
[Feature Image Courtesy Lauren Breedlove]