So all your friends are sending you snaps of themselves living it up on their vacays.
What is a New Yorker to do?
While you could hit up a few parks and touristy destinations, there's nothing like chillin' in your own crib.
...binge-watching TV series', ofc.
If you've been itching for a new show or seven to obsess over, we gotchu.
---
1. Comrade Detective (Aug. 4 - Amazon Prime)
Anyone else totally miss Channing Tatum? We haven't been able to stop thinking about him since Magic Mike.
[anad]
In this Amazon original, Tatum plays the role of Gregor Anhel, the star of a comedic fake '80s Romanian cop show. Other well-known actors like Joseph Gordon-Levitt and Nick Offerman star in this hilariously meta Cold War era parody. The first season promises to be action-packed and blood-soaked. We're just hoping they actually deliver. Even if they don't, staring at a muscular Channing Tatum never hurts.
---
2. Difficult People (Aug. 8 - Hulu)
If you're a fan of culturally literate and cynical comedy, Difficult People is a must watch. Plus, the whole show takes place in NYC; how relatable.
The third season of the show follows characters Julie and Billy, two 30-something aspiring comics living and working in New York City, as they try to figure out why they aren't finding love and success...aka embodying the thoughts and struggles of every New Yorker out there. The plan is to quit their day jobs asap and turn their hobby into their career. We'll be watching to see how far they actually get...maybe there is hope for us.
---
3. Disjointed (Aug. 25th - Netflix)
With more and more Americans supporting marijuana legalization, weed culture is making its way onto the big screen.
The Netflix series follows Ruth (Kathy Bates), a lifelong advocate, as she finally lives her dream to be the owner of a Los Angeles dispensary. Also working at Ruth's Alternative Caring are three charismatic "budtenders" (Dougie Baldwin, Elizabeth Ho, and Elizabeth Alderfer), her entrepreneurial son and a troubled security guard who served in Afghanistan. Reefer madness has hit and we're so down for it.
---
4. Girlfriend's Guide to Divorce (Aug. 17th - Netflix & Amazon)
We haven't followed single middle-aged women through their midlife crises and actually enjoyed it since Sex and the City tbh.
But Girlfriend's Guide to Divorce seems promising. During season 4, Abby and Barbara go into business together on a website, named Lady Parts, geared toward women their age. They then enlist the help of celebrity "influencer" Temple Hampton, who happens to be dating Abby's ex, Will.
Jo's relationship with the "Bald Eagle" continues to grow, even though the reveal of his true identity threatens their future. In her new position at Legal Aid, Delia develops feelings for her new partner, while Phoebe is torn between her relationship with Gemma and saving her marriage.
---
5. Death Note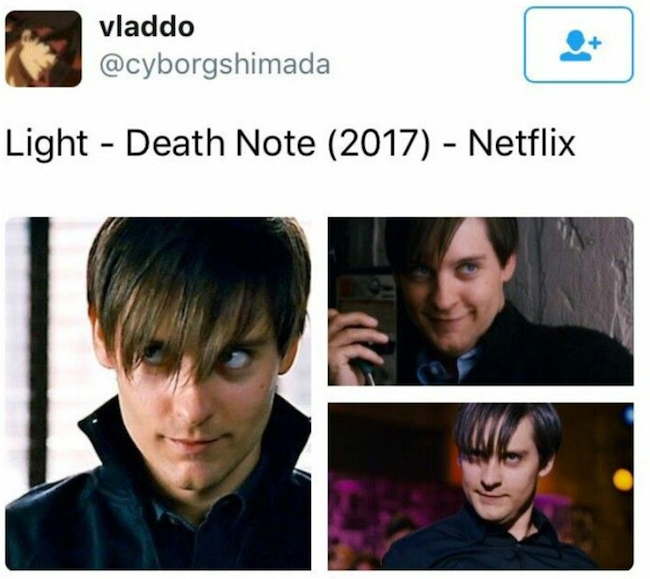 JUST KIDDING, DON'T WATCH THIS, IT'S GONNA BE BAD. Watch the OG anime, which is super dope, instead! It's also on Netflix! And Hulu! Yay!
---
6. The Defenders (Aug. 18th - Netflix)
Anyone else obsessed with the Marvel Universe? Good.
Netflix's many entries into the Universe have all culminated to this long-awaited series. We all know that Luke Cage kills it from the mean streets of Harlem, Jessica Jones holds down Brooklyn, Daredevil runs Hell's Kitchen and Iron Fist patrols Midtown, but in this new crossover, the gang teams up to protect New York against evil ninja triad known as the Hand.
What we're most looking forward to in this series though, is the long-awaited return of sexual tension between Jessica and Luke. Yasssss, #SorryNotSorry.
---
7. The Saw Series (Aug. 1st - Amazon & Hulu)
In case you don't have the five films on DVD (wow, throwback), Amazon and Hulu are putting them all out there for your torture-porn pleasure.
[anad2]
If you're into gore and carnage and have yet to watch this series, where have you been? If these five grotesque horror films don't satiate your need to watch innocent people get brutally tortured and eventually killed, we don't know what will.
---
8. AWOL (Aug. 21 - Netflix)
Here's one for the indie movie nerds out there that appreciate some damn good filmmaking.
AWOL follows the story of Joey, an aimless young woman, who visits an army recruiting office to find a pth for herself. Just when she thinks she's got it all figured out though, she meets a young woman named Rayna. Of course, they end up falling in love. This emotional and authentic film is a beautiful portrait of first love.
[Feature Image Courtesy Digital Trends]