Perch yourself atop some of New York City's hottest venues, to enjoy a signature cocktail alongside an iconic view all season long. This Summer in the city offers waterside seafood, al fresco Mediterranean spreads, and poolside bubbly while looking down on the Big Apple's epic skyline. Here are 8 spots to entertain friends or bring your special someone to knock back a few cocktails during hot Summer days and nights.
1. Somewhere Nowhere (112 W 25th St)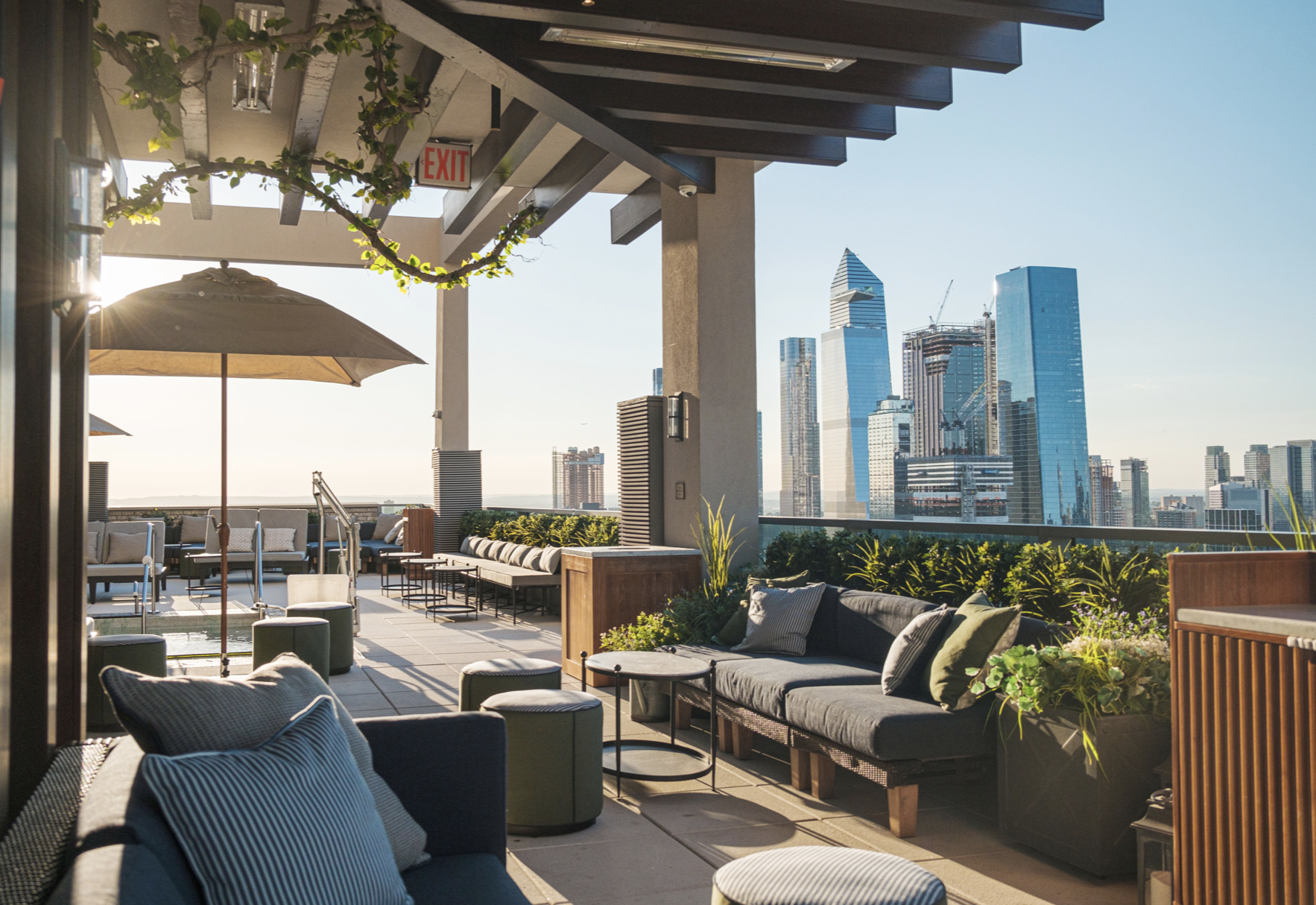 Somewhere Nowhere
Treat yourself to breathtaking sights of the city at Somewhere Nowhere, offering panoramic poolside views of the skyline on the rooftop and a surreal interior with a garden-like atmosphere enhanced by immersive art mapping technology and architecture. Dine on their Warm Lobster Roll with watercress, chives, and lemon, and order cocktails to enjoy in the open air! Summer programming includes Trusted Mic with The Rakiem Walker Project Band on Fridays at 5 p.m. plus Gotham Jazz on Wednesdays at 5 p.m.

2. Ten Hope (10 Hope Street)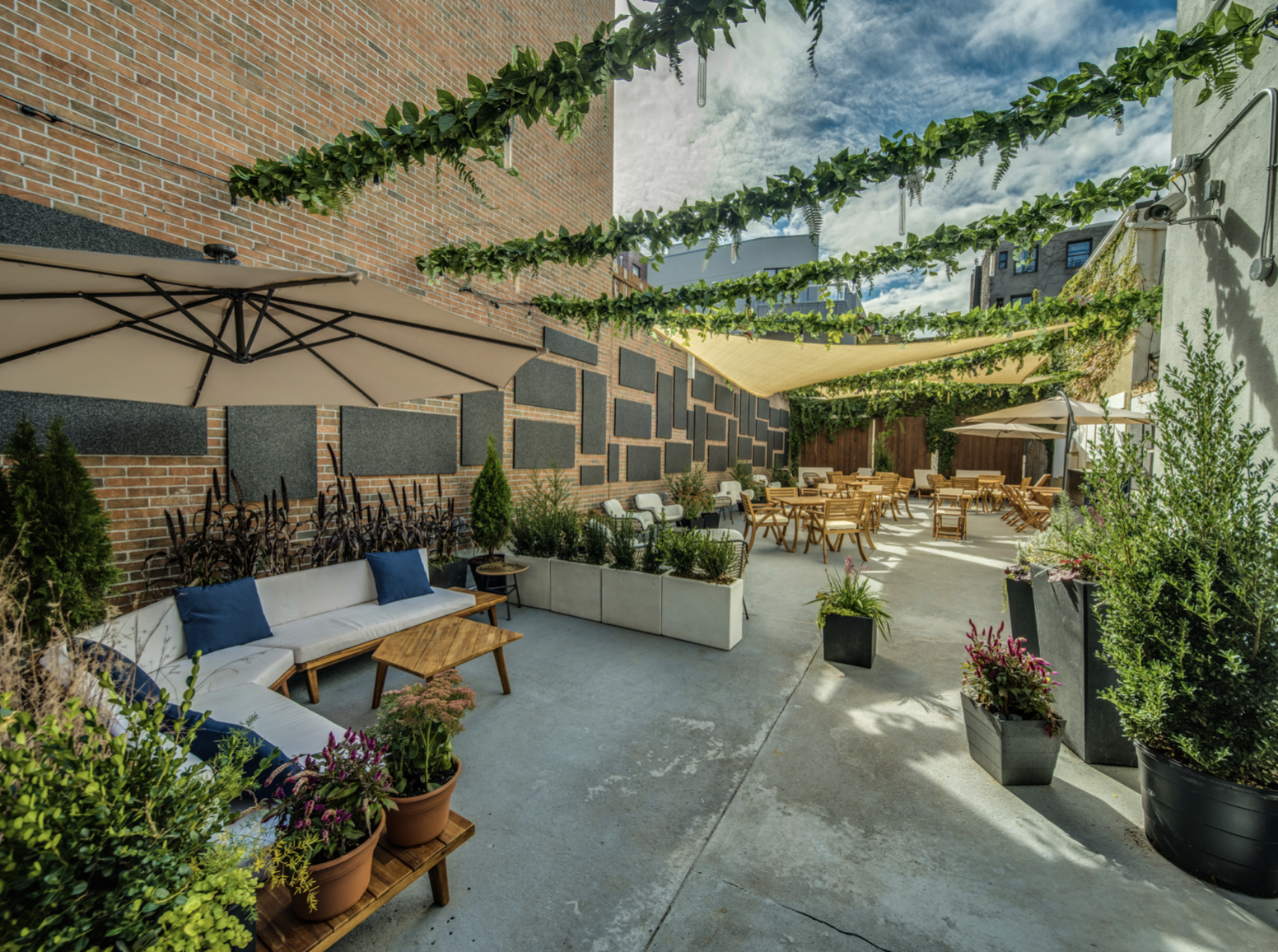 Ten Hope's patio
Ten Hope, Williamsburg's crowning dining destination is reopened for the season, boasting the return of their 2,500-square-foot vine-laced open-air patio. Diners can delight in refreshed menus, decor, and ample open-air seating surrounded by lush greenery. Expect savory Mediterranean dishes perfect for brunch or dinner complimented by a fantastic menu of cocktails.

3. Daintree (25 W 38th St)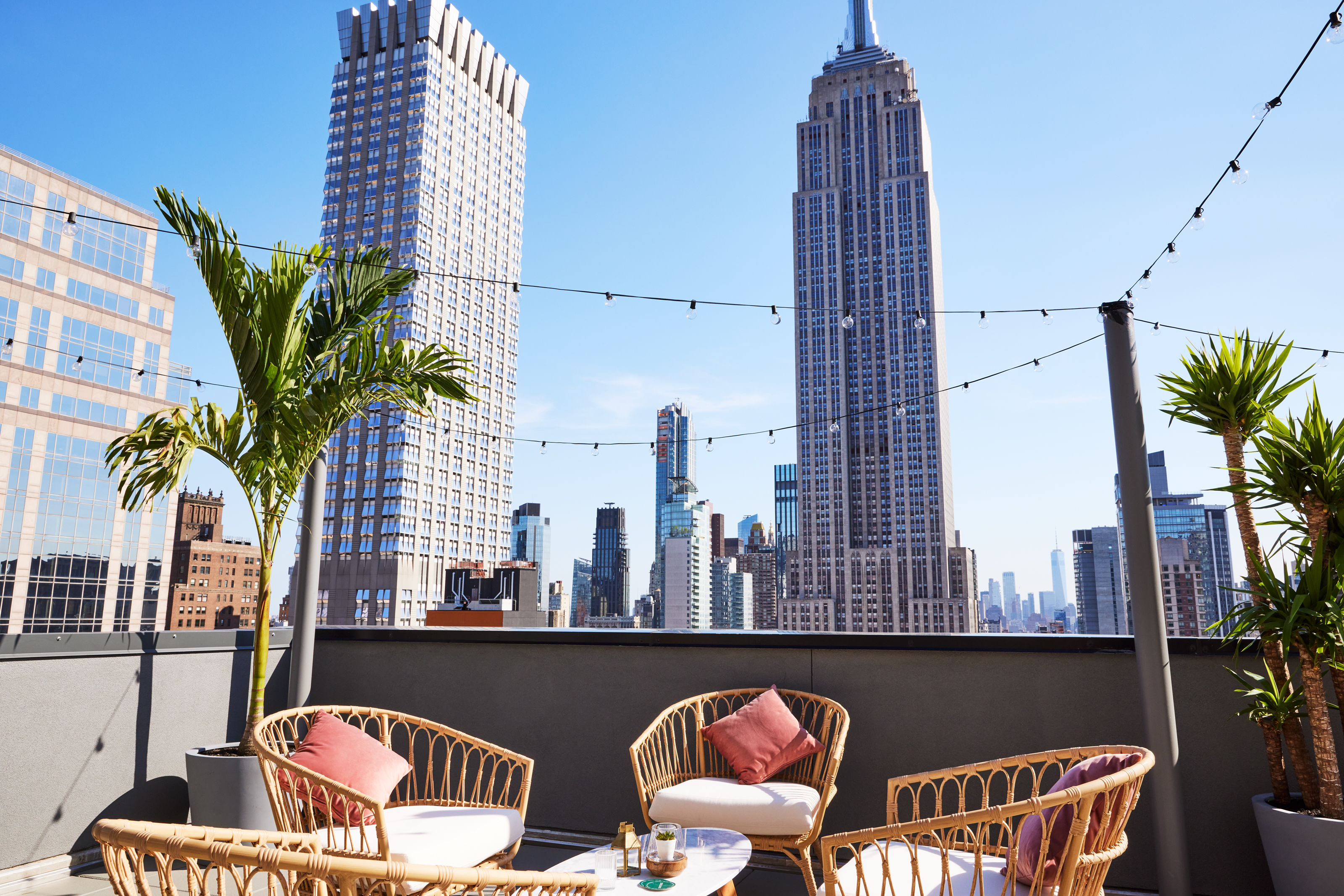 Daintree's rooftop view
A bottle of wine in a gorgeous penthouse lounge looking down on New York City? Yes! During Summer Fridays at Daintree, between 2 pm to 5 pm, guests that make a Resy can enjoy a deal on 6 oysters and a bottle of wine for $50. The cocktail lounge and rooftop location atop Hotel Hendricks in Midtown will host the special all Summer long, alongside one of the best sunset views of the city, and a menu full of delicious cocktails like The Taipan, made with Hiatus tequila, Pineapple Gum, Espelette Pepper, Yuzu, Lime, and Shiso and a wine list including whites like LA Patience Chardonnay, reds like Ben Haines Syrah, Cabernet Sauvignon, Orange like Jumping Juice Shiraz, Sauvignon Blanc, and Sparkling options like Mouzon Leroux "L'Avatique".
4. The Springs BK (224 Franklin St.)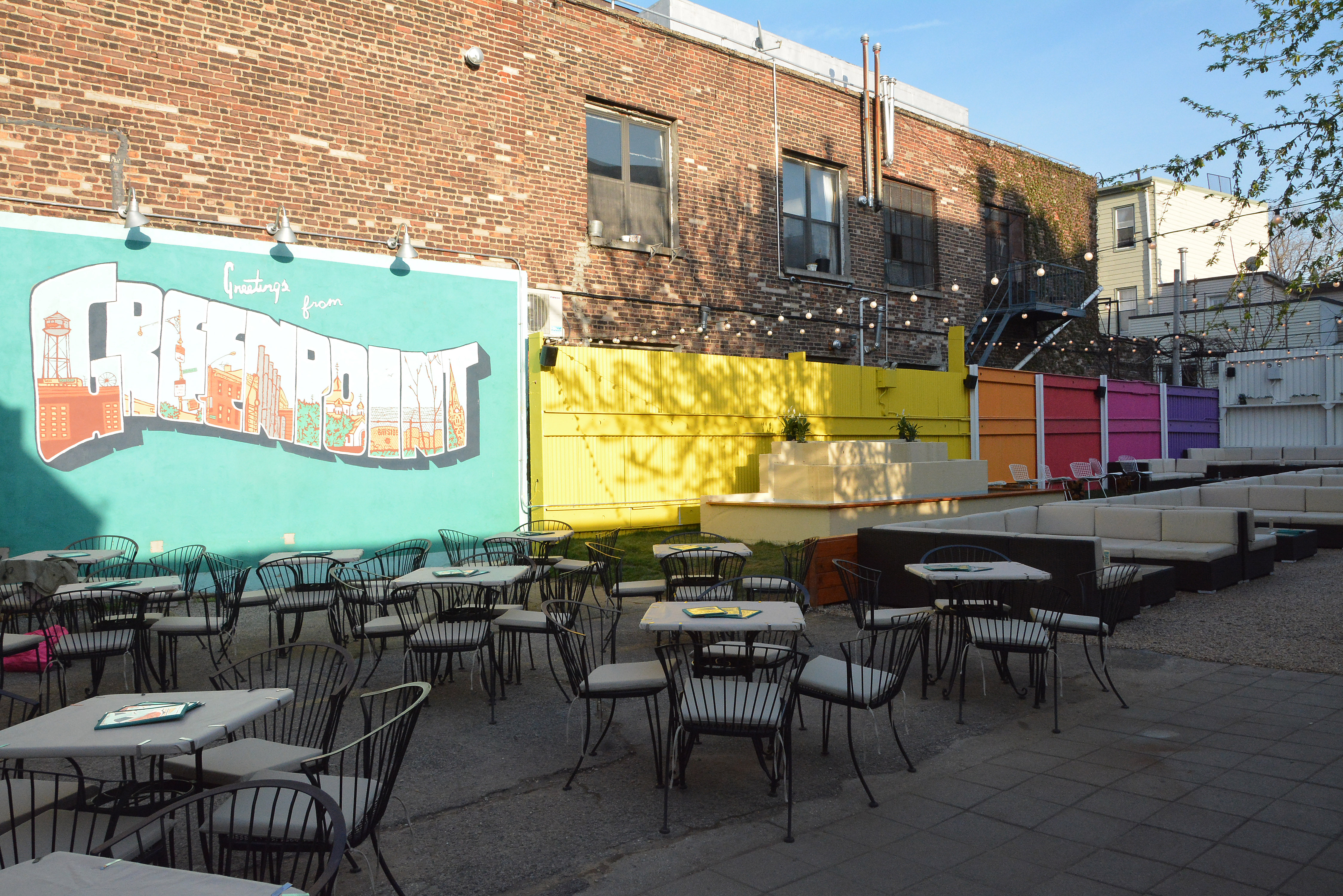 The Springs patio
Head to Greenpoint for a dose of retro Palm Springs glam and a massive patio at The Springs. Soak up the sun with a frozen Aperol Spritz cocktail or cold beers Monday through Friday beginning at 4 pm and Saturdays and Sundays beginning at 2 pm. Visitors on Fridays and Saturdays can snag small bites and Brioche Donuts from Eat with Nana NYC. The spot is also dog friendly as long as you keep a leash on your furry friend.
5. Cobble Fish (Pier 16 at the South Street Seaport)
Cobble Fish Kick-off
Grab seafood at the South Street Seaport, at Pier 16's Cobble Fish! The seasonally-opened dining and drinking destination serves succulent seafood, summer cocktails, and great waterside views. The al fresco spot on the East River provides a hometown vibe complemented by everything we loved about NYC in the 90's including the music. It's a spot to meet friends over a delicious lobster roll, cold cocktail, and sun drench boardwalk vibes.

6. Hidden Lane (129 E 15th St.)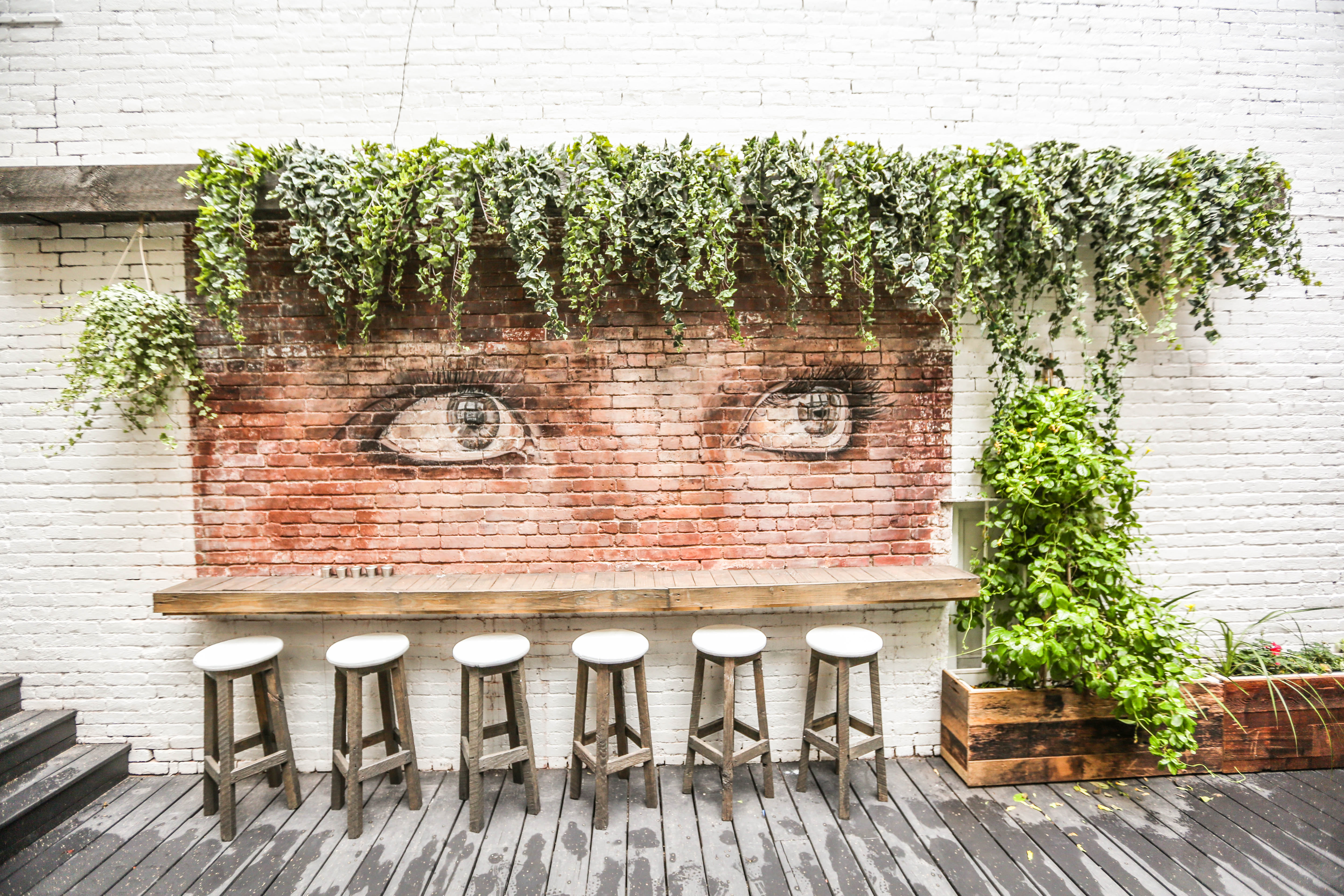 Hidden Lane's Outdoor Mural
Enjoy Hidden Lane's picturesque garden all day or night, when it's illuminated by beautifully lit trees! The indoor space is accented with an ornate brass ceiling and an upstairs lounge with cozy seating, emanating old New York City charm. Steps away from Gramercy Park, Hidden Lane is open from 4 pm to 2 am during weekdays and from 2 pm to 3 am on weekends.

7. Dagon (2454 Broadway)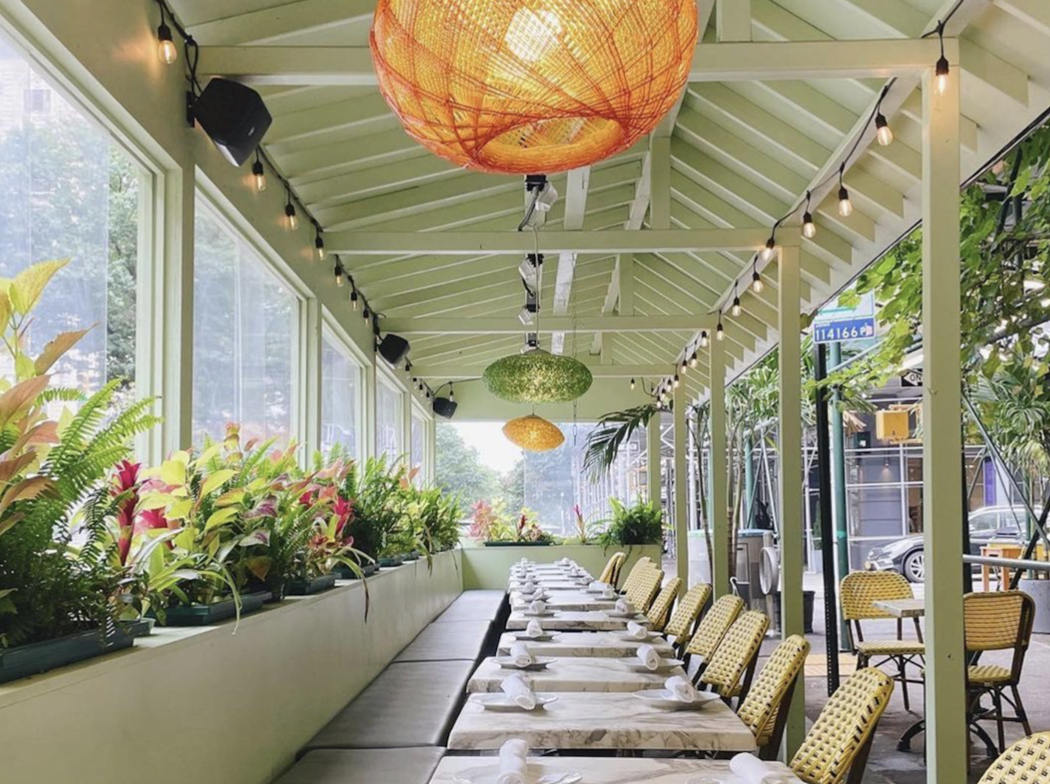 Dagon's outdoor dining space
Restauranteur Ari Bokovza's popular Upper West Side establishment serves food from "somewhere in the Mediterranean." The menu features contemporary Israeli cuisine with Levantine elements and is named for the Phoenician and Philistine god of agriculture and the earth. The restaurant's outdoor space features 30 seats and is decorated in a La Dolce Vita Tel Aviv manner. The abundance of plants, cozy green leather benches, cheerful yellow and green chairs, light marble tables, and vibrant chandeliers hanging from the ceiling give diners the impression that they are within a lovely garden.

8. Nice Matin (201 West 79th Street)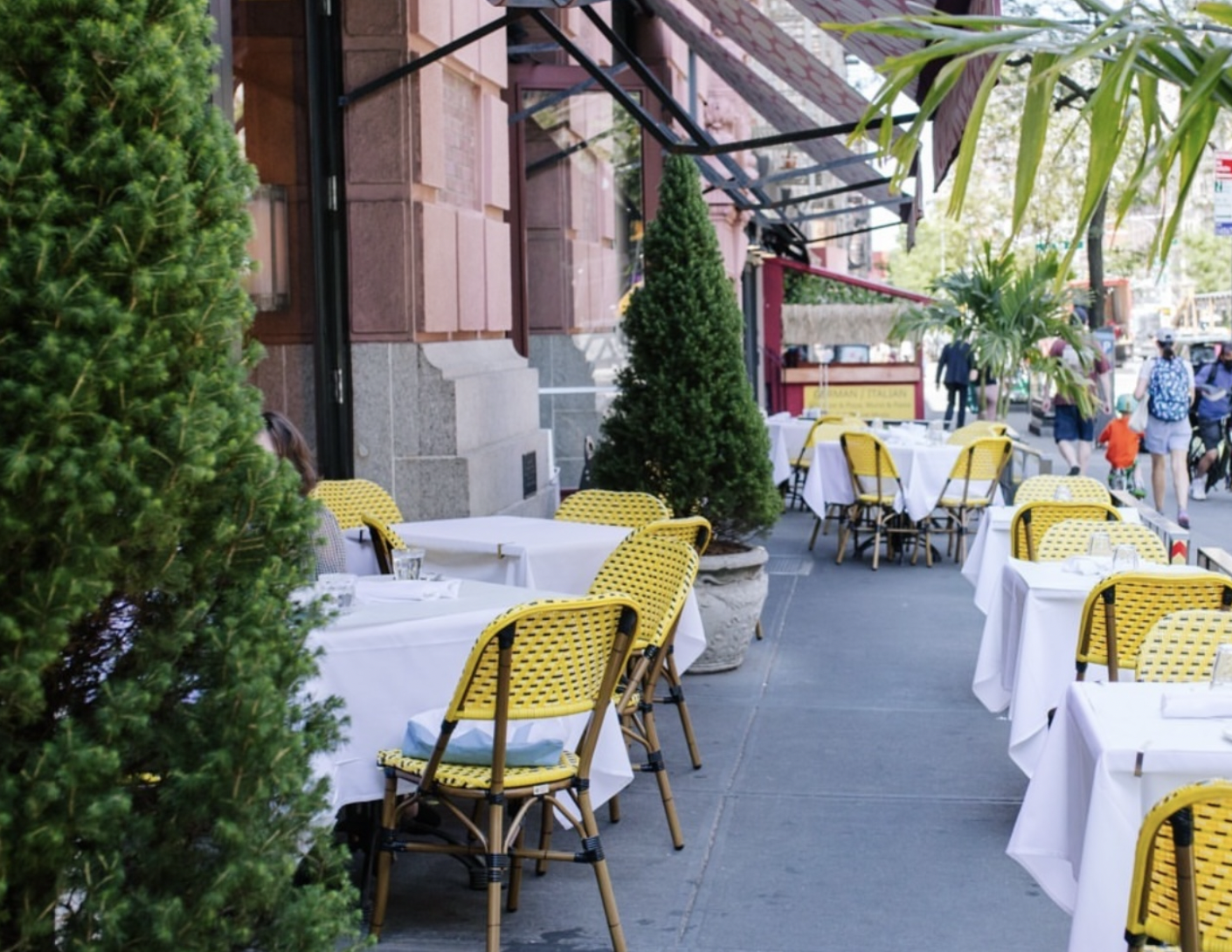 Nice Matin's outdoor dining
When walking down Amsterdam Avenue on the Upper West Side, you can't help but notice rows of tables draped in tablecloths, yellow French bistro chairs, and tall, potted trees suggestive of Provence. The neighborhood staple boasts a menu to match the delightfully French outdoor dining area, featuring risotto scented with beet juice and topped with goat cheese crema, and dukkah; a small pasta section that blends French and Italian cuisine; and not-so-standard branzino.