When your dating experience comes with guidelines like six feet of distance, vaccination badges, timed sanitizer applications, temperature checks, and fist-bumps instead of embraces, it may start to feel like a game of strategy. Don't be discouraged! On the plus side, it is quite romantic to start falling for that special someone when all you can see are their eyes hovering above a primp surgical mask. Other than a few hang-ups like color coordinating your mask to your outfit, what's really stopping you from upping your dating game this year? Now is a time to surrender to the new circumstances, buy that bedazzled sanitizer holder, and get back out there! Seriously, with so much going on in New York City, there's no reason to keep dating digital.
What can you do during a first date or special anniversary celebration? Everything! Restaurants, theaters, lounges, pool halls, galleries, and so on have adapted to social distancing measures. New safety regulations are providing security and comfort for guests at venues in numerous industries like art, music, and food. Dates don't have to consist of video calls and takeout. Hopefully, this article will get you back on track romantically as we explore the most vibrant and stimulating date ideas in the five boroughs: here are the experiential dates you need to keep in mind this month.
Opening Night At Portale (126 West 18th Street)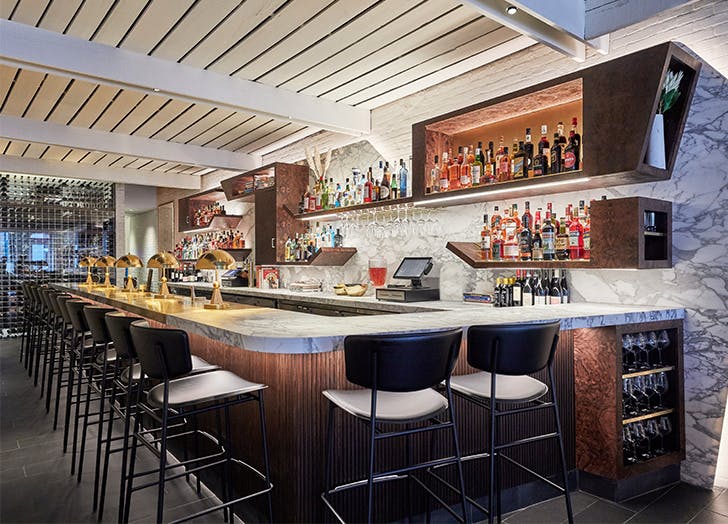 For a Valentine`s Day date night that combines exquisite Italian food with a sophisticated vibe, Portale, the stand-out creation of Chef Alfred Portale, is the place to enchant your date. Opening on Monday especially for Valentine`s Day, their four-course dinner menu is set at $115 per person. Diners begin with a Zuppa of celery roots, poached pear, and spiced hazelnuts, chased by an appetizer like Plateau Frutti Di Mare with oysters, snow crab claws, seafood ceviche, or Terrina, a duck terrine with Tuscan lentils, candy cane beets, and orange marmalata. Main entrees will range from Chef Portale's signature Lumache pasta with bolognese Bianco, black truffle, and Parmigiano, or Bistecca For Two, a filet mignon with roasted carrots, cipollini onion, and truffled potatoes to share. Executive Pastry Chef Kaity Mitchell's end dinner on a high note; with options like Budino Di Focaccia, a warm sourdough focaccia bread pudding with toffee sauce, sweet cream gelato, and Mousse al Cioccolato, a milk chocolate mousse, amaro butterscotch, toasted meringue, brownie, and coconut sorbet. Check out the restaurant's website to make reservations or shoot an email to reservations@portalerestaurant.com.
Paint Nite - The Original Paint and Sip Experience (3535 Hempstead Turnpike Levittown)
Draw, drink, laugh, dance, create ... and repeat! Now you can do all your favorite things in one night. Join other attendees at the Original Paint Night Party in Levittown, the night after Valentine's Day and see why YAYMAKERS has amassed 3.5k supportive followers. No art experience? No problem! Master artist Tammy Tavarone Bishop will guide you and other guests (including your date or dates) through all the steps, turning your blank canvas into your masterpiece, even if you've never touched a paintbrush before. YAYMAKER explores the creative side of every individual and gives you the tools you need to embrace more YAY with your loved ones or on your own. They've hosted more than 35,000 hybrid and digital events to date, sending attendees home with new art and perspective. Tickets are fixed at $35 and will sell out soon as space is limited.
BYOB Truffle Making Class at in a BK Chocolate Factory (97 North 10th Street)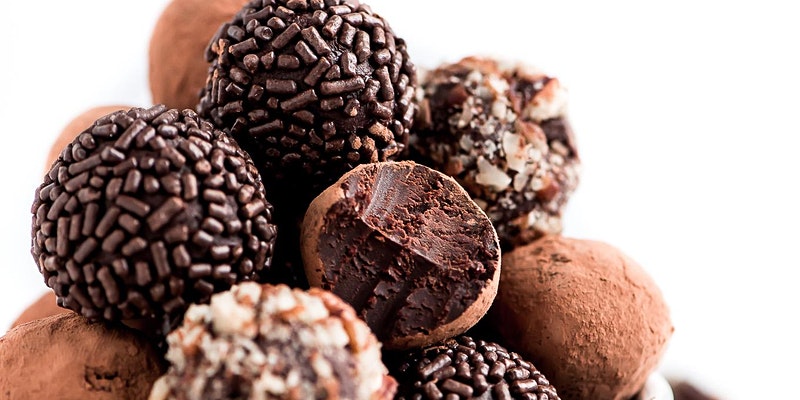 Want to know more about how chocolate truffles are made while sipping your favorite bubbly in a real chocolate factory? French chocolate expert Virginia welcomes chocolate connoisseurs to Kahkow USA with authentic hot chocolate or ice chocolate this Valentine's Day, and a BYOB twist. After warming up to the group and getting to know each other, you'll tour the space. You have the opportunity to admire the chocolate factory and store. After a brief history of chocolate over the centuries, and a rundown of the processes of chocolate making Virginia will walk guests through a demo of making ganache and truffles, focusing on traditional recipes and techniques. As attendees learn about flavor infusion and add-ins like nuts, extracts, and more, Virginia provides guidance and entertains the crowd with fun facts and Q+A segments. Before leaving, you'll get a special discount on chocolates at their shop, and other surprises like roses, photo booths, and more. Tickets are selling at $120, which includes the educational portion of the class like the history of chocolate, chocolate factory tour, guided chocolate-making instruction, and the take-home truffles you will create during your experience.
Pre-Fixe Dining By The Water At American Brass (2-01 50th Avenue)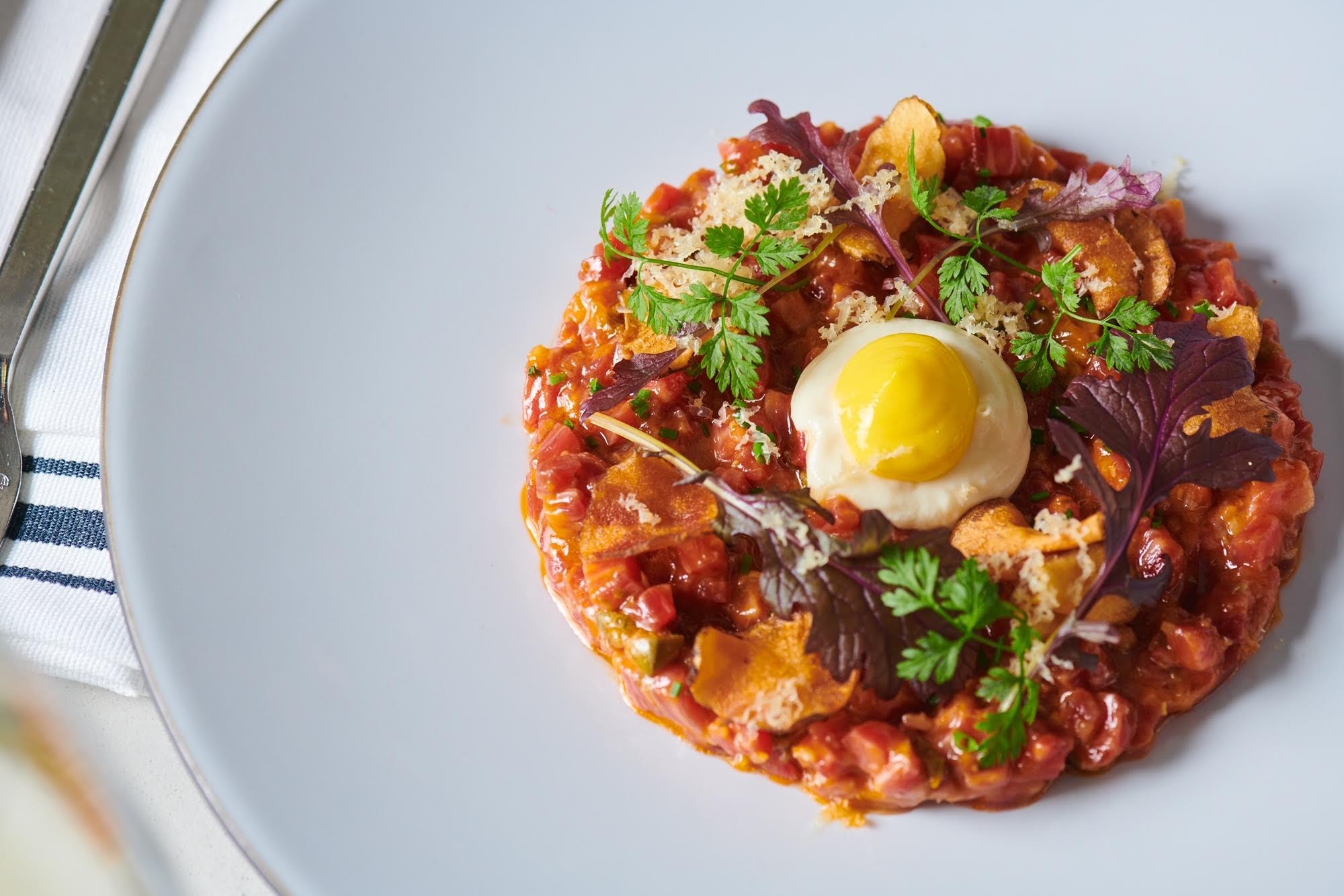 Steak Tartare: crispy sunchokes, smoked egg yolk, sourdough
Enjoy delectable food on Valentine's Day while seated in a scenic and heated outdoor booth with views of Long Island City at American Brass! The interior offers cozy and warmly lit tables for dine-in guests with a simple and elegant color scheme. Located on the waters of Long Island City, American Brass offers a delicious Valentine's Day menu from 5 pm to 10 pm by chef Kevin McGinley for $90 per person. The meal will begin with champagne and creme-fresh hash browns, Osetra caviar amuse-bouche, Jerusalem artichokes, smoked egg yolks, soards, or butternut squash soup. Menu highlights include fleet steak tartare to oysters, seafood risotto with uni butter, Japanese eggplant, and grilled ribs. The meal is finished with a choice of apple Tarte Tatin, chocolate mousse, cream cheese ganache, poached pear, and red wine velvet cake with graham cracker biscuits. Reserve a table on their website while there is availability!
Raw Burlesque: Valentines Day Edition (2 Wyckoff Avenue)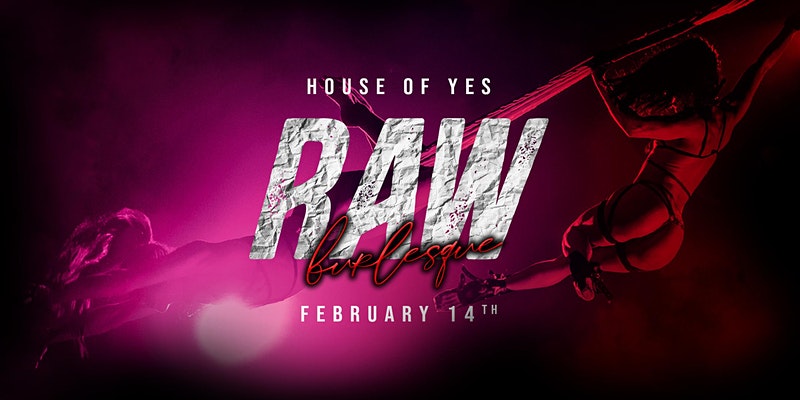 Tickets are on sale for Raw Burlesque at the House of Yes! This RAW Burlesque show shares the fearless and filthy, a spicy collection of artists serving sass for lovebirds and sultry singles in the audience. RAW is elevated chaos, featuring musicians and performances of each genre, gender, and style. It is raunchy, ravenous, and raucous, so if you're faint of heart skip this fiery event! Thanks to the vision of co-founder Anya Sapozhnikova, this showcase surpasses the simple glitter and glamour spectacles that Burlesque lovers might be expecting. Score tickets on their Eventbrite link or shoot an email for a reservation to reservations@houseofyes.org to book. Those who arrive early may additionally win spa seating, an unforgettable experience watching the action from the best seat in the house - an antique clawfoot bathtub! As a part of this spa seating, the winner will be pampered in bubbles, fresh towels, a butler, and more.
Visit Saint Theo's Hidden Bar 'Venice' (340 Bleecker Street)
Since its mid-summer opening, Italian restaurant Saint Theo's has become one of West Village's most Instagrammable locations. They've been hosting crowds of foodies and taking over the digital grid with their eye-catching food, specifically their Ricotta pasta drizzled with Calabrian chili oil. Their top-notch cuisine, inspired by the flavors of Venice and the Italian coast is no longer the only reason to head to Bleecker Street. Saint Theo's new secret Venetian-style cocktail bar, Venice Bar, is officially open although hidden behind velvety curtains. Once seated at their 20-stooled bar, attendees can order drinks and traditional Venetian snacks from rich red chaise lounge seating and admire the vintage Pirelli calendars, large Maitland Smith mirrors, and Murano chandeliers from Italy. Ashley Rath, the Executive Chef of Saint Theo's, serves dishes like Fungi Fritti, a stir-fry of beech and king mushrooms, and anchovy emulsion, Sardine Saor, stir-fried sardine onion, raisins, and pine nuts and Baccalà Mantecato, hand creamed cod. Bartender Kyle Sheridan crafted a cocktail menu inspired by everything Italian, featuring options like the Spritz Veneziano, Basil Vodka, Malfi Lemon Gin, Cocchi Americano, and more. Head to their website to make reservations throughout February for a romantic and succulent dining experience.
DIY Pizza Love Fest Kit From Fornino (849 Manhattan Ave.)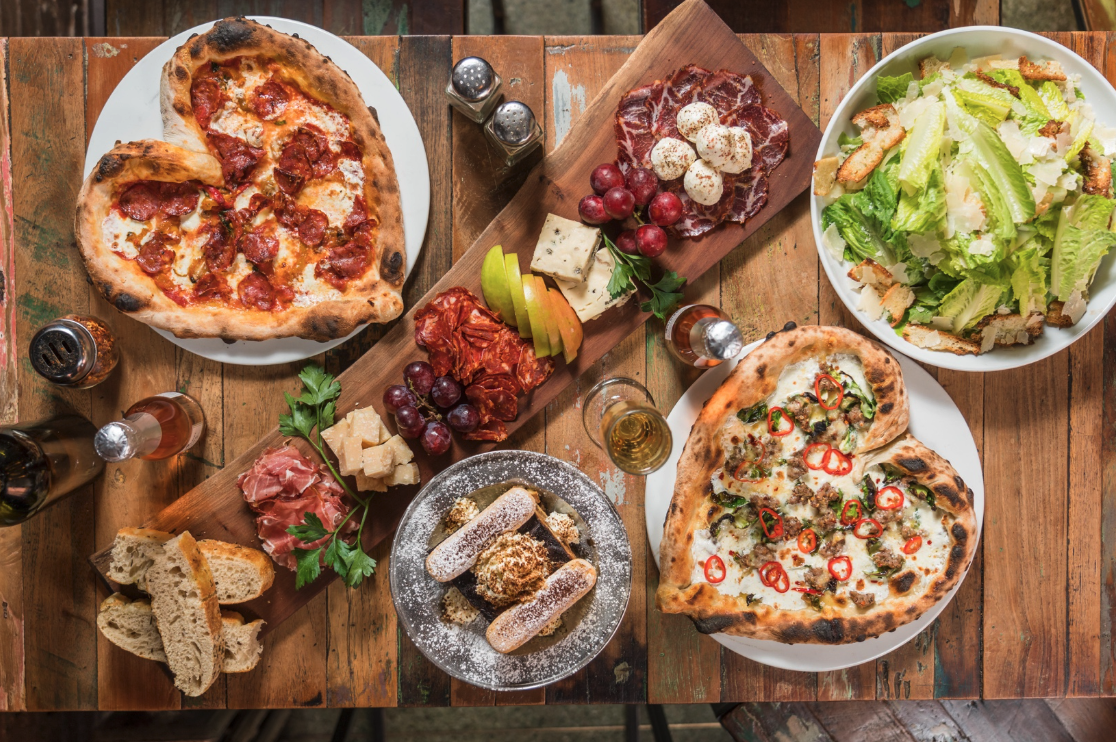 Pizza Love Fest Kit
Do you crave pizza, wine, imported fruit, and romance on call? If that thought gave you chills, let us introduce you to Fornino's Valentine's Day care package, the Pizza Love Fest Kit. The kit will be available at Fornino's 849 Manhattan Avenue location in Greenpoint from February 11th to 14th. The festive Valentine's Day feast is perfect for dine-in guests and available for delivery, including imported cheese and fruit platters, large salads, two heart-shaped pizzas, tiramisu, strawberries, and red or white wine for $95. The kit is priced at $70 without the wines for those who don't feel like sipping! For more information on availability and reservations, please visit www.Fornino.com.
A Trill Love Fest At Slate (54 West 21st Street)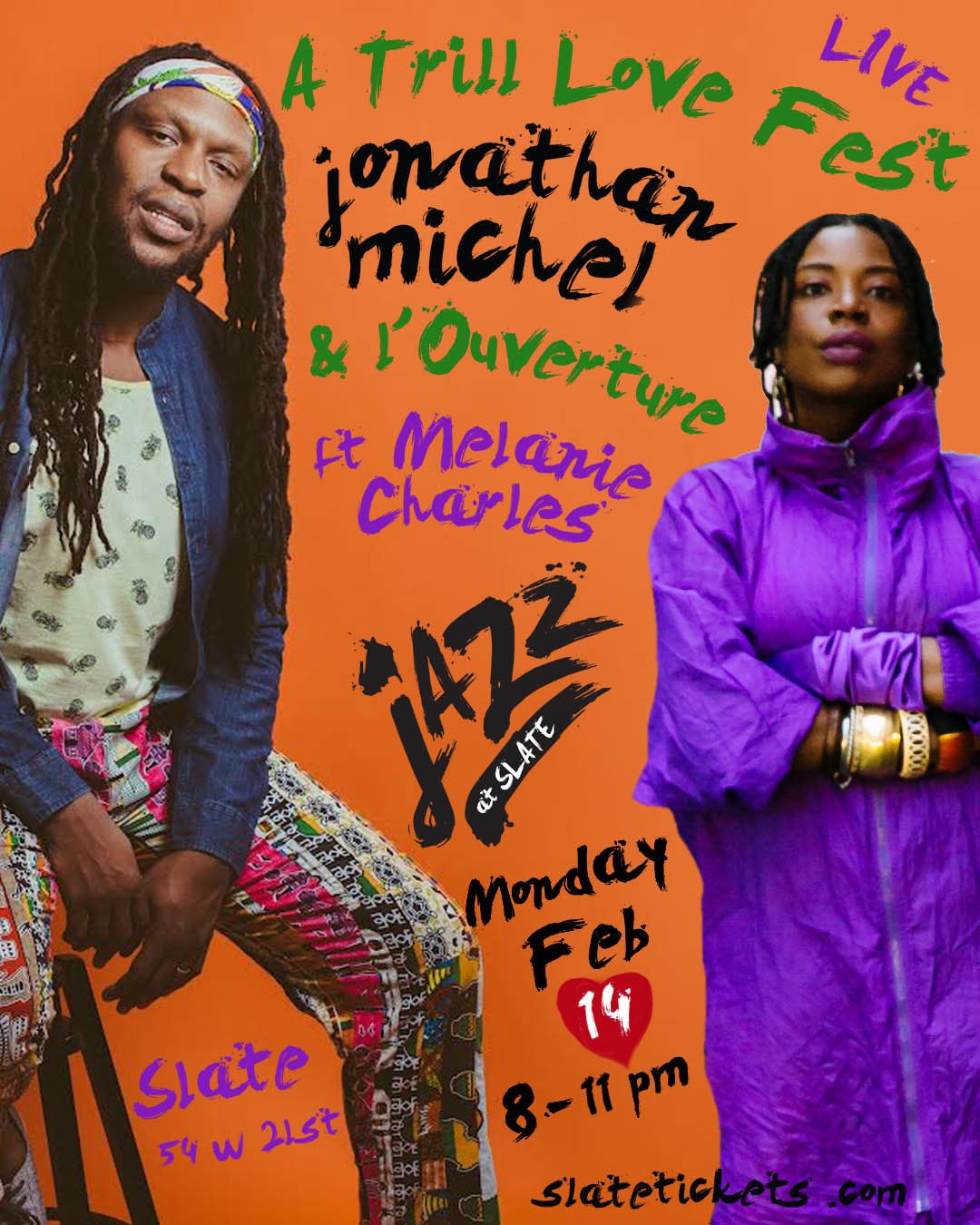 Chelsea's luxury bar, lounge, and club, Slate, is hosting a Valentine's Day celebration with live music and good vibes! The Trill Love Fest will showcase live Jazz music and performances from L'Ouverture with bassist Jonathan Michel. Guests will also get to see soul-jazz singer Melenny Charles. Bring your loved ones or dates to enjoy the smooth vocals and talented instrumentals of the night and soak in the energy of the crowd. The sensual festivities will last from 8 pm to 11 pm. Tickets are available at $20 on their website.
Now that you're all caught up on cool date ideas and fun venues that will help you make memories, we hope you're taking the next steps! Visit the websites provided to find out more about each activity, or restaurant mentioned in time for Valentine's Day. There may be changes to the availability or other important details needed to book your session and or reserve your table so make sure to contact each space to ensure your experience. We hope to see you out enjoying the romance and succulence of New York City all month long! If you're looking for sweet treats for your special Valentine, check out our picks for the 5 Best Chocolatiers in NYC.