Oh, no! It's August! How did summer go by so fast??
You've gotta live it up with the time you have left!

Take advantage of the last warm nights of the season and barhopping without freezing to death.
NYC has the coolest bars to end the summer with a bang, and FYI: barhopping to all of these is always the best option.

Here are eight you should definitely hit up before the summer ends. Don't forget to rev up your phone for some seriously basic/touristy pics.
---
1. Proletariat (102 St. Mark's Place)

There's only one cure for surviving these hot AF August days in NYC. You guessed it: an ice cold beer.
Cracking open a cold one with the boys doesn't have to include five flat screens playing the same baseball game and bros "accidentally" spilling their beer all over you.
[anad]
Proletariat is a cozy 10-seater serving up some of the most exciting brews in town. They deff live up to their motto, serving up "rare, new, and unusual beer." This one's a must-visit for the beer nerds out there looking to get away from the predictable pub scene.
---
2. Amor y Amargo (443 East 6th Street)

If you're tryna impress your date with something different than a plain old cocktail bar, we've got the hookup.
Amor y Amargo sports itself as a "bitters tasting room." This cozy spot is the perfect spot for connoisseurs of complex flavors. But hey, even if you're the vodka soda type, it won't hurt to check out something different. One of their most popular cocktails, the Sharpie Mustache (amaro, the apéritif Bonal, rye whiskey, gin, and Tiki bitters) boasts "notes of leather" and a hint of licorice.
---
3. Coup (64 Cooper Square)
Are you a "slacktivist"? Want to do something other than rant on social media and do your part while sipping on some amazing cocktails?
Coup is a cocktail bar dedicated to supporting non-profit organizations and charities that are being defunded by the Trump administration. All profits go to these features charities, such as Planned Parenthood and the ACLU. Not to mention, their drinks are pretty damn good.
They also feature new guest bartenders Monday through Wednesday that whip up their own most popular concoctions every week. You're already going to spend money on drinks, so why not make sure your money is going somewhere trying to make a difference?

---
4. 1 Rooftop (60 Furman Street– Brooklyn)

So you know that new Brooklyn hotel everyone is salty about because it was built smack-dab in the middle of Brooklyn Bridge Park and blocked everyone's views of the bridge? Not only did the 1 Brooklyn Bridge Hotel steal epic NYC skyline views, but it also has a trendy rooftop bar with a pool, cozy fire pits, stadium-like seating and a great lineup of DJs.

And, of course, the pool bar and lounge offers an endless menu of cocktails, beers, wine and food to ease your drunk munchies. I guess you're not so salty anymore.

---
5. Mezcaleria Milagrosa and Listening Room (149 Havemeyer Street– Brooklyn)

If you're looking to add a bit of mystery to your night, a speakeasy is the place to go. This Mexican deli in Williamsburg is hiding a secret in the back of its shop. Sneak through a freezer door, and you'll find a south-of-the-border style bar with agave all over the cocktail menu.

Try out the fresh spins on Negronis, Old Fashions and Moscow Mules or mix up the classic margarita with one of this bar's amazing variations, like the Margarita Jamaica with tequila, hibiscus tea, Cointreau, orange bitters and lime.
With a disco ball, a juke box and state of the art sound system for its live DJ sets, you can dance like it's the 1920s, hopefully without looking like a weirdo. But space is tight with only 25 seats, so be sure to make a reservation.
---
6. Circa Brewing Co. (141 Lawrence Street– Brooklyn)

NYC has pubs, it has pizza, and it has pubs that sell pizza. Now, it has a pub that sells beer-infused pizza!

This fully-functioning brewery/pub with a sprawling 6,000 square feet has a whole section of the menu with beer-infused pizza and cocktails. Not only can you try out classic and traditional beers, but you can also taste their own creative concoctions.

It does have Brooklyn Navy Yard's Red Top wines on tap, but let's be real. The pub vibes will keep you ordering the unique in-house beers all night long.
---
7. The Office (80 Columbus Circle at 60th Street)

Clock in for your night job at this Williamsburg speakeasy. Atop the Mandarin Oriental hotel, you bet this is one of the most luxe bars you'll go to in NYC. And the menu doesn't fall short in keeping that theme going. The rare drinks can cost up to $500 if you can just throw cash around.
But for those who are on a budget, stick to the prohibition-era cocktail menu with Old Fashioneds and Amaretto Sours. Meanwhile, you'll be drinking at sunset for your entire stay–if you're into artificial sunsets created by various lighting fixtures.
---
8. Library of Distilled Spirits (80 13th Street, Union Square)
Many of you won't be caught dead in a library this summer. But add a little liquor with stylish, yet comfy seating, and you'll find New Yorkers crammed in like sardines. This awesome take on the classic library is worth visiting, with its over 700 bottles and over 1,000 spirits from around the world.
[anad2]
Be sure to tip your knowledgeable bartenders because they're serving up classic cocktails straight from the books and the Library's signature concoctions. If you're looking for a traditional mix, order the Manhattan Cocktail Old Formula. If you're feeling inspired by the library feel, order a Hemingway Daiquiri to channel your days in English Lit. courses.
Expect off-the-books fun and no librarian shushing your loud, drunk ass the whole time.
---
9. Mr Cannon (206 Front Street)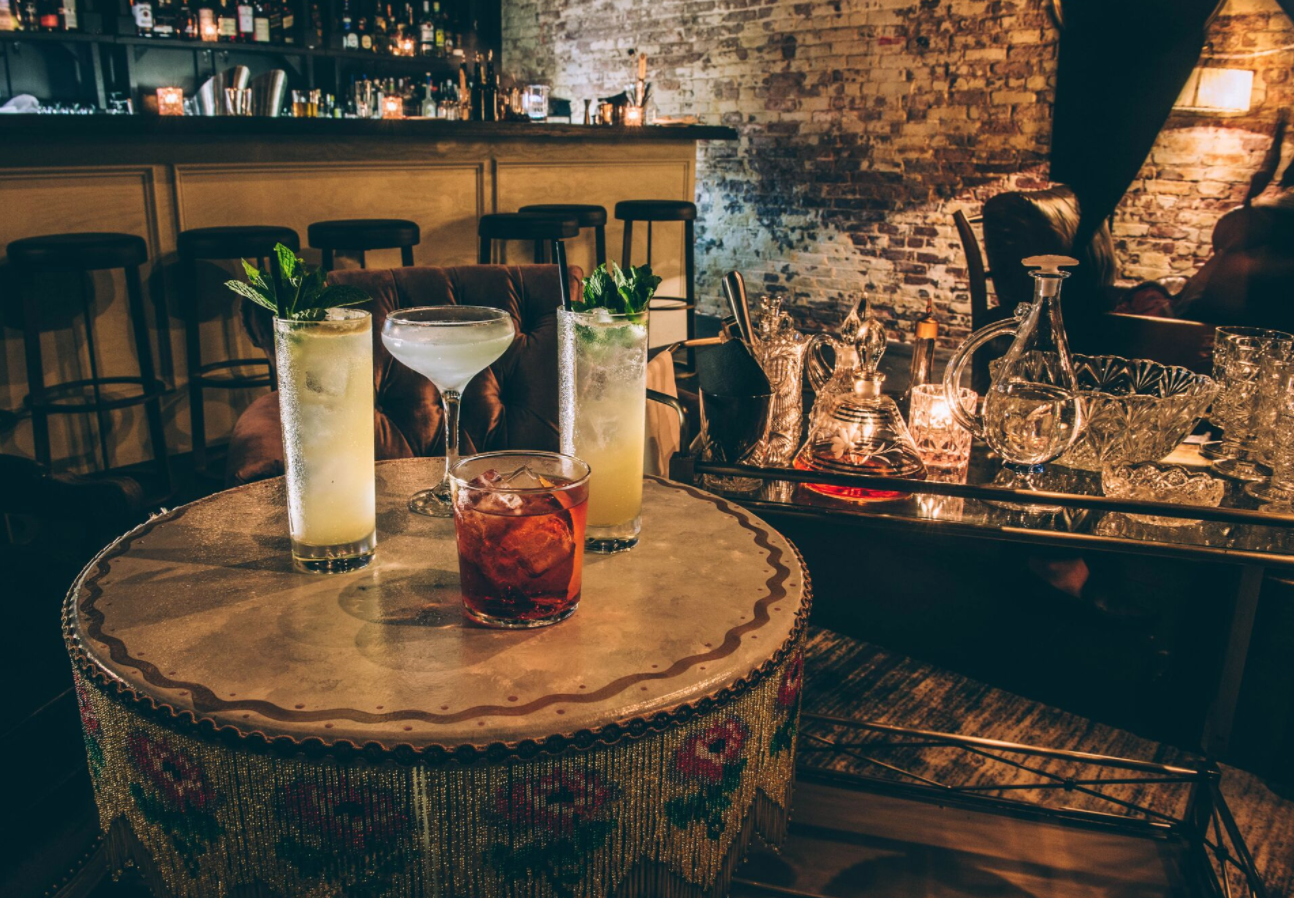 via Assante PR
Shhh, did someone say speakeasy? This secret spot can be found in the Seaport District, but will you be able to get in? Since this is in fact a hidden bar, we're going to make this one on the list the extra special challenge bar. It's open from 5 p.m. until 2 a.m., so you will have plenty of time to find your way in.
It's definitely worth the hunt– they're serving up some serious vintage (but very instagrammable) aesthetic, as well as a couple out-of-this-world craft cocktails.
Best of luck, friends! And drink responsibly, of course.
[Feature Image Courtesy Instagram ]