All the skyscrapers in the city are in Manhattan, right?
Wrong. There's a proposal floating around for a tower in Brooklyn that would be the tallest in the borough, and The New York Times reported its proposal is about to undergo extreme scrutiny.
Why would it undergo such extreme scrutiny? Well, because it would be almost twice as high as any building surrounding it.
So, yeah, that's pretty tall. 73-stories, which would add up to 1,066 feet.
The building would be located at 9 DeKalb Avenue, and the dream of such a building is tied up in the fate of plans submitted by two developers in recent weeks.
The two developers in question are JDS Development Group and the Chetrit Group, both of whom plan to build this new tower to more than double the height of the Williamsburg Savings Bank Tower, which at 12 feet, was the tallest building in Brooklyn until 2009.
[anad]
The architectural structure of the building has been designed, too, by SHoP Architects, who designed the Barclays Center, so we know they're legit.
The architects said they drew their inspiration for this project from the Brooklyn Dime Savings Bank, which is next to the proposed tower's location and would be incorporated into the property.
Actually, the developers are hoping to demolish the bank, which might ruffle some feathers, given that the bank is a New York City Landmark, and it's been around since 1908 and it's historical and everything.
We're anticipating other feathers will be ruffled, too, due to you know, the massive height of the building.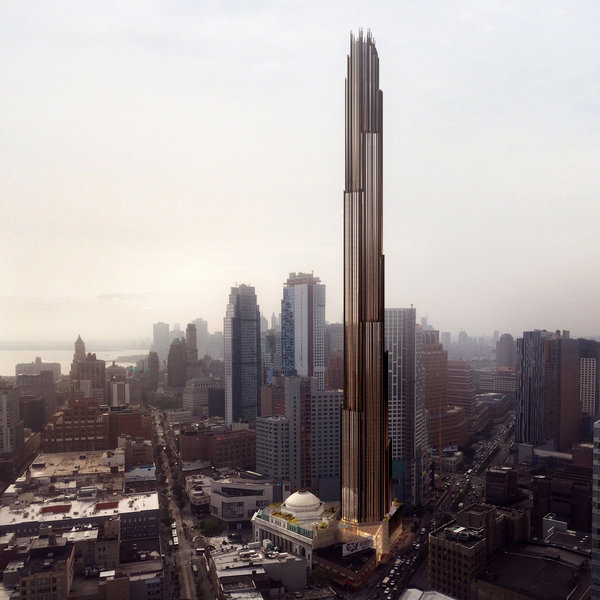 SHoP Architects
"Yes, the city planned this for a new Brooklyn," said Gina Pollara, president of the Municipal Art Society, "But does the public really understand what the cumulative effect of all these towers will be on the public realm?"
The idea of the developers demolishing the bank isn't totally ludicrous, they do own it, after all. They purchased it in December for $90 million.
They plan on using its Beau-Arts spaces for shops as well as incorporating about 300,000 square feet of air rights that would make the tower's spire a reality.
Before they can demolish the bank, though, they need to get the Landmarks Preservation Commission to approve alterations to the bank. There's a hearing before the commission scheduled for March 15th.
"We're really excited to give Brooklyn a building that isn't bashful, that isn't shy," said Michael Stern, founder and managing partner of JDS. "We want this project to encapsulate everything that is great about Brooklyn's past and everything that is great about Brooklyn's future."
Will the tower become reality? We'll just have to wait and see. Are we surprised that the surge of skyscrapers in NYC are starting to cross the East River? Well, not really.
Check out NYC's Infatuation with Skyscrapers Will Result in Darker Days.
[via The New York Times]