Between the charming cobblestone streets, gorgeous gothic cathedrals and beautiful Baroque buildings, it's no surprise that Prague is a popular destination among tourists. However, one time of year where Prague really shines is around the holidays.
Each December, Prague transforms into an all out winter wonderland. Christmas markets pop up all over the city, shop keepers adorn their windows with beautiful decorations, and people gather around the stunning Christmas trees in the town squares.
If you're looking for the perfect holiday getaway, you seriously can't go wrong with a trip to Prague. So we put together a list of the most magical things to do while visiting the Czech Republic for the holidays.
If you're looking for the perfect holiday getaway, you seriously can't go wrong with a trip to Prague. So we put together a list of the most magical things to do while visiting the Czech Republic for the holidays.
---
1. Old Town Square Christmas Markets (December 2 - January 6)
From the ornate decorations to the picturesque surrounds, it's not hard to see why the Christmas markets of Prague are considered to be some of the best in the world. During the holiday season, the city's squares are filled with beautifully decorated markets that fill the air with the smell of spiced wine, trdelnik (chimney pastries), hot mead and roasted ham.
However, the most popular Christmas market can be found in Old Town Square. Alongside the infamous astronomical clock you'll find a huge Christmas tree and wooden stalls selling everything from gifts and decorations to handmade swords. Plus, food stalls that dish out everything from sugar-coated nuts and hot drinks to bratwursts and sausages.
Old Town Square will have an impressive Christmas program with a variety of chior and dance performances to get you in the spirit, plus a petting zoo and a large nativity scene. Seriously, this is one market you don't want to miss.
---
2. Prague Castle Christmas Markets (November 25 - January 6)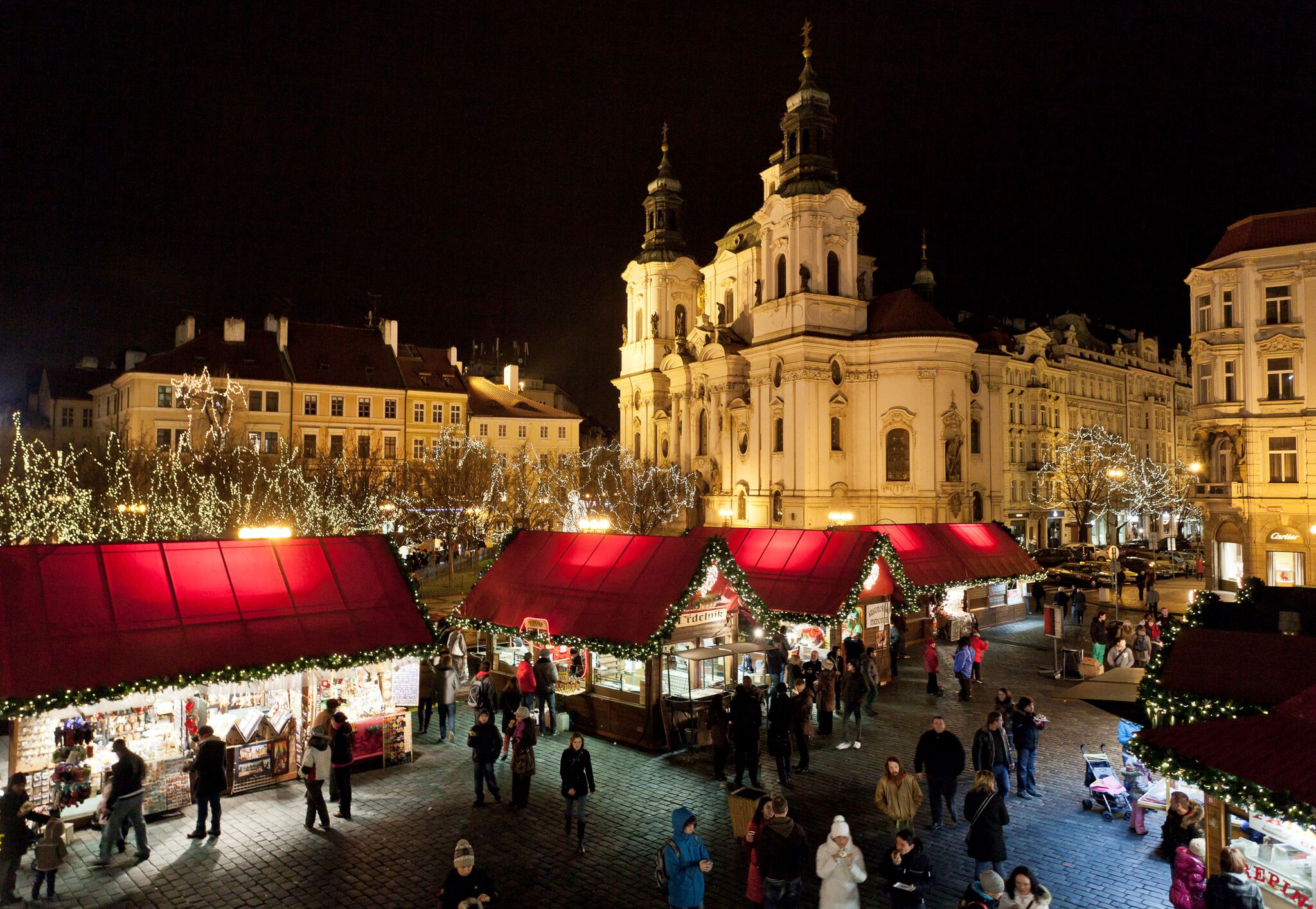 via Visit Czech Republic
If you're looking for a Christmas market in another beautiful setting, check out the markets at Prague Castle. You can take a tour through the magnificent 9th century castle and experience the splendor of St. Vitus Cathedral, then browse through the festive market located within the castle grounds.
The Christmas market stalls will be offering traditional Czech Christmas gifts and decorations as well as tasty snacks and warm boozy drinks. Plus, it doesn't hurt that Prague Castle offers some of the best views of the city and Petřín Lookout Tower.
---
3. Day Trip: Český Krumlov Advent Markets (December 1 - January 6)
Located three hours from Prague by train, Český Krumlov is another Czech city that really knows how to get into the holiday spirit.
This UNESCO World Heritage site has a stunning castle situated above the Vltava River, not to mention, a holiday program that's packed with awesome events. You'll find a twinkling christmas tree, a live nativity scene and an advent market that fills the air with the enticing aromas of mulled wine and christmas cookies.
You can partake in Christmas concerts, Christmas river cruises and Advent photo shoots at the Museum of Seidel Photo Studio. One thing that really sets this place apart is their tradition of Bear's Christmas, where people gather to watch the infamous bears from the Krumlov castle moat celebrate Christmas Eve.
---
4. Czech Christmas Mass (December 24)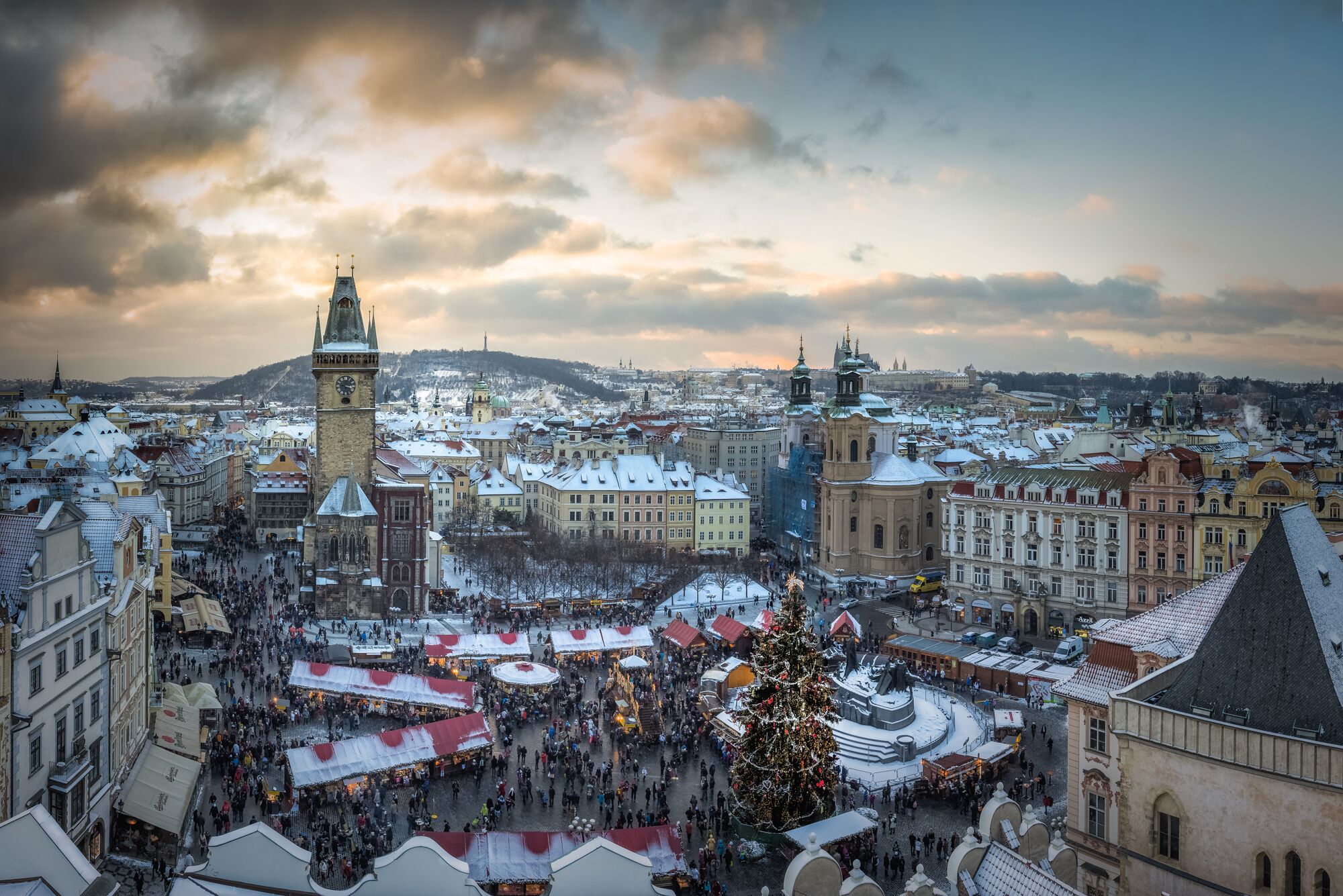 via Czech Republic
Attending midnight mass on Christmas Eve is a longstanding tradition in the Czech Republic. It is also customary to listen to the Czech Christmas Mass composed by Jakub Jan Ryba, which is a religious musical composition that relays the story of Jesus's birth and the arrival of the shepherds in Bethlehem.
If you're looking to take part in the celebrations, you can attending a midnight mass service at the historical St. Vitus Cathedral or listen to the Czech Christmas Mass in the Klementinum Mirror Chapel.
---
5. Day Trip: Brno Christmas Markets (November 24 - December 23)
For a festive day trip, hop on a train and head to Brno. Located just two and a half hours away from Prague by train Brno is the Czech Republic's second largest city.
As you stroll through the streets of Brno and you'll discover bustling holiday markets and truly marvelous sights. Freedom Square will have a dazzling Christmas tree as well as a nativity scene carved by Jiří Halouzek and a Christmas village with market stalls selling handcrafted gifts.
While Dominican Square will be filled with gourmet food vendors from the best restaurants around the city. You can sip on mulled wine, nibble on Czech delicacies and browse through the shops as you listen to Christmas carolers and watch special music and dance performances.
Or, if you're feeling adventurous, you can wander into Brno's mysterious underground and explore the Christmas markets in the Labyrinth beneath the Green Market.
---
6. Traditional Czech Christmas Dinner (December 25)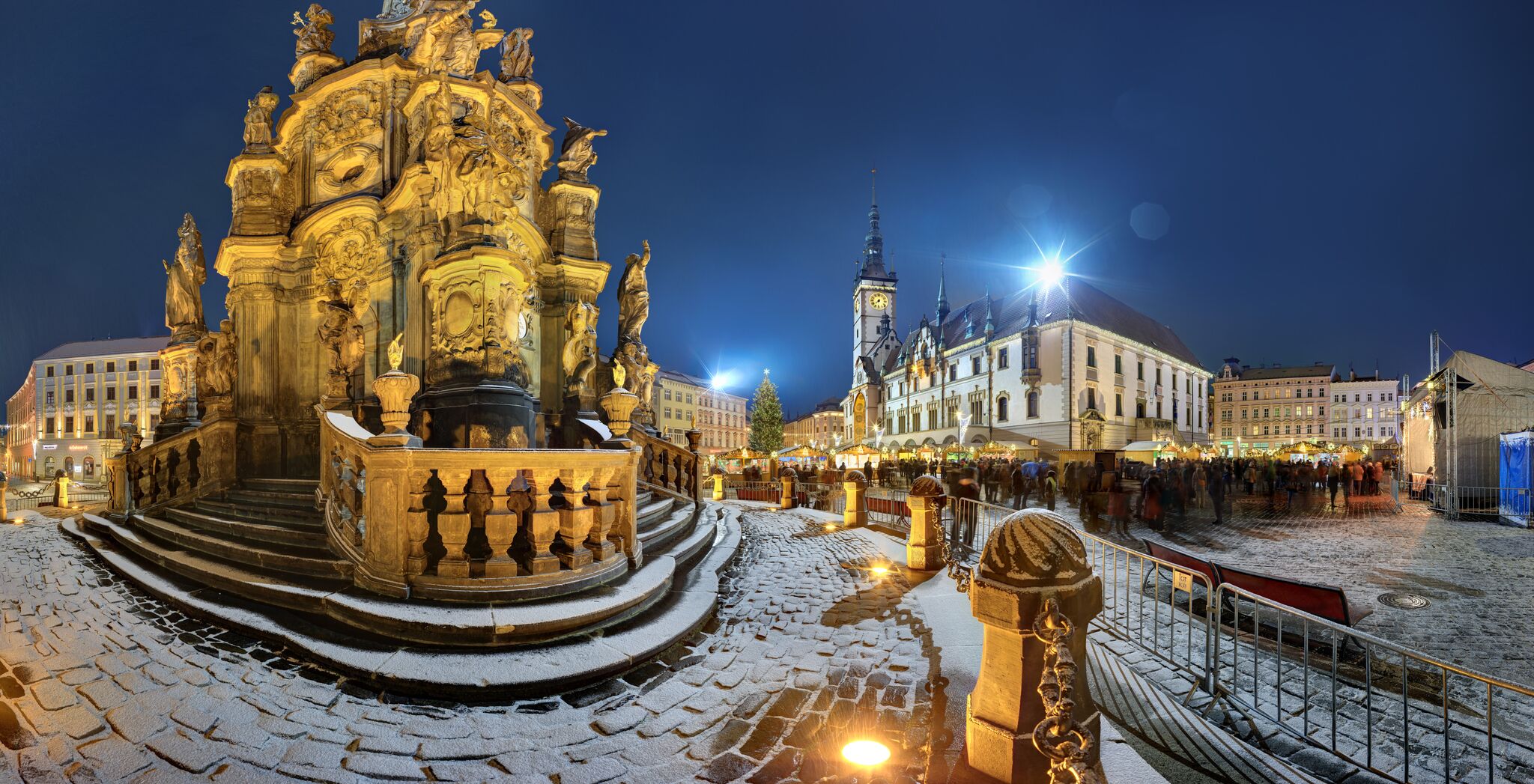 via Czech Republic
In the Czech Republic, it is customary to eat carp with potato salad for Christmas dinner.
In fact, it's not uncommon to see large tanks selling this customary fish throughout the city around the holidays. If you're looking to try this traditional dish, you can make a reservation at one of the restaurants serving carp on Christmas such as Zlatá Praha, Deer Prague, Platina or Coda Restaurant, just to name a few.
Or, if you want to get in on the carp action without actually eating it, you can do what some Czech families do and keep a carp in your hotel bathtub for a couple a days before letting your Christmas pet go in a nearby river.
---
7. Day Trip: Olomouc Christmas Markets (November 23 - December 24)
Located two hours from Prague in the eastern province of Moravia, Olomouc, is a city known for beautiful baroque fountains and an 18th-century Holy Trinity Column. Not to mention, festive Christmas markets that are sure to put you in a merry mood.
You can sip on Nuremburg wine as you browse through stalls filled with crafts and goodies. Or, you can make your way over to the market's "punch town" on the Upper Square to enjoy an endless array of punches filled with everything from spices and oranges to rum and cherry brandy.
In addition to the markets, Olomouc also has an outdoor ice skating rink and a carved nativity scene on display. Plus, a Christmas program filled with theater performances and concerts from popular bands.