The last days of summer are slowly drifting away, so you better seize them while checking out some of the coolest art exhibits New York has to offer!
Even though some people might tell you that NYC's art scene is completely dead during this time of year, we have a list that will prove them all wrong.
You'll see just how stimulating and visually striking Manhattan's art district can really be right now.
We will start out with a quick stop on the UES and Midtown East, then go down to the Chelsea Gallery district, and end our tour on the LES/Soho. There's a dope exhibit in NJ as well -that is if you feel adventurous enough to cross the Hudson.
---
1. Jackson Pollock and Wassily Kandinsky @ The Guggenheim (Until Sep 6th)
It is understandable that to many New Yorkers and tourists, going to the Guggenheim seems more of a forced obligation than a fun, fulfilling activity; after reading this guide, however, you may just fall in love with it!
You do not need a whole day to enjoy all that the Guggenheim has to offer, but just 30-45 minutes tops, since we just want you to focus your attention on the work of two artists featured in the 'Visionaries' exhibit: Jackson Pollock and Wassily Kandinsky.
Before you start to climb the snail shaped staircase, your senses and consciousness will be touched by the fire and utopian emotion contained within 10 Kandinsky paintings that are on display right off the rotunda floor.
The Guggenheim is bestowing you with the opportunity, not for very long (it closes September 6th), to observe the largest collection of this artist's body of work. This body of work will have you transported to Kandinsky's universe, one where shapes and lines are juxtaposed anarchically, and where vibrant dark and pastel colors play together to form a visual symphony of balance.
Your quick run up the stairs will end with the dominant, almost violent energy that emanates from Pollock's 'Alchemy.' This painting will put you face to face with the purest expression of surrealism's notions of chance and automatism.
In 'Alchemy' lines appear and disappear not to serve a purpose, to describe a shape, or enclose a form, but to stand as a visual memory of the movements that Pollock's body made to bring this piece to life.
---
2. Katherine Bernhardt, Concrete Jungle Jungle Love, Lever House (until Sep 28th)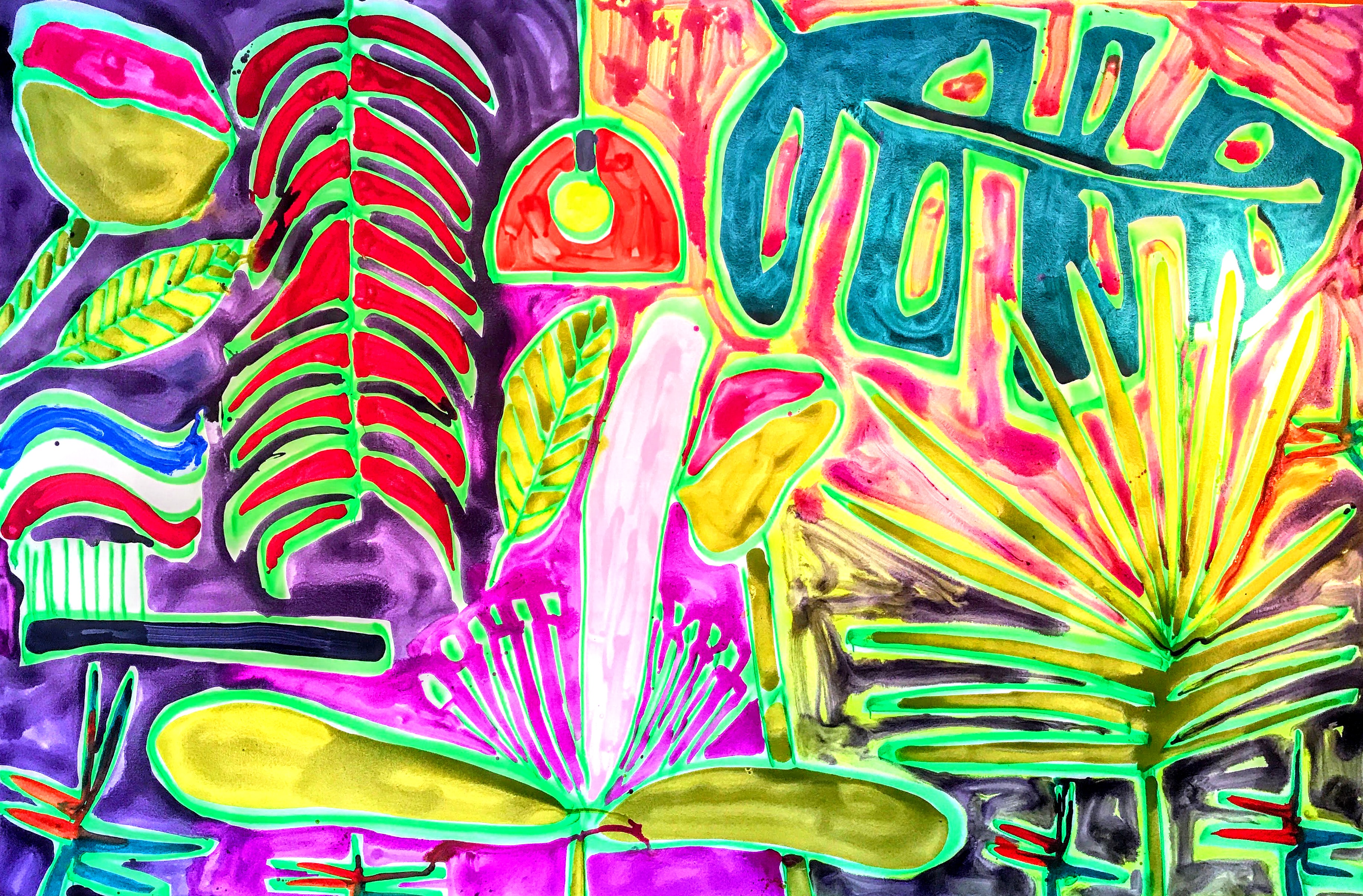 Artwork by Katherine Bernhardt / Photo by Juanita Tovar
Step through the glass doors of the Lever House to find this explosively colorful exhibit. This show playfully juxtaposes large scale imagery of the tropics with objects of modern culture, which stand in high contrast with the modernist architecture of the space that encloses it.
In this exhibit, you will have a blast! Unlike other art shows, this one welcomes you to play with or lay down on the soft-to-the-touch, giant gummy worm sculptures placed on the floor. As you lay on these, you can admire the different large, medium, and small scale elements that make up this 'colorful crazy concrete jungle.'
Moreover, you can also attempt to figure out what are the almost abstract elements depicted on Bernhardt's large scale paintings and whether they fall within the jungle or urban categories.
Bernhardt's work is meant to be interactive, engaging and fun, but is also intended to pose several questions to viewers. One of these questions is: why is it so incredibly rare to find a juxtaposition of modern day objects and rainforest animals/plants (e.g. pelicans with toothbrushes) in everyday life, and why does it feel strange to see this contrast in her pieces?
Her work makes you aware of the absurdity inherent in the socially constructed assumptions of a separation between the human/nature and human/animal categories. Bernhardt's work also makes you conscious of the fact that finding modern day items and rainforest animals/plants shouldn't be considered unnatural or strange, since both of these stem from and will find their demise within the realm of nature.
---
3. Facial Profiling, C24 Gallery (until Sep 30th)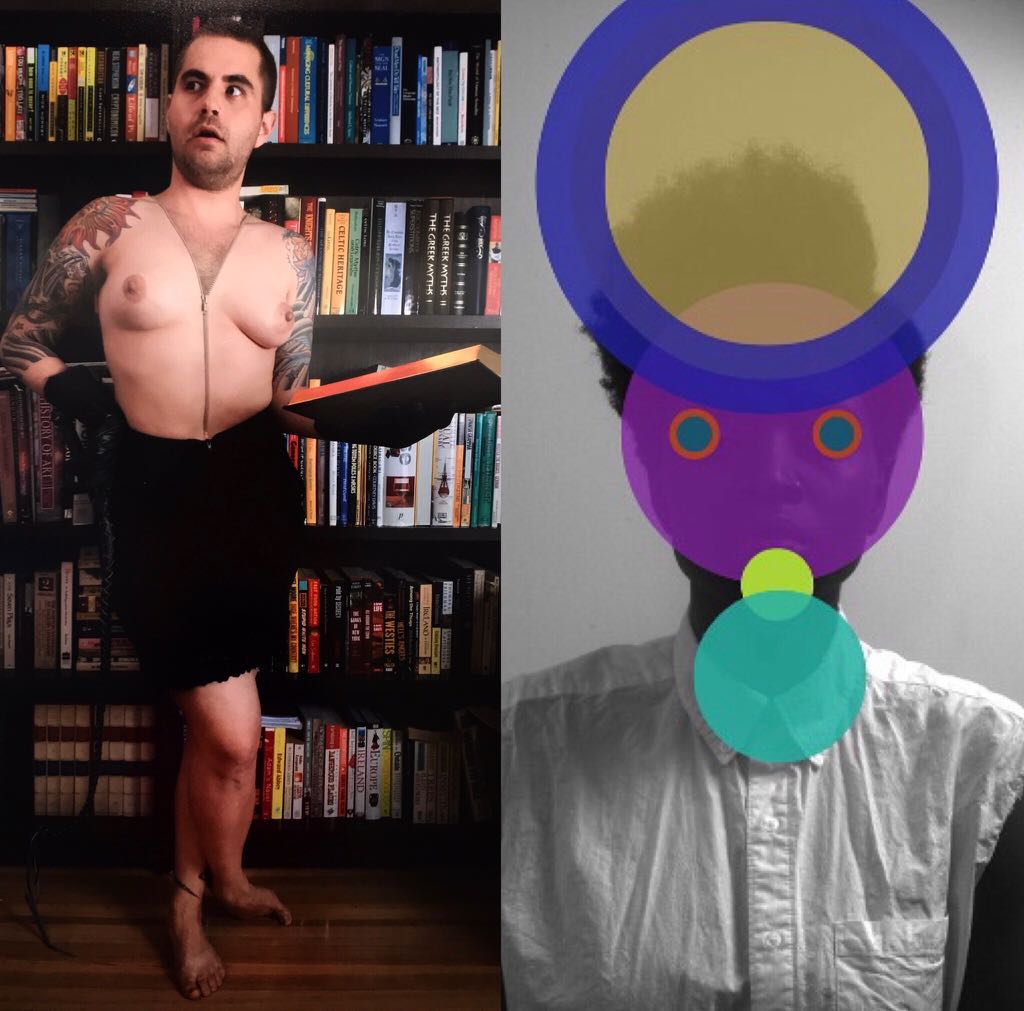 Artwork by @photoartstar (left) and spaceshipgeorge (right) / Photo by Juanita Tovar
Facial Profiling features the work of seven NYSCA/NYFA Artist Fellows. These exhibits are unified by a quest to investigate the perceived and projected self and how people's representation of themselves through means such as social media is influenced by gender, culture, and place.
The artists' intent with this exhibit is to question viewers about their own interpretations of portraiture. For example, both Kwesi Abbensetts and Sean Fader are utilizing technology to alter and hence, truly explore the different ways in which their identities can be represented.
In the case of Fader's pictures, the artist is utilizing a 'gender suit,' which allows him to change his sex and appearance. The artist does this to explore how it would feel physically to have female genitals and to represent his persona as a woman.
Fader's pictures also serve as a reminder that 'gender' is a social construct, which in turn means that a) the lines between male/female can indeed be blurred as the artist did by putting on a 'female suit' and b) that we actually have the agency to play around with the representation of our identity and adopt whatever characteristics from the male/female categories that we might so choose.
Abbensett's work is similar to Fader's because this artist is using computer software to alter the visual representation of the physique and identity of a Black woman. This artist plays around with colors and shapes to shift our focus away from his subject's skin color and away from the ingrained misconceptions we all have when we think of people circumscribed within the 'Black' and 'Female' categories.
In other words, he is not only trying to make us face these socially constructed misconceptions, but he is consciously retaking agency over the representation of the Black community.
---
4. Body, Self, Society: Chinese Performance Photography of the 1990s, The Walther Collection (until Sept 30th)
The Walther Collection's newest exhibit aims to highlight 'the most significant examples of Chinese performance photography from 1995 to 1999,' by iconic masters such as Ai Weiwei, Cang Xin, Huang Yan, Ma Liuming, Song Dong, Zhang Huan, and Zhuang Hui.
The works found throughout this exhibit explore three key themes: "new visions of the performing body, the changing sense of self in modern China, and a continued confrontation with specific aspects of Chinese society, history, and culture."
The photos featured on this exhibit are so powerful in their political message and depiction of human expression that they almost seem to have captured an instant out of time, which they managed to hold still– even if just for a second.
One piece stands out within this exhibit: Cang Xin's 'To Add One Meter to an Unknown Mountain.' This photo shows a performance carried out by Beijing artists, piling up their bodies on top of each other to create an extension of the mountain hilltop, and blend in with the landscape around them.
This photo almost stands as a reminder that the divide between self and nature is a social construct that humans have come up with, and also that it is possible for humans to blend with nature, since we are actually part of it.
---
5. Cassils, Monumental, Ronald Feldman Fine Arts (opening Sep 16th)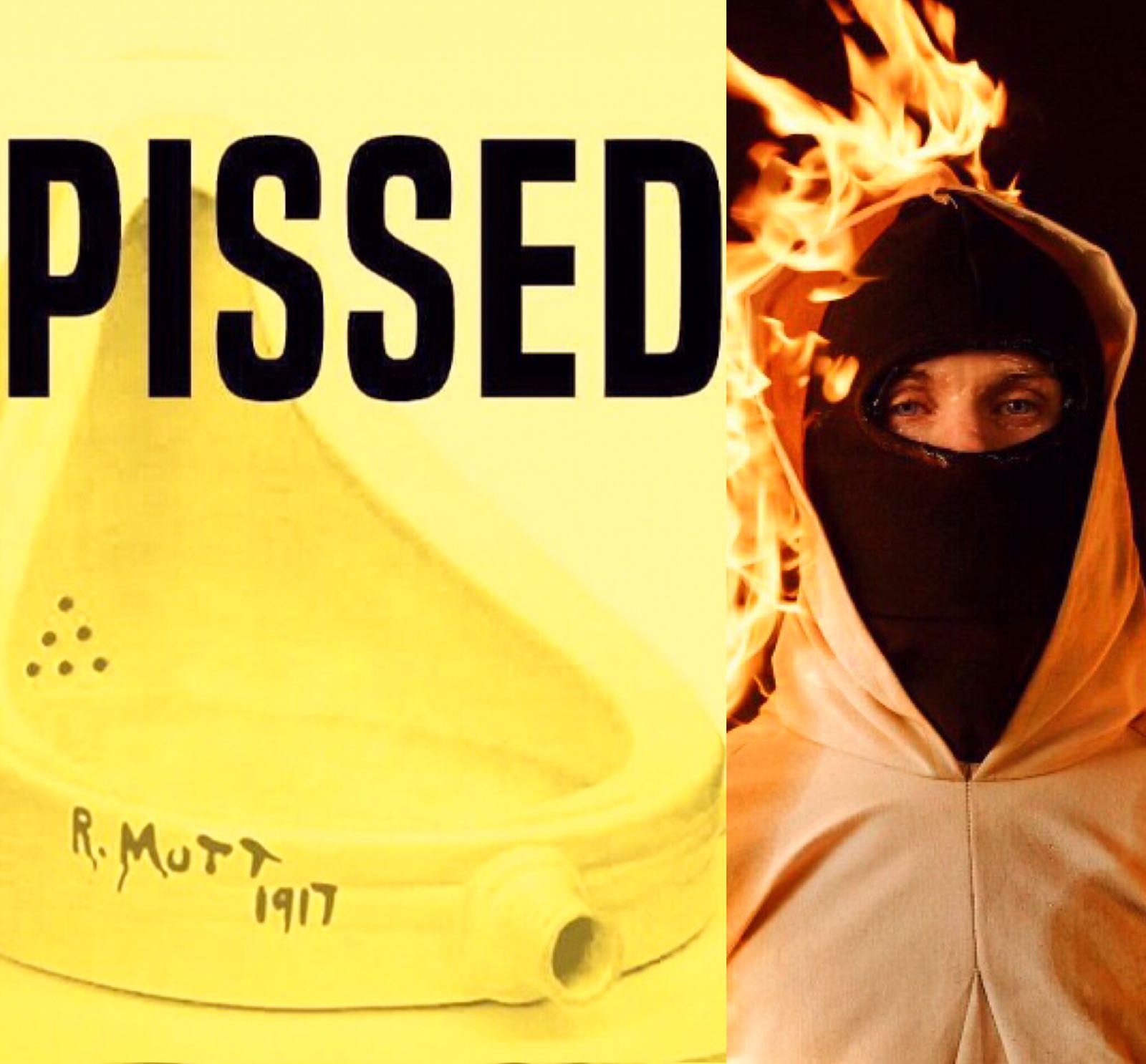 Artwork and photo by @cassilsartist
Monumental is already the most talked about upcoming exhibit on social media, so you must not miss it! This show will include sculptures and monuments made from precious metals and urine, 'visceral sound and video installations,' live performances, and photographs.
The main reason why this show is getting so much buzz is its centerpiece: PISSED. This is a glass sculpture containing almost 200 gallons of urine, which was collected by the author since the Trump administration rescinded transgender students' choice to use the bathroom that matched their chosen gender identities.
PISSED intends to shine a spotlight on the issues that affect transgender communities, and therefore to spark up debate about the different activist strategies that can be used to ameliorate these.
---
6. Paul Kolker, The Dot in the Sky, the PAUL KOLKER Collection (until Sep 20th)
In this exhibit, you will enter Kolker's laboratory and become the measuring instrument of this artist's perceptual experiment.
All of Kolker's large scale inkjet and acrylic canvases strategically feature a two-inch diameter dot, which in theory should become the viewer's focal point and 'direct attention as if it were a visual scent laid upon Kolker's sky painting.'
[beenv]

So come to this exhibit, enter Kolker's world of empirical science, and try to deviate your attention from the focal points that this artist intended to draw your attention towards.
---
7. Melissa Eder and Aimee Hertog, "Fleur" (Essence), Lazy Susan Gallery (until Sep 6th)
The second last stop of this guide might be the most colorful and fun one. This exhibit explores the 'notions of kitsch along with the unexpected beauty of ordinary objects' through its whimsical and playful installations and photography.
Hertog's use of throw-away materials, coupled with Eder's use of fake flower arrangements as well as low-tech camera and simple lighting, blur the line between high and low art and what can be considered to be 'beautiful or distasteful.'
8. Sisao Nabru: Tranquility in Retrograde, Clara Arts (until Oct 21st)
Even though most New Yorkers flat out refuse to go to New Jersey, we promise you that crossing the Hudson to check out this exhibit will be worth your while.
As you probably know, New Jersey has become somewhat of an art hotspot and a place where young and up-and-coming artists have found support. This is the reason why some of this year's most interesting avant-garde art shows have taken place in places like Hoboken.
This group exhibit features the work of three Brooklyn based artists that are pushing the boundaries of expressionism.
The highlight of Sisao Nabru: Tranquility in Retrograde has to be the work by Patrick Eugene. This artist's work stands out because it manages to convey New York's essence through the deep emotion and melancholia that are captured by his portraits.
[Feature Image Courtesy Juanita Tovar]