Subscribe to spoiled NYC's official newsletter, The Stoop, for the best news, eats, drinks, places to go, and things to do.
January is a rough time to date.
One, it's freezing, which is pretty un-sexy across the board, and two, Valentine's Day is right around the corner, so you can't do anything too nice, lest it overshadows your inevitably mediocre plans for February 14th (or drains your wallet).
So check out some of these low-key ideas for some fun to be had in New York City during this dreary month.
Sometimes, clichés aren't clichés, they're just classics.
And if all else fails, it's perfect weather to curl up on the couch and spend two hours deciding what to watch on Netflix.
---
1. Go to the movies (It's the only time of the year it isn't cliché)
moonlightmov All love, all pride. #MOONLIGHT
Somehow not already tired of La La Land after watching the Golden Globes last Sunday? Or, conversely, is La La Land your FAVE of the season... but maybe because you haven't checked out anything else? *cough* HIDDEN FIGURES *cough*
No shade, but lol nvm, of course this is shade, we're predicting (hoping) La La Land peaked early and that other contenders will have had some time to shine more brightly by the time the academy votes. This debate right here? Perfect noncontroversial, apolitical first date conversation.
Just don't invite Meryl.
You still have over a month to go out and see a couple of the other dozen contenders before February 26th, nominations will be announced next week, so keep an eye out for that list.
---
2. NYC Broadway Week
kinkybootsbway #WednesdayWisdom ✨👠✨ #KinkyBoots
The only reason, and we mean the only reason to ever take a date to 42nd Street is for a Broadway show. If you want to score some major points without decimating your checking account, check out what tickets are available for NYC's 2-for-1 Broadway Week.
That's right, for select shows between January 17th and February 5th, you can score discounted seats 2-for-1, some as low as $49, which is pretty damn amazing.
A few of the shows included in the promotion are Kinky Boots, Beautiful: A Carole King Musical, Waitress, Wicked, The Phantom of the Opera, Chicago, and the new-and-already-acclaimed Dear Evan Hansen– although those tickets disappeared immediately (no really, I'm pissed about it).
So if you want to score tickets, act fast!
---
3. Bump booties at NVR Sleep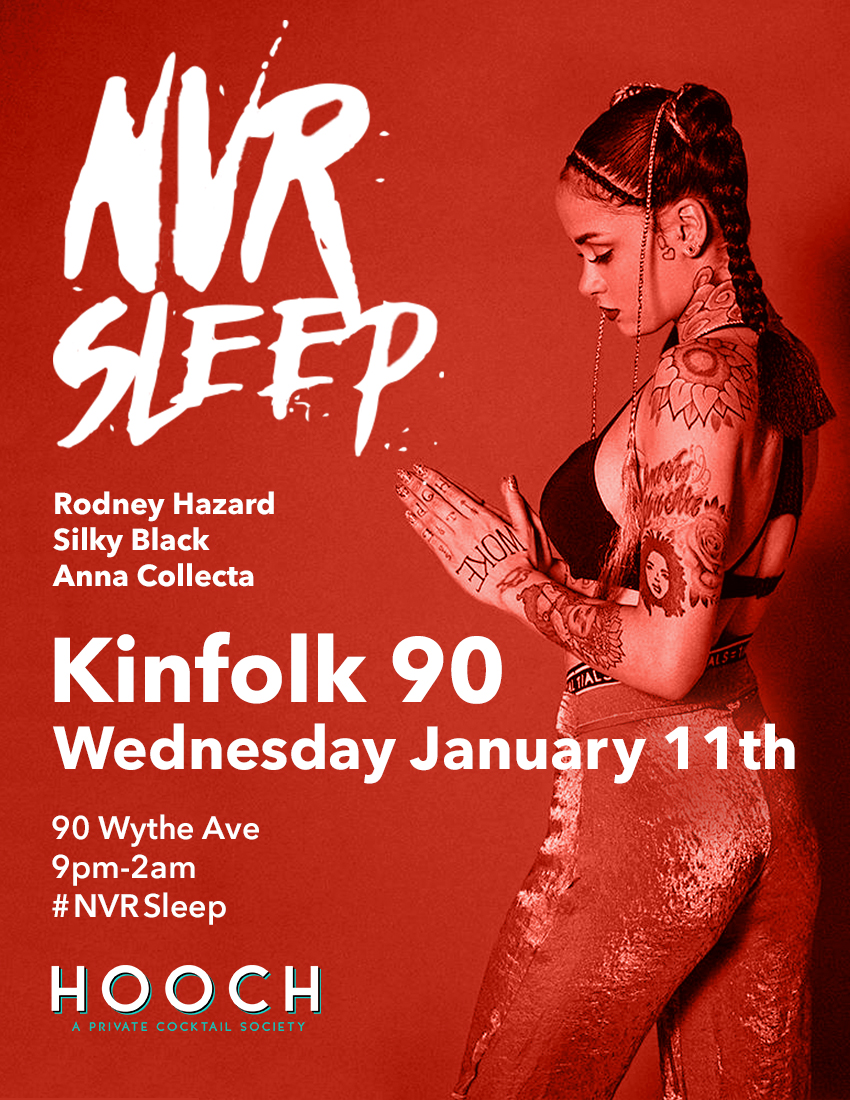 NVR Sleep is back this month at Kinfolk 90 in Williamsburg. Holllaaaaaa!
spoiled Creative Director Rodney Hazard is back at it again Wednesday, January 11th, with NVR Sleep – RnB Dance Party. Winter's here. Face the facts. So, work up a Keith Sweat in Brooklyn.
What can you expect? 5 hours of dance, drink, and good vibes. Or, you know, everything you've come to expect from NVR Sleep. Oh, and it's free.
Oh, and it's free—unless you're looking for free beer all night, courtesy of our friends at HOOCH and Old Blue Last. $3. Delicious beer. Skoooooooo! Just RSVP right here.
---
4. Ice Skating
rockcenternyc Spend a memorable night in New York City -- skate until midnight under the stars and #RockCenterXMAS Tree.
If you don't go ice skating, is it even really Winter? Probably, since it's still freezing, but ice skating is one of the best seasonal things to do in NYC, and you've still got time to shuffle around on rented blades, praying you don't drag your date down to the ground with you if you trip.
Um, okay, that doesn't sound that fun, but it totally is! We don't know why! It must be magic.
The Rink at the Rockefeller Center might seem like the obvious choice, but don't count out the Winter Village at Bryant Park, which is free if you bring your own skates, Lasker Rink in Harlem, or Wollman Rink in Central Park.
---
5. Restaurant Week
scarpettarestaurants GIVEAWAY! In honor of #nationalspaghettiday, share your photo of Scarpetta spaghetti for a chance to win a $100 LDV gift card! For entry, simply: 1. Follow @ldvlife + @scarpettarestaurants on Instagram 2. Post a photo of Scarpetta spaghetti (don't forget to tag @ldvlife + @scarpettarestaurants !) 🍝 All entries must be submitted by 11:59pm ET on 1/4/17. Winner will be announced on 1/5/17! *This promotion is in no way sponsored, endorsed or administered by, or associated with Instagram/Facebook. By entering, entrants confirm they are 18+ years of age, release Instagram of responsibility, and agree to Instagram's term of use.* (📸 @cocktailexplorer)
Still kinda holiday broke? You can still impress your date (even better if you're a couple that goes Dutch), with one of these specially priced lunch and dinner specials, at delicious restaurants all over NYC.
Participating restaurants will be offering three-course prix-fixe menus from January 23rd- February 10th. Check out the full list and call for a reservation today!
---
6. Whiskey Me Away: Sex Tips and Whiskey Tasting
babeland_toys Our reality is awesome even without an app :) #regram A whole tray of #pokemongo at #babeland #gottacatchemall #sexshop #sextoys 📷: @secretlyslutty
If you're going to be hibernating with bae this winter, you might as well pick up some tips to keep things interesting. On January 21st, Babeland at 94 Rivington will be serving whiskey from local distilleries, to replace any sex talk awkwardness you might have with a nice, warm buzz.
The first 10 visitors will get some freebies to bring home, so get there early! Register here.
---
6. Coffee

citybakerydaily #Repost @vwlawrence ・・・ ❄️☕️🍫☕️❄️
What basic nonsense is this? You might be asking.
Just wait, it doesn't have to be coffee, although you really should take a Starbucks break (as in, go SOMEWHERE ELSE), and discover one of the amazing, cutesy cafes littering this city.
Caffeine jitters + dates aren't a good match for you? NBD, get some f*cking dope hot chocolate instead– if you question whether hot chocolate can be classified as "dope" or not, it's because you've never been to City Bakery, we promise you.
Even if spiked cider is more your speed, there isn't anything more romantic than huddling over a too small cafe table, and having to lean in to hear each other speak; you also can't warm your hands on a Jack & Coke, unfortunately.
Got a hot tip or correction? Drop us a line at tips@spoilednyc.com