Subscribe to spoiled NYC's official newsletter, The Stoop, for the best news, eats, drinks, places to go, and things to do.
You'll be happy to hear that there is an organized, official event at which you can run through the streets of New York in your underwear. And no one will judge you because it's all for charity!
Believe it or not, that's just the tip of the iceberg of everything exciting we've got to look forward to this weekend. This lineup incorporates all different kinds of events from spooky and educational to 5K booze fests (all depending on your mood).
And thankfully all the Halloween festivities we've anticipated all month are really starting to take flight!
Check it all out here!
---
Friday, October 20th
foodfilmfest Flashback to turtle burgers at last year's opening night event! Come out tomorrow night for this year's one of a kind flavors. . . . . . . . . #foodfilmfest #foodfilmfestival #foodfilm #foodfest #filmfest #filmfestival #foodfestival #tastewhatyouseeonthescreen #tastewhatyousee #watchandeat #foodporn #jamesbeard #americasfirstfoodie #hometownheros #choppedcheese #foodpornparty #tampopo #fortheloveofbrunch #brunch #nyceats #nycevents #timessquare #buytickets #food #film #fun #yum
This weekend, catch the 11th Annual Food Film Festival, where you can enjoy some of the best foods NYC has to offer while watching a film that describes the preparation behind your meal. This unique experience will allow you to have a more complete, deep appreciation of your food, and of the culinary arts in general.
Plus, we've all had those moments when some gorgeous meal pops up in a commercial on TV and suddenly you MUST have it.
Well, this time, you will!
The multi-day festival will hold a number of screenings and tastings. Check out the schedule here, and buy those tickets!
---
---
2. Cider Week NYC (Week-Long)
newyorkcider The gang at @kiteandstringcider signed up as community sponsors for #ciderweeknyc, but like many of the partiticpating cider makers, between snatching up apples and pressing them, running a farm, and preparing for the trip to NYC for the 10/20 #ciderinthesquare event @unsqgreenmarket and beyond, and unique to them, running @flciderhouse...there's not so much time for additional social media noodling! So today will be reposting on their behalf, some images that capture their spirit and get you excited about seeing them in NYC next week. /// #Repost @flciderhouse (@get_repost) ・・・ Cidwr Week NYC, here we come!! #Repost @chefsclubny ・・・ 10/20 - 10/29, we are taking part in #ciderweeknyc, pouring incredible ciders from the Finger Lakes. More info about Cider Week available on ciderweeknyc.com. 🍎🍏🍎🍏 (📷: @rich_watkins)
What better way to spend a lovely Autumn afternoon than by enjoying some crisp, delicious, apple cider? We can't think of many things.
We couldn't be more excited for this week-long celebration. You'll have the chance to enjoy some delicious foods, and even participate in craft cider classes at locations across the city.
And each of the various events is slightly different, with some incorporating local craft beers as well! Check out the schedule for the week and see ya there!
---
---
Saturday, October 21st
3. Brew Hop 5K
shanaelyse Races ARE always more fun with beer at the finish line! Thanks to the #brewhop5k folks for a great day! #beer #running #nyc
Even if you're not typically the 5K type (like many of us), this MAY make you reconsider. This particularly exciting 5K rewards your hard work with unlimited tastings from various local craft breweries, accompanied by a massive 5K party!
This could definitely motivate some non-runners to participate, don't you think? Snag your ticket to the Brew Hop 5K at Randall Island Park!
Proceeds from the event will be donated to Oceanic Global, a non-profit that addresses environmental and social issues and educates people on problems negatively impacting our oceans.
Check in at 10 a.m. and the race will commence at noon.
The exciting day will also feature live music, carefully selected food vendors, and lawn games. AND luckily the celebration will continue for a bit after the race until 4 p.m.
djmisskai Another one to note for my skyatchers...☆☆ #orionidmeteorshower
The Orionid Meteor Shower stretches over a month total in length—however, you should know that its peak is actually this weekend and Saturday in particular promises the brightest lights.
Interested in catching the show? Us too. And we'll bet the view from Central Park will be pretty great.
Check it out and be on the lookout for viewing events happening locally!
5. 27th Annual Tompkins Square Halloween Dog Parade
thedogist Sprout, Brussels Griffon (9 m/o), Tompkins Square Park Halloween Dog Parade, New York, NY • "He's perpetually pouty, so Eeyore was the perfect costume." @brussels.sprout
Get your pup all dressed to impress and head over to Tompkins Square Park for the biggest dog costume parade in the world!
This is sure to be the cutest array of costumes ever, and we simply cannot miss it. The event will be held from 12 p.m. to 3 p.m, and the competition is VERY serious, sending the top contestants home with thousands of dollars in prizes!
OR if you, unfortunately, do not have a pup of your own, you are more than welcome to attend the event anyway!
tasteoftheseaport We're back on #TaxiTV ❗️ . . . . #NYC #Taxis #TasteOfTheSeaport #seaport @southstreetseaport #downiswhatsup @downtownnyc @oldseaportny
The 8th Annual Taste of the Seaport has arrived! Come enjoy a delicious spread of food and drinks from a carefully selected list of local vendors. And the fun doesn't stop there, you also live musical entertainment, face painting, and even big raffle giveaways to look forward to.
The family food festival, hosted by The Howard Hughes Corporation, even donates all proceeds to two local schools; P.S. 397 The Spruce Street School and P.S. 343 The Peck Slip School.
The event will be held at the Seaport District on Front Street between Fulton Street and Peck Slip.
bonobos Give cancer a run for its money. ⠀ ⠀ We're excited to announce the Bonobos Undie Run! ⠀ ⠀ On Saturday, October 21st, we are partnering with Fuck Cancer to host two Undie Runs in NYC and Chicago to raise money for colon cancer. But it's more than just a fundraiser—it's an excuse to raise some hell. Come dressed in your bedroom-best for a 2 mile fun run and after-party with food, drinks, and more. Click the link in bio to sign up! #BonobosUndieRun
Join Bonobos for their F Cancer run raising money and awareness for Men's Cancer.
And let it be known, this is not just any run... You'll be running through the streets of New York in your underwear! And if that freaks you out, no worries, TECHNICALLY you can wear whatever you'd like. A Halloween costume, regular activewear, etc. However, you are encouraged to roll with the theme and run in your undies to show support and raise awareness for the cause.
You can register on your own, or make a team! Only $20 a person and ALL proceeds go towards FCancer (a non-profit organization). Meet at 92 Hudson River Greenway @ Hudson St, at 12 noon!
---
Sunday, October 22nd
8. Boutique Bazaar: Halloween Market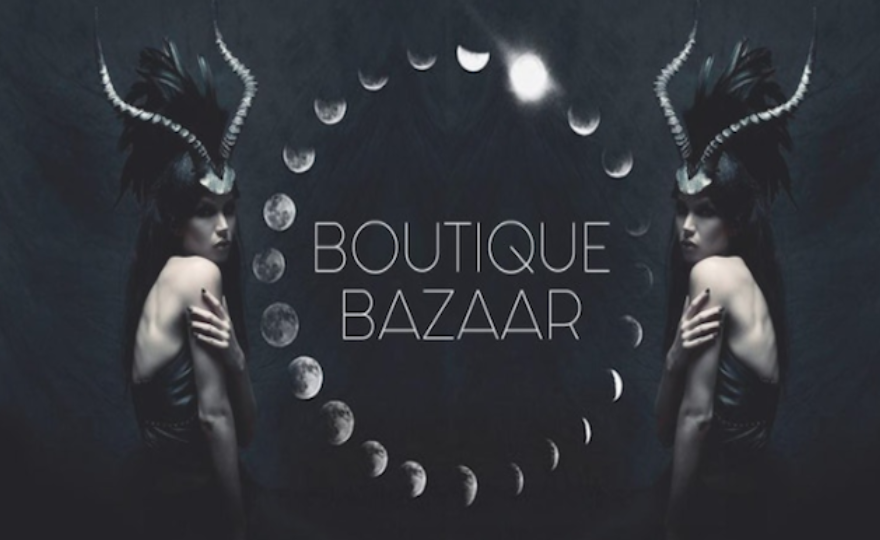 Looking for something stunning and festive to wear Halloween weekend? Look no further, because House of Yes will be hosting a Halloween-themed version of their Boutique Bazaar, catering to all your festive, fashion needs.
From 1 to 7 p.m., the venue will offer tons of vendors with selling everything Halloween from costumes to cocktails, (which will be available at the bar) for you to sip as you browse. Just register here!
9. Soulful Creatures and Green-Wood Cemetery Trolley Tour
brooklynmuseum Get in the Halloween spirit on one of our unique #SoulfulCreatures and @historicgreenwood Trolley Tours taking place on October 21 and 22, and an extra spooky night tour on Halloween. Explore ancient Egyptian process and purpose of animal mummification then hop on a trolley to compare these spiritual creatures to victorian-era animals depicted in the monuments of Green-Wood Cemetery. Link in bio for details and tickets.⠀
Head over to The Brooklyn Museum for this awesome and incredibly creepy exhibit of animal mummification. You can get in the Halloween spirit while also taking a particularly unique, educational journey through the history of Egyptian culture.
The tour delves specifically into the process of Egyptian mummification, with animals such as snakes, birds, cats, and dogs. And while you'll be taking a trolley ride over to Green-Wood to check out more Victorian era representations of animals, be sure to be ready for a stroll through the cemetery with comfy shoes!
Make a reservation here for this Saturday or Sunday, only $40!
Got a hot tip or correction? Drop us a line at tips@spoilednyc.com