Manhattan's Upper East Side is not known for it's cheap rent.
Depending on exactly where you're looking, it could be some of the most expensive real estate in all of New York City. But that's not always the case.
Prices on the UES vary greatly, though one thing is for sure: they're not getting any cheaper.
This new development under construction at 205 East 92nd Street, known as

The Henley,

has opened it's housing lottery for 47 below market rate units, and the least expensive unit is a mere $607 per month.
Anything under $700 per month in Manhattan should be considered a miracle, unless it's one room in a rent controlled/stabilized unit.
[anad]
But to qualify as an "80/20 Project," and gain special tax abatements, The Henley has made 20% of its units "affordable."
According to The Henley's housing lottery site, NYC Housing Connect, the lottery includes 20 one-bedroom units going for between $607 to $769 per month and 27 two-bedrooms for between $736 and $930 per month.
To qualify to enter the lottery, individual applicants must make between $22,218 and $30,250/year. A family of two needs to pull in between $22,218 and $34,550, a family of three must earn between $26,775 and $38,850, and a family of four needs between $26,776 and $43,150.
All things considered, it's unbelievable to find a $607/month apartment in a brand new luxury building on the Upper East Side. Provided you meet the qualifications for applying, it could be a great living space opportunity.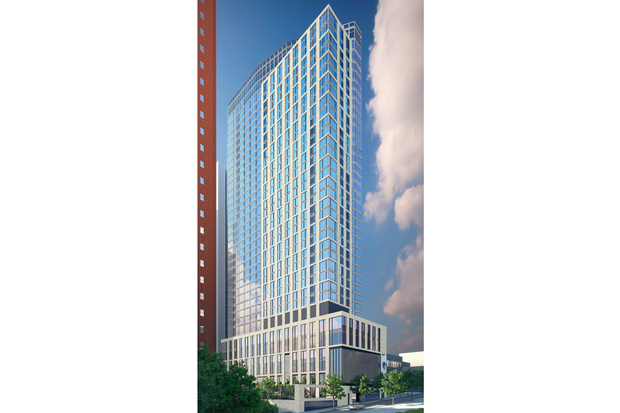 Rendering via DNA Info
There are some downsides, though. While there isn't a "poor door," low-income residents will have to pay additional fees to access the fitness center, lounge, children's playroom, and storage.
That being said, everyone living there does get a washer and dryer, as well as access to the rooftop terrace.
So get on those applications, as they're due February 1st.
Check out This Interactive Map of Where Minimum Wage Workers Can Afford to Live in NYC.
[via DNA Info]
[Feature Image Courtesy Curbed NY]