Subscribe to spoiled NYC's official newsletter, The Stoop, for the best news, eats, drinks, places to go, and things to do.
We're almost through the first quarter of 2018; well done, you. It's been a rough winter, and it's aiming to be a strange spring, making all of us ready to unearth and re-discover more destinations this year.
It may be hard to top last year's endeavors...seeing as we explored the west coast, hiked amongst arches, drank wine in Austria, happy hour-ed in the Swiss countryside, went off-the-grid in Greenland, roadtripped Iceland, ate half our weight in Slovenian delicious-ness, and Co-worked in Bali.
If our epic year of Spoiled Abroad did anything, it secured us a permanent case of travel-lust. We're ansty to keep on keepin' on the travel train, exploring all corners of the world. As your resident travel writer, these 12 hot spots are on my list, and well, I feel they should be on yours too. Will I see you there?
As a side note, I think this might be the 'Year of the North'...you've heard it here first, folks. In no particular order...
1. Faroe Islands
mydestinationguide The unreal beauty of landschapes in the Faroe Islands by @craighowes
Why: Europe's delicious little secret, these remote islands are the untouched hustle and bustle unwind we're looking for to serve as a serious unplug trip.
When: Spring to early fall. (May-September)
Suggestions: Rent a car to explore the untouched nature at your own pace, and have more time to chat with the local sheep. Hike, bike, be one with nature.
2. Porto, Portugal
portonoinsta 📷: @franciscomarques.fotografia . 👨‍🔧: @eduardomartins90 . #portonoinsta #oportolovers . . . #porto #oporto #amar_porto #portobestplaces #igersporto #igers_porto #visitporto #portophotospots #topportophoto #portoportugal #myportohistory #portopontocome #portotasty #portosworld #portocool . . . #portugalcomefeitos #portugaldenorteasul #p3top #vscocam #bomregisto #gerador #topportugalphoto #igersportugal #gerador #amar_portugal #weshareportugal #wanderlust_portugal #heyhubble
Why: Play tradesies with our city for this one across the pond and be rewarded in the form of a booming food and wine scene.
When: It's a solid year round destination, so whatever works for you, really.
Suggestions: Stroll the streets, try the petiscos, or local Portuguese tapas, at various new spots popping up around the city, and sip at a wine bar to cap off the night.
3. American Samoa
npsamericansamoa The Manu'a Island group, 60 miles east of Tutuila, includes the volcanic islands of Ofu and Olosega (joined by bridge), and Ta'u. They are sparsely populated-each village has only a few hundred people. #FindYourPark #SailiLouPaka #NPWest #NPS100
Why: YOU GUYS, it's a U.S. National Park! Mind Blown, I know. As the only U.S. territory south of the equator, with not so many tourists, you'll feel pretty special exploring this pocket paradise.
When: May-October are the driest months.
Suggestions: It's the last place the sun sets in America, so you gotta watch a sunset, obviously. Unspoiled beaches, rainforests and archaeological bits await you. Oh, and dolphins, those too.
4. Newfoundland and Labrador
newfoundlandlabrador Hey everyone, @georgetheexplorer here! I'm so excited to be sharing my Newfoundland and Labrador adventure over the coming days! Expect whales, icebergs, epic coastal views, and so much more! 😁 #ExploreNL
Why: Because we could use some color, and I'm not talking tan. With national parks, amazing islands, and those colorful houses that rival a box of crayons, this off-beat vibrant destination is worth a serious gander.
When: Depending on your interests, there's something for every season lover.
Suggestions: Take a road trip, hike, or try some fishing. Watch some whales, icebergs, or puffins. You choose. If winter is your thing there's snowmobiling and skiing aplenty. Or plan to visit during one of the festivals, like the blueberry fest in August.
5. Nicaragua
discovernicaragua Playa Ocotal Beach days are the best days, double tap if you agree! 🌊 || Días de playa son los mejores días, toque la foto dos veces si está de acuerdo! 🌊 [Photo: @go_dwells] #DiscoverNicaragua #DiscoverMiNicaragua
Why: Um, the beach? Authentic and affordable, this is a hot spot, quite literally. The fact that it's one of the less visited places in Central America is a bonus.
When: Now. It's cold here, so un-winterize yourself for a break in the south.
Suggestions: Embrace history in the city of Granada, laze at the beach on Little Corn Island, or try surfing at San Juan del Sur. Pretty sure it's an all around win-win.
6. Scottish Highlands
traveling_uk ® Presents Photo by: @mblockk Location: #eileandonancastle #dornie Congratulations! Photo selected by: @miniboy_ Thanks for following @traveling_uk ® Tag #traveling_uk Admin: @miniboy_ Admin: @giolorix Please no stolen or web pics! Member @traveling.crew ® Please visit our friends @1ukshot ▬▬▬▬▬▬▬▬▬▬▬▬▬▬▬▬▬▬▬▬ #lovegreatbritain #bbctravel #bestukpics #scottishhighlands #capturingbritain #loves_united_kingdom #ig_europa #photosofengland #ig_europe #scotland_greatshots #scotland #ig_cameras_united #ig_worldclub #traveling_Scotland #topukphoto #britains_talent #gloriousbritain #loves_europe #photosofbritain #icu_scotland #loves_scotland #ukpotd #visitbritain #british_mania__ #euro_shot
Why: Movie quality beauty, nature romping, and scenes to fuel your daydreams for a good while. If you feel good about rainbows, cattle with better hair than you, and rugged coastlines with impossibly pretty lighthouses then Sign. Yourself. Up.
When: May through October.
Suggestions: Hit up Glencoe and Isle of Skye for ridiculous views, hidden beaches, and fairy hunting. Did I mention the castles? Visit the "Queen of the Scottish Mountains", aka Ben Loyal for a scene that will stay with you forever...and then some.
7. Kauai, Hawaii
discoverkauai Have you seen double rainbows in Kauai? 🌈🌈Send us a rainbow in the comments below 🌈🌈#AlohaFromParadise 📷 @megatron_cd #kauailife#hawaiitravel#kauaihawaii#hawaiian#discoverkauai#hawaii#kauai#kauaistyle#hawaiivacation#hawaiilife#napalicoast#doublerainbow
Why: This Hawaiian Island offers oodles of nature-y things and dramatic scenery made more accessible via Jet Blue's brand new nonstop flights from JFK to Honolulu (you'll have to take another short flight to the island of Kauai).
When: Whenever. It's always good. Head there in September or November, or April to June to snag a tad lower prices.
Suggestions: For the best perspective, do a helicopter tour over the island to absorb the unique and comically impressive coastline from above. Or, head out on a boat, because the best way to see the coast, is from, well, the coast.
8. Finland
ourfinland When searching for northern lights darkness is your friend - so get away from bright lights and buildings. Hilltops and lakeshores make good vantage points. Photo by @villepaakkonen #VisitFinland #OurFinland
Why: The ultimate winter adventure, and the northern lights for magical magic.
When: Northern lights season is September-March.
Suggestions: Head to Lapland, sleep in an igloo, go dog-sledding, set your alarm for the northern lights, and pack warm for goodness sake.
9. Romania
ig_romania Bârsana 💙 Copyright: @alexandrudrg 👏🏻🏆 💛 Selected by: @radu.nita ❤️ #ig_romania __________________________________ #ig_romania #romaniamagica #romaniateiubesc #ig_sanat #ig_collection #ig_collection_landscape #igrefined #romania #promovezromania #vsco #mextures #m3xtures #heart_imprint #fiftyshades_of_nature #iheartnature #transfer_visions #click_vision #tv_landscapes #landscapecaptures #ig_countryside #rural_love #rsa_rural #renegade_rural #picturetokeep_nature #picturetokeep_rural #pocket_farms #country_features #splendid_outskirts
Why: Ancient history, castles, culture, tradition, all in a budget traveler's budget.
When: Summer and the beginning of fall, especially if you're into the festivals in Transylvania (as one would be).
Suggestions: Experience a unique homestay, ride the narrow gauge train, and uncover the mysteries of Transylvania.
10. Philippines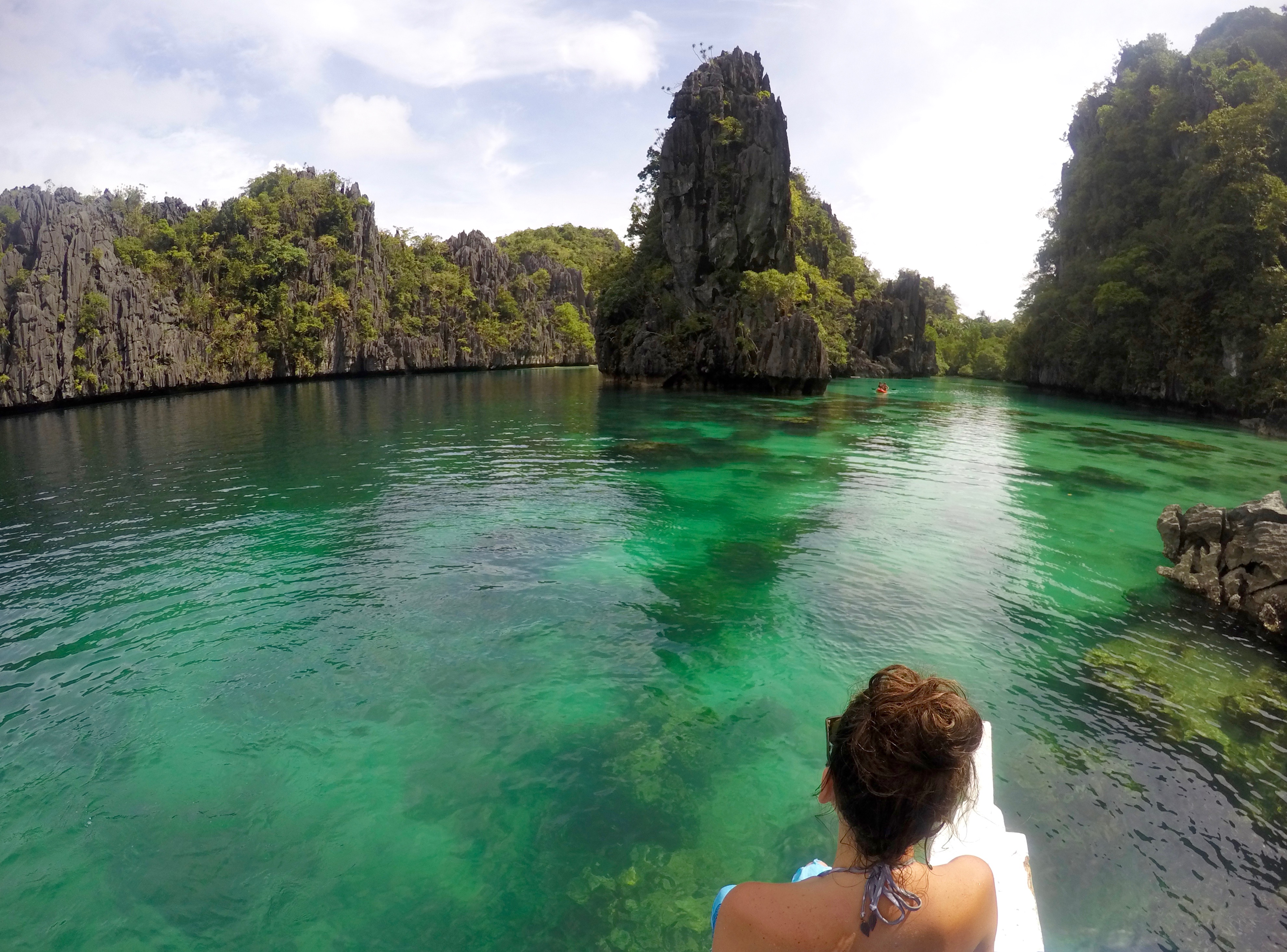 by Lauren Breedlove
Why: because, warmth, island hopping, and clear blue waters. Convinced yet?
When: It depends on the island (they have different rainy seasons) but in general, usually December to May is on the drier end.
Suggestions: leave work and any promise of a solid wifi connection behind. There's an island for every interest. Head to Cebu to swim with the whale sharks. Stop over to Siargao for surfing. Bop over to Boracay for beach lounging.
11. Cartagena, Colombia
wonderlust.cartagena 🍍 This great pic is by @elodie_enchantee. Thanks for sharing it with the world! Do you enjoy a location independent lifestyle? Submit your stories of life on the road at www.wonderlust.world (link in bio)!
Why: A walkable old town in a city right next to the water; Caribbean water at that.
When: Our winter is their summer, so you do the math.
Suggestions: Wander the cobblestone alleys, hit the beaches, and indulge in the food, all in a place where the city itself is an open-air historical museum.
12. Kinsale, Ireland
dearest_lolita Random trips when @carroll.orla surprise visits me👯 #Kinsale #Cork #ColourfulStreets #Ireland
Why: it's a surprise unlikely foodie destination, and we like food. Oh, and it's charming to boot.
When: Summer-ish. Expect rain no matter what.
Suggestions: Try the cuisine, for a literal taste of Ireland. If you are a seafood lover, this is a fresh fish haven. After you've had your fill, enjoy the town and the surrounding pretty panoramic views.

Got a hot tip or correction? Drop us a line at tips@spoilednyc.com