Subscribe to spoiled NYC's official newsletter, The Stoop, for the best news, eats, drinks, places to go, and things to do.
We thought something felt a little off this past month in New York City. Didn't you?
Didn't it feel a little warm... maybe unseasonably warm?
November wasn't at the top of its game when it came to blustery chills and the lingering threat of snow. In fact, "unseasonably warm" doesn't even begin to describe it.
From Long Island to the Catskills, New York had its warmest November since 2001.
We've already talked about the El Niño out west, and how that has matriculated eastward resulting in warmer temperatures across the board with less of a chance for a White Christmas in NYC.
Should we really worry about that whole "global warming" rumor?
We don't want to be too contentious with how we talk about the weather, but global warming is the bare bones way of addressing this very real global climate change.
"Warm" is a term relative to region, so it literally depends on where you stand. From where we're standing? Yeah, a bit warmer.
As measured at Central Park, the warmest average temperature back in 2001 was 52.7 degrees. This year? 53.1 degrees. Doesn't seem like too much of a difference, right?
As of Sunday, November 29th, the warmest day in November was the 6th at 74 degrees. The coldest day was November 24th with its highest temperature reaching 32 degrees in the Park.
The problem with this is that there's a trending increase in average temperature the past few months. September was 6.5 degrees above normal, and October was 1.1 degrees above normal, so while that .4 degree differential in November doesn't seem like a necessarily huge discrepancy, it's a trend worth keeping an eye on in December.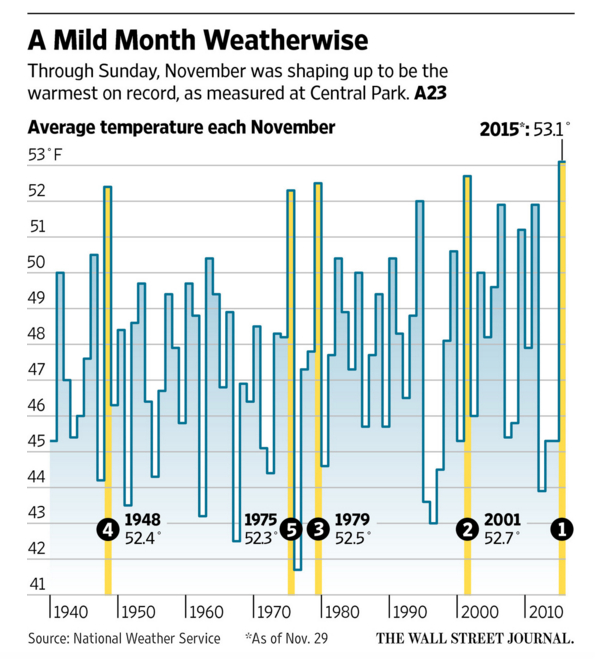 via The Wall Street Journal
Numbers never lie unless you manipulate them to tell a distinct narrative contrary to what they plainly say. We shouldn't view weather (you know, temperatures, storm systems, etc. with simple, measurable numbers) as one of those statistics with ulterior motives.
Side note: to what end would we manipulate those stats? The climate is shifting into the realm of the undesirable with consequences we're not totally prepared to deal with. Isn't the best way to prepare for those changes to start by simply accepting the numbers as they are?
In a weird way, that's all beside the point. The point is, we've had an easily measured, warmer November-- the warmest we've had in 14 years. September and October were both warmer than they've been on average (because, math), and that seems like something to pay attention to.
P.S. Want to stay up to date with all of the latest on this noticeably milder "Winter" weather? Check out Poncho right here. They'll set you straight.
Check out 7 Free Activities to Cross Off Your Holiday Bucket List in NYC.
Got a hot tip or correction? Drop us a line at tips@spoilednyc.com