Subscribe to spoiled NYC's official newsletter, The Stoop, for the best news, eats, drinks, places to go, and things to do.
Where did the year go? That's what we're all asking ourselves, but who cares?
We're living in New York City; a mad-as-Hell, expensive-as-Hell city where we have more than enough to worry about rather than tracking where exactly the time has gone.
Speaking of expensive, how you livin'?
The numbers are in, and Zumper has mapped out both the cheapest and priciest rents for this fall by neighborhood. They have maps of both Manhattan and Brooklyn, color-coded to show the median 1-bedroom rents in each neighborhood. The darker the shade, the more money you paid.
Are there winners? Are there losers? Guess that depends on who's living where, but there aren't a whole lot of surprises.
Turns out NYC is still the second-most expensive city in the country for rentals, trailing San Francisco's median rents for a 1-bedroom apartment $3,280 (NYC) to $3,670 (SFO).

We'll go ahead and put the winners as those successfully pulling off the cheapest apartments because making it in this city requires a veritable cornucopia (because, you know, Thanksgiving) of life-hacks, close-up magic, and your run-of-the-mill nifty tricks; namely, finding an affordable apartment.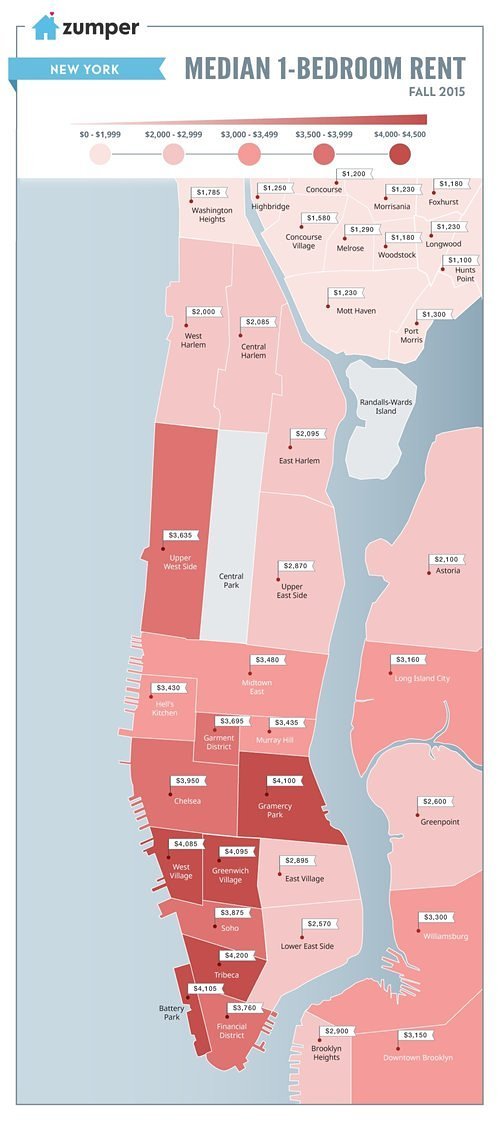 via Zumper
Making their debut on Zumper's list (nope, they've never included a neighborhood north of Central Park in Manhattan), Inwood ranked in as the most affordable neighborhood in Manhattan at $1,625 a month.
Also making the affordable list in Manhattan are neighborhoods like Washington Heights ($1,785) and West Harlem ($2,000).
We wouldn't call these people losers (at least not to their faces), but people are paying a pretty penny in Manhattan and other parts of Brooklyn. The most expensive neighborhoods in Manhattan are no surprise: Flatiron District at $4,400, NoMad $4,370, and TriBeca at $4,200 a month.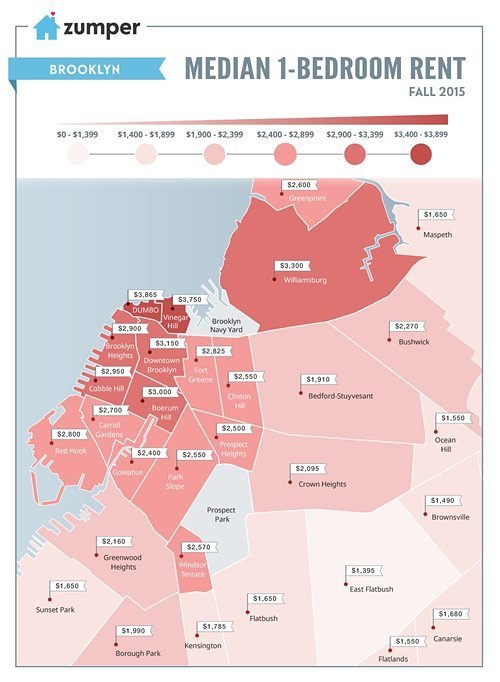 via Zumper
Brooklyn's cheap rents are very surprising with neighborhoods like Hunt's Point coming in at $1,100 a month, and East Flatbush coming in close at $1,395 with other neighborhoods like Brownsville and Ocean Hill coming in the low to mid $1,000's.

Most expensive 'hoods in BK? DUMBO's still the most expensive at $3,865, Vinegar Hill at $3,750, and then Williamsburg stagnantly leapfrogging Downtown Brooklyn at $3,300 and $3,150 a month, respectively.
Now, Zumper releases these stats every quarter, and overall, not much has changed. Interesting trends to notice, from a gentrification standpoint, are Brooklyn neighborhoods on the rise: Bushwick ($2,270 up from $2,200), BedStuy ($1,910 up from 1,850), and Crown Heights ($2,095 up from $1,995).
Check out 8 Ways to Travel Like a Real New Yorker This Holiday Season.
Got a hot tip or correction? Drop us a line at tips@spoilednyc.com