Subscribe to spoiled NYC's official newsletter, The Stoop, for the best news, eats, drinks, places to go, and things to do.
Back in the Cold War days when East German and Soviet-bred terrorists were appropriate villains for movies like Die Hard and Die Hard with a Vengeance, as in like, the late 80s and early 90s, there was a pretty nasty thing called the Berlin Wall.
Many of us were alive while it was standing, but most millennials were too young to know it was there, or remember vividly when it came down.
If you weren't of age during its tenure dividing Europe into "friendly" and "Iron Curtain" halves, than there is no easy way of understating how huge of a deal it was.
But luckily, we're in New York City, where you can learn, do, or see almost anything-- including five giant pieces of the Berlin Wall in their artsy glory.
See, on the Western (friendly) side of the Wall, artists began decorating the obstruction for the simple reason that it was ugly and they wanted to spruce it up.
Or at least, that's how it started. The likes of Kiddy Citny and Thierry Noir, to name a couple, went to town. Though much of the Berlin Wall art is done by unknown artists.
Political graffiti was there already, but that's less interesting than sweet murals on the world's greatest symbol of totalitarianism at the time.
Since the dismantling of the Wall in 1991, many of the beautified portions were saved from recycling and made their ways to different places around the world. Five of them ended up in NYC.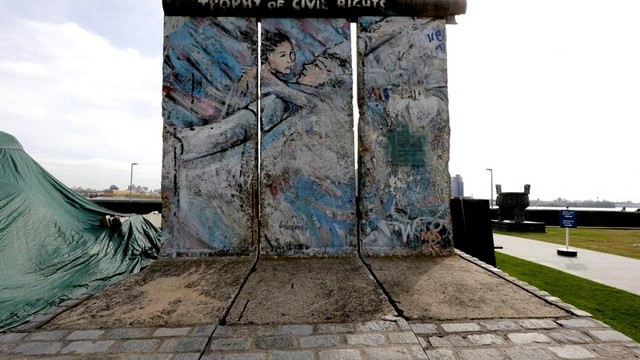 via the Smithsonian
Being that NYC is absolutely packed to the brim with exciting and moving art, it's easy for any number of compelling pieces and installations to go unnoticed, or at least under-celebrated by the majority of New Yorkers.
So recognize: there are five pieces of Berlin Wall art around NYC, and they're pretty cool. You can check them all out here.
Check out 9 Sick Artists To Look Out for on the Streets of NYC.
Got a hot tip or correction? Drop us a line at tips@spoilednyc.com