There's a new plan to connect Manhattan with New Jersey, and it's not more Hudson River tunnels.
No, it's a pedestrian bridge dreamed up by Jersey City architect Jeff Jordan and his many neighbors and associates.
Calling it the Liberty Bridge, Jordan and his team have produced plans and renderings of the would-be 5,000 foot-long foot bridge that would span the Hudson River between Jersey City and Manhattan.
Now they're not planning a regular old pedestrian walk way. Not only would it sport incredible views up and down the Hudson, but Jordan's planning bike lanes, walking lanes, and, of course, Wi-Fi because you can't expect us to eat into our data for bridge selfies.
[anad]
The proposal isn't out of the blue, either. Just about everybody who commutes between Jersey and NYC on a daily basis can attest to the deplorable conditions of travel at peak hours. The PATH Train runs at capacity, the Tunnel is always packed, NJ Transit keeps hiking their fares-- it's just gross.
So since it could really help a lot of people out, how realistic is the plan? Only time will tell. New York City has seen its fair share of transit building project proposals go nowhere. You can even see a map of all the highways that were never built!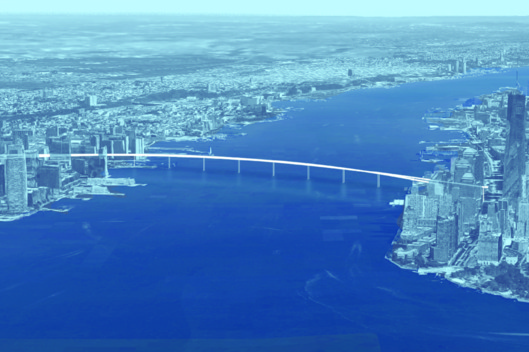 via NY Magazine
But if you're really into the Liberty Bridge, there are a few things you can do to help make the Liberty Bridge a reality. One, you can sign the petition. At the moment, only about 680 supporters have signed. Let's get that number up, huh?

If petition signing doesn't do it for you, there is other stuff you can do to help. Being active on social media using #LibertyBridge and interacting with the Liberty Bridge (@libertybridge) profiles will help generate some buzz. You can also check out this list of ways to help.
Check out These Never-Before-Seen Photos of the World's First Underground Park.
[via NY Magazine]
[Feature Image Courtesy of Change.org]