Subscribe to spoiled NYC's official newsletter, The Stoop, for the best news, eats, drinks, places to go, and things to do.
The city that never sleeps, you say? Well, not according to this map, recently uncovered by 6sqft. 
This visually stimulating map, created by Joe Lertola way back in 2007, puts into perspective just how populated the streets of New York City really are during the day versus at night.
The taller the red line on the map, the more congested each area is. 
On that note, it's telling that the Lower East Side, Upper East Side, Upper West Side, and Williamsburg have the highest concentration of night owls. 
Since they're more residential than, say, Midtown Manhattan, it makes sense that more people would be bustling around, hitting the bars in those neighborhoods after all those commuters have boarded their trains to Westchester, Long Island, and New Jersey.
The only recent changes in the data are the increase of residents in certain Brooklyn neighborhoods and the Financial District, as well as an increase in the average New Yorker's commute time.
Aside from those differences, however, a map made in 2015 would most probably look very similar. 
Oh well... anyways, is it Friday or what yet?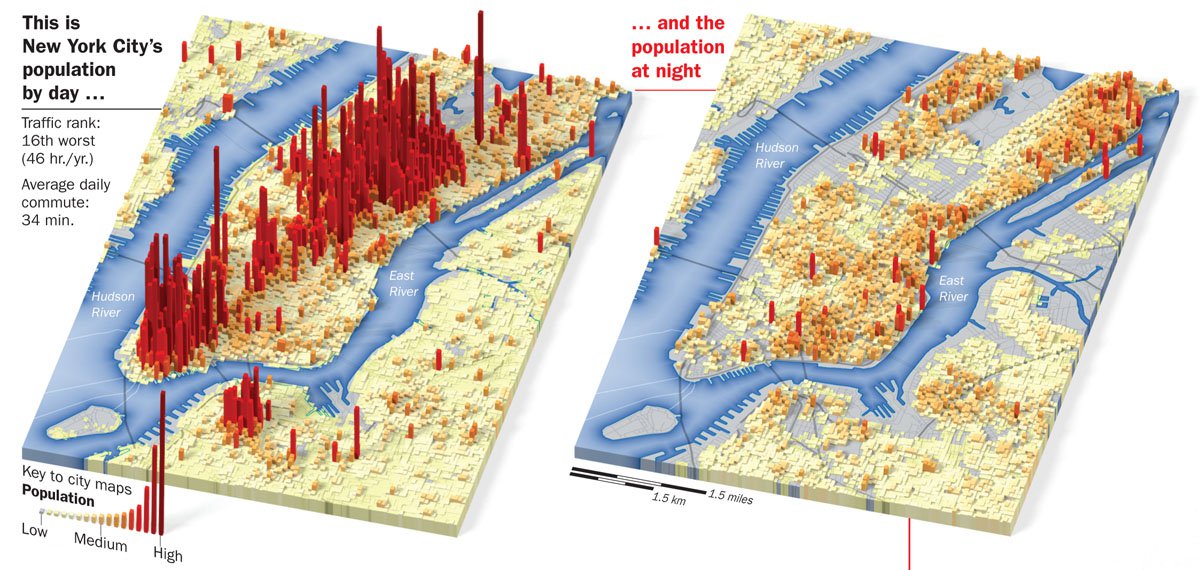 via 6sqft
Check out 6 Late-Night Activities for Making Awesome Memories in NYC. 
Got a hot tip or correction? Drop us a line at tips@spoilednyc.com