Here we are folks, the final stretch of summer. The dog days of summer will be reaching their peaks, and some lucky few will be heading outta here to somewhere cooler.
But for those of us who are not so lucky, things aren't too bad because August is jampacked with things to do.
Maybe everyone was like us and decided to leave everything they wanted to do for the summer to August.
Don't lie, you know you've been putting things off.
Luckily for you, there are so many dope things going on in August that you 99 more reasons not to do whatever it is you're putting off until the fall.
Just make sure you invest in an umbrella, this is looking like one rainy August.
---
1. Sunset Salsa NYC - August 2nd
Ever wanted to try your hand at salsa dancing? Now's your chance to get some premium salsa dancing lessons, all for free!
Sunset Salsa has been going on for most of the summer, taking place in Hudson River Park every Tuesday since July, but it's wrapping up on August 16th.
[anad]
The lessons start at 6:45 p.m at Pier 45 and go until 7:15 p.m. From there, live DJs come in and get the party started.
You can get salsa dance all night long, or at least until 9 p.m, when the event wraps up. But hey, close enough. For more information you can check out their Facebook page.
---
2. Studio Ghibli Festival: Spirted Away - August 3rd-4th
If you've never seen Spirited Away then you seriously need to head to this event.
Spirited Away is Hayao Miyazaki's Academy Award winning animated film about a young girl's journey through the spirit world to save her parents after they're transformed into pigs by an evil witch.
This is the latest installment in the Studio Ghibli Festival being held at East Village Cinemas. You can check out the full lineup of films being shown in the festival here.
If you're an early bird you can watch the English version of the film at 11 a.m. If not, you can watch the original Japanese version at 8 p.m, but don't worry, there are subtitles.
Spirited Away is playing on both the 3rd and the 4th, so you have no excuses for not making the journey to watch this incredible film. Get your tickets here now!

---
3. HOOCH Happy Hour Boat Party - August 4th
Boozin' on a boat, what could be better? We're partnering up with our friends at HOOCH to kick off the weekend in style with a Happy Hour Boat Party on August 4th.
The best part: all you have to do to get onto this bangin' boat is be a verified HOOCH member.
HOOCH is for the adventurer in us all. If you sign up today using the invite code "spoiled" you get your first month with HOOCH for only $1. That dollar will get you 30+ free drinks from HOOCH as they take you around the city discovering your new favorite cocktail spots.
And that's all you have to do. Sound sweet? That's because it is. Once you're officially a verified HOOCH member, just register for the event here and we'll see you out on the Hudson.

---
4. Coney Island Subway Firework Party - August 5th
This is the best kind of reason to head down to the boardwalk.
The party aspect of this event starts up at the Madison Square Tavern, where you'll be given a pair of LED headphones that'll allow you to tune in to one of two different music channels.
From there you'll groove and jam with your fellow party goers down to the Coney Island boardwalk as a part of one of the coolest silent parties around. Tickets to this event are limited, so be sure to grab them here now if you want to get in on the fun.
If you're not down to party but still want to get in on the firework action, nobody's gonna stop you. Just head down to the Coney Island boardwalk and watch the magic happen. Fireworks start at 9:30 p/m, don't be late!
---
5. Pottercon 2016 - August 6th
Harry Potter fans are livin' it up this summer. Pottercon is a day filled with themed day drinks and meeting your new favorite witches and wizards while bonding over your love for all things Harry Potter.
If you're still iffy about what Hogwarts house you're in, take part in the live sorting ceremony. Or if you decided to roll up to this event in your best wizarding gear, join the costume contest for a chance at fame (and maybe fortune).
If you haven't read the latest piece of the Harry Potter series, Cursed Child, you'd better plug up your ears, because we're sure it's all anyone will be talking about at this magical event.
Tickets are available here. Make sure you get enough for you and the rest of your Hogwarts squad.

---
6. Mad Decent Block Party - August 7th & 8th
Brooklyn's Mad Decent Block Party is back for its eighth year and it's better than ever. This two day concert event is going down at Brooklyn's MCU Park and has a pretty killer lineup.
August 7th will be featuring Diplo, and Tory Lanez, amongst others, while August 8th has Kesha, and Boombox Cartel taking the stage.
Check out the full lineup of artists here, and grab your tickets to the event here.
---
7. Celebrate Summer: Rosé Tasting at Eataly - August 10th
There's nothing better than a sip of rose on a hot summer day.
If you fancy yourself a wine aficionado, Eataly's rose tasting event may sound like heaven to you.
A ticket to this event will give you the chance to sample over 20 wines and chat with fellow wine enthusiasts. Don't worry, there'll be some prosciutto and foccacia samples along the way to cleanse your palate in between wines.
A ticket to this event also gives you the opportunity to make a reservation at one of Eataly's three restaurants, which are usually first come first serve, so you can both drink and dine in style.
Plus, if you dress in all pink you can get 10% off featured wines at Eataly Vino. Even Regina George would make an exception to the pink on Wednesdays only rule for this deal.
---
8. NVRSleep: R&B Edition at Kinfolk - August 10th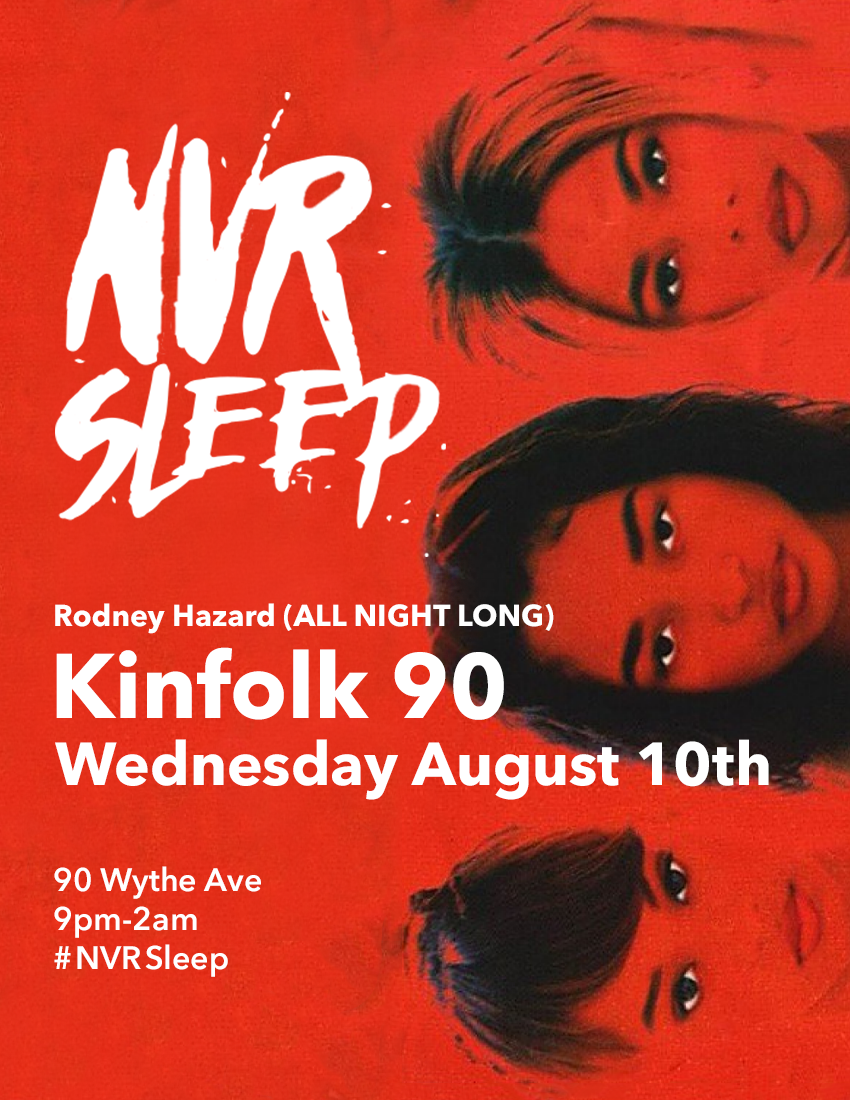 Hip-hop producer and spoiled Media Creative Director Rodney Hazard is bringing the fire to Kinfolk 90 in Williamsburg. NVR Sleep is always a good time, but this R&B party, going down August 10th, is going to turn up the heat .
So, if you're wondering, "Can I kick it?" Yes. Yes, you can. Come kick it at Kinfolk 90. Rodney Hazard's dropping fire. All. Night. Long.
Sip (or throw back) on some cocktails, grab some grub, and pat yourself on the back for finding this gem without having to dig deep for a cover charge. Yes, it's free. Dance all night long, from 9 p.m. to 2 a.m. because, well, you can sleep when you're dead. Nvr Sleep. Evr.
Now you can impress your date with your dance movies without having to break the bank. All you've gotta do to get on the list for this dope party is RSVP here.
---
9. Broadway in Bryant Park - August 11th
Broadway in Bryant Park has been bringing you the best of Broadway for free this summer, but it's finally wrapping up for the year on August 11th.
The casts of Phantom of the Opera, Something Rotten, and Cagney Ruthless are slated to close out the series from 12:30-1:30 p.m on the Bryant Park lawn.
As always, the event is free, but good luck snagging a comfortable spot on the grass, these usually get packed pretty quickly.
---
10. Caribbean Night Skate Party - August 12th
Have some old school fun while a live DJ blasts soca and reggae.
Brooklyn Bridge Park's Carribean skate party gives you the chance to have some old school, clean roller skating fun while taking in some of the best views of Brooklyn around.
While you're skating you can get down to some sick reggae beats, but please don't try any fancy tricks unless you're a professional. We know it's tempting, but... please. It's for the best.
Admission to the event is $9, and skate rentals are $6, with the party going from 7-9:30 p.m.
---
11. NYC African Food Festival - August 13th
This day long event is for those African food fanatics, and those who are up to trying new delicious cuisines.
The NYC African Food Festival will feature some classic African restaurants, along with some of the new kids on the block, and of course some star chefs making appearances. There'll also be cooking demos and cookbooks available for those who want to bring some of these flavors to their own kitchen.
The event goes from 12-8 p.m, and tickets range from $10 all the way to $2,500, so you can ball on a budget, or go all out depending on your mood.
Buy your ticket here now, and make sure your stomach is empty and ready for all of these delicious eats.

---
12. Dominican Parade 2016 - August 14th
Everyone loves a good parade.
The music, dancing, and cultural pride is back at the NYC Dominican Parade, starting at noon on 36th Street, and going all the way down to 52nd Street.
The music will be blasting, and there'll be plenty of dancers and performers to see on any block of this parade.
Plus, you'll probably be able to buy some Dominican delicacies along the way, to keep you full while you walk all those blocks.
---
13. Blacklight Slide NYC - August 14th
What better way to cool down after parade than by sliding down a massive glow in the dark slide?
Heading down the blacklight slide blasts you with a healthy amount of glow powder, so the slide won't be the only thing lighting up the night.

A ticket to this event not only gets you down these awesome slides, but also guarantees you entrance to the rockin' after party.
Make sure you wear white so you can shine as bright as possible, and get down with their live DJ until the early hours.
---
14. WTC Westfield Store Opening - August 16th
We've been waiting on the World Trade Center Oculus' shopping center to open up for what feels like decades now.
We know that four retailers have walked away from their leases with Westfield's planned shopping center, but it looks like they're still going for the August 16th opening date.
Many stores may not be opening, and it's also unclear exactly which store will be opening up officially on the 16th, but at least it'll give PATH train commuters something to do while waiting for their next train.
---
15. Battle of the Burger NYC - August 18th
Bet you never imagined that you could have the opportunity to try 20 of the best burgers in NYC. That's right, 20.
Time Out's Battle of the Burger is going down at the South Street Seaport, and it is looking like every burger lovers paradise.
A $50 ticket will guarantee you a taste of the 20 battling burgers, along with a complimentary Budweiser beer to wash those burgers down. Plus there'll be live music and games throughout the night, to keep you occupied when you're not chowing down.

Sorry to all those teen burger fanatics out there, this event is 21+.
---
16. Emerging Music Festival - August 19th