We know summer has just begun, but we're already soaking in the sun (and margaritas).
With all of the free shows, art exhibits, and events going down this month, we'll be saving a lot of money.
What are we going to buy with that money you ask?
Buying tickets to all of the other sh*t we want to go to this June, of course!
We'll worry about being broke next month.
---
1. Still Dreaming (June 1st)
After making you dance for over a year at Kinfolk, the CLP and Rodney Hazard are excited to announce the launch of Still Dreaming. They've curated a fire set list, comprised of contemporary Hip-Hop and R&B artists that will give guests a glimpse into the future.
With Rodney Hazard and Silky Black providing the vibes, alongside Halley Hiatt, Gio Dee, and Akil B. Strange turning up the stage– our goal is to bring the performance and party settings into one intimate environment.
[anad]
Party starts at 9 p.m. at Ceremony (224 Manhattan Avenue). Snag your tix today– they're $10 in advance, and $15 at the door.

---
2. Governors Ball (June 2nd- 4th)
We hope that you've snagged your tickets by now! All that's left are 3-Day GA passes and Sunday only tickets.
The Gov Ball lineup is absolutely insane this year. Even more impressive might be the 2017 lineup of food and drink vendors. And we can't forget the afterparty of all afterparties, After Dark. The party doesn't stop Sunday evening.
---
3. BookCon (June 3rd, 4th)
This one's for our fellow literary nerds!
BookCon is NYC's epic celebration of new books, authors, celebrities, and pop culture. Basically, it's gonna be awesome. How awesome? Check out a couple dope things we've got on our radar.
Need a preview? We're talkin' Jeffrey Tambor, Margaret Atwood, Cassandra Clare, Chad Michael Murray, and Krysten Ritter (AKA Jessica Jones). And seriously, so much more. Don't forget to grab your passes!
---
4. Rose Garden Weekend (June 3rd, 4th)
There's no better way to take in the beauty of nature than to spend an afternoon at New York Botanical Gardens. This weekend, NYBG is hosting Rose Garden Weekend.
Celebrate the peak of color and beauty of this summer in the Peggy Rockefeller Rose Garden with two days of live music, plant care demonstrations, tours with expert rosarians, and refreshments.
---
5. NYC International Food Bazaar (June 4th)
How does spending your entire Sunday indulging in artisanal and international foods sound?
NYC International Food Bazaar, organized by Grand Bazaar NYC, will be a festival unlike any other. Entrance is free, but you are encouraged to donate, as 100% of the proceeds go to four NYC public schools. Get your belly ready for over 25 unique vendors!
---
6. Rainbow Inside by Fabian Freese (June 6th to 12th)
Don't miss out on Fabian Freese's latest installation!
The exhibition titled "Rainbow Inside" will be on display at the Lazy Susan Gallery for 6 days. "Rainbow Inside" is a reflection of Freese's feelings and point of view that has developed as a result of his travels around the world.
---
7. Extra Crispy BreakFestival (June 10th)
Breakfast is the most important meal of the day!
That's pretty much the only reason you need to be at this breakfast festival coming to Brooklyn's Industry City. Extra Crispy BreakFestival is going to be way more than just BECs (although those should get their own food fest). Best of all, entrance is free! Ayyyy.
---
8. Northside Festival (June 7th-11th)
Coming back for its 9th year, Northside Festival is an urban festival unlike anything you've ever experienced.
300 bands and 150 speakers will come together across 30 venues. Just a few of the big names this year include Bill de Blasio, Kamasi Washington, and Glenn Greenwald. They know that Brooklyn is the epicenter of a creative movement changing the world– and are all about celebrating just that!
---
9. Jazz Age Lawn Party (June 10th, 11th)
Grab yourself an Oliver Twist (a talented dancer) and make your way down to the ultimate celebration of the best time in music!
The Jazz Age Lawn Party goes down this June, but will also be back in August if you can't make it to this time around. Get dolled up in your favorite prohibition era outfit and put your dancing shoes on (don't forget your hip flask).
---
10. Coffee & Tea Festival NYC Iced (June 11th)
Can't survive the day without your morning cup of Starbucks?
We feel you. But there'll be a lot more than boring Starbucks at this festival. Coffee & Tea Festival NYC Iced will feature over 40 exhibitors as they pour out their award-winning coffee and tea products. An excuse to drink caffeine all day? Say no more, fam.
---
11. NVRSleep - RNB Edition (June 14th)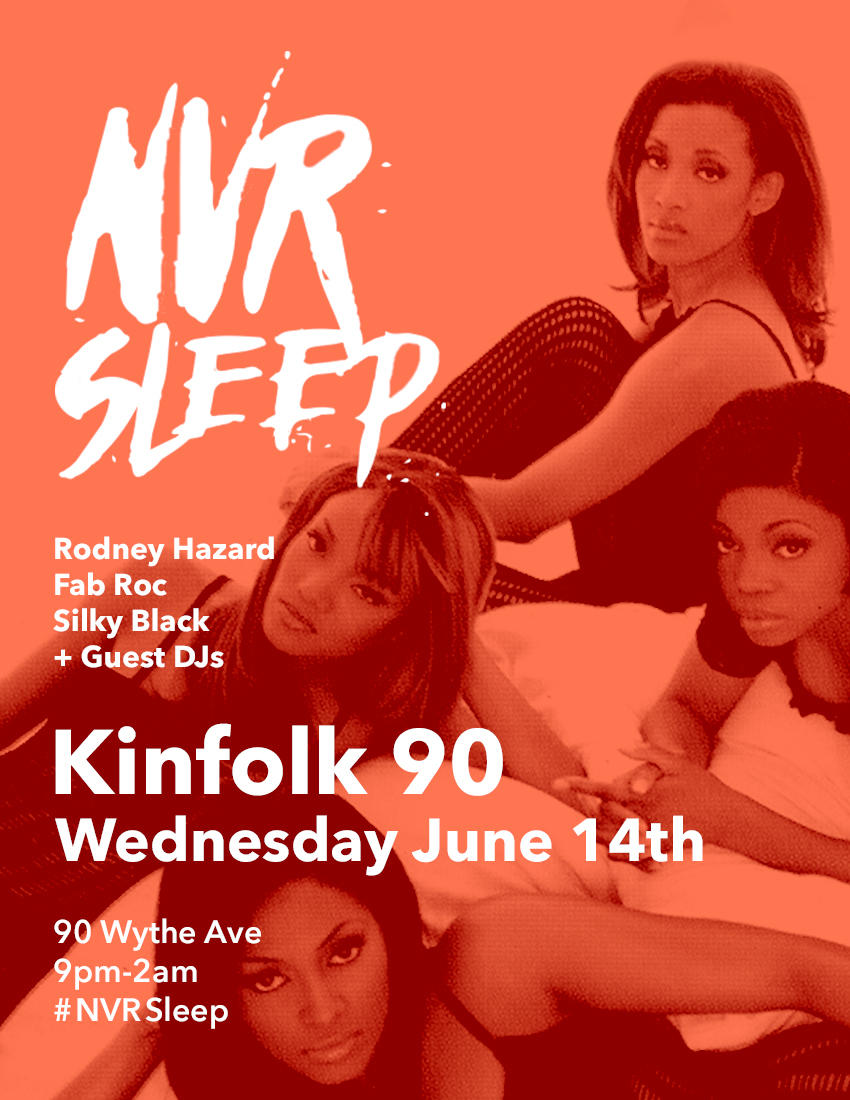 If you've never been to a NVRSleep event, you haven't lived.
NVRSleep is basically one huge lit party going down in Williamsburg. The best part (besides the fire beats, of course)? It's totally free. Dance, drink, and connect with all of the beautiful people of NYC aaalll night long!
---
12. The Biggest '90s Party Ever (June 15th)
Remember when 'NSYNC was the coolest thing ever, and all of your stationary items were covered with Lisa Frank designs?
Ah, the '90s were the best. But those memories don't have to die with the turn of the century. The Biggest '90s Party Ever is celebrating the best decade of all time. You bet you're wearing your chokers and spiking your hair. And yes, the raddest '90s tunes will be playing!
---
13. NYC Pride (June 25th)
Pride month is June in NYC and around the world! This month symbolizes equality for citizens of all sexual orientations and gender identities.
Since the first march in 1970, NYC Pride has become an annual civil rights demonstration. The march will also include the recognition of those in the community we've lost due to illness, neglect, or violence. Don't miss out on the biggest Pride celebration in the world!
BTW, make sure to check back on site for all of the activities planned for Pride month in NYC.
---
14. Vinho Verde (June 17th)