Solstice has come and gone, which means that it's officially summer in New York City (and, you know, everywhere else).
The city goes all out in the warmer months, from street festivals to concerts to bar crawls. And seriously, if you're not getting out and taking advantage, what are you doing?
We love chillin' in our air conditioned apartments as much as the next overheated New Yorker, but there's just too much good stuff going on to stay cooped up all summer long.
(And besides, you can always duck into a nearby Duane Reade for a quick cool down and 99 cent bag of cashews.)
So read on to discover our list of all the best stuff happening in NYC in the month of July.
---
1. Blue Note Jazz Festival - July 1st & 2nd
bluenotejazzfestival 【明日11時より先行予約開始!】5/30(月) 11時~BNJFオフィシャル先行開始→ http://w.pia.jp/t/bnjf/ #bnjf16 #横浜 #ジャズフェス #EWF #GeorgeBenson @philipbaileyewf
We all love a good music festival, but sometimes we'd prefer to attend one that doesn't involve copious amounts of drunken youths in flower crowns.
Occasionally, we like to trade in our boxed wine for some high-class fun, and the Blue Note Jazz Festival is the perfect opportunity.
This festival has been in existence in NYC since 1981 and has seen performances by jazz legends such as Dizzy Gillespie, Ray Charles, Lionel Hampton, and many more.
The event is being held July 1st and July 2nd at various venues around the city. Check out the full schedule here.
---
2. spoiled NYC's 4th of July Weekend Sunset Cruise - July 3rd

spoilednyc use the link in our bio & grab tix to our 4th of July weekend open bar sunset cruise around Manhattan! 🍺🍷🍸🍹 🎆🗽🚢🌆 #linkinbio #threehourboozecruise #openbar #redwhiteandboozecruise #spoilednyc #sundayjuly3rd 🙌🙌🙌 sponsored by @50bleu aboard the @worldyacht 🚢🍸🍻🍹🍷🗽 #sundayjuly3rd #sunsetcruise #boozecruise #allaboard #yachtlife #pier81 #pier81nyc #pier81worldyacht #worldyacht #50straightup #redwhiteandbleu #spoilednyc 🇺🇸🇺🇸🇺🇸
How does a vodka open bar courtesy of 50 Bleu Vodka, free beer and wine, passed h'ordeuvres, three hours of dancing, and breathtaking views courtesy of World Yacht's absolute beaut, Duchess, sound for a 4th of July Party?
Pretty damn good, right? Join us for our July 4th Weekend Sunset Booze Cruise and this dream can become a reality.
It's all going down Sunday, July 3rd, 6:30 p.m., at Pier 81, located at West 41st Street & the West Side Highway– come hell, high water, rain, or shine– and the party won't stop until at least 9:30 p.m. That's three, count 'em three, hours of madness.
And seriously, what could be a better place to see the fireworks than a gorgeous yacht on the Hudson River– while not paying an arm and a leg for all of the other waterfront events going down the day after? Get your Sunday Funday tickets right here!
---
3. Macy's 4th of July Spectacular
anthonyandrada 🗽 #macys4thofjulyfireworks Can you tell I like #fireworks? 🙌🏽
Although most New Yorkers flock to the outskirts of NYC for the Fourth of July, there's nothing quite like celebrating in the city, enjoying the gorgeous views of fireworks over the Manhattan skyline.
Macy's 40th anniversary 4th of July Spectacular event will feature the absolute best firework display in NYC, as well a performance by Kenny Chesney.
You can catch it broadcast live on NBC, but come on, you really should be watching them from a rooftop in Manhattan.
---
4. Whiskey Fried - July 9th
whiskeyfriedclassic Can we talk about this spicy fried chicken sandwich? #omg #nomz #foodporn @sonofasouthernchef
How does whiskey, hand-crafted cocktails, and incredible fried food sound to you? We're guessing pretty damn good.
Which is precisely why you've got to check out this year's Whiskey Fried Classic, an upscale backyard barbecue event featuring liquors from dozens of distilleries and local bars paired with Southern-inspired dishes from over 20 restaurants.

Deliciousness in the form of Bareburger, Jacob's Pickles, Sweet Chili, and The Donutologist are just a small sampling of what you can expect from this event. Get your tickets here!
---
5. Greatest Day Ever! - July 9th
miggyagi Travis Scott Was Amazing Last Night. 🙌👌💯🎶✌️ #greatestdayevernyc #Brooklyn #TrapMusic #MusicFestival #TravisScott
This annual event brings together some of the best new talent in NYC for the ultimate summer celebration. You'll get to catch incredible performances by up and comers like Baauer, Slink, 4B, Grandtheft, and many more.

It all goes down at The Brooklyn Mirage on Saturday, July 9th from 2 p.m. to 11:30 p.m. Get your tickets right here!
---
6. Bastille Day
sayformaggio13 zee fronch bread. #nycbastilleday
There's nothing New Yorkers love more than a good street fair. So head over to the Upper East Side for the annual NYC celebration of Bastille Day, an event chock-full of French culture, food and entertainment.
For over ten years, Bastille Day on 60th Street, presented by the French Institute Alliance Francaise (FIAF) has been the largest public celebration in New York commemorating France's Independence Day (July 14, 1789) and its historic friendship with the United States.

This year's event will feature chocolate and wine tasting, kid's events, and even a performance from the cast members of the Tony-award winning music, An American in Paris.
It all goes down from noon to 5 p.m. on July 10th, on East 60th Street from 5th Avenue to Lexington Avenue.
---
7. Dancehall/Reggae Party at Kinfolk 90 - July 13th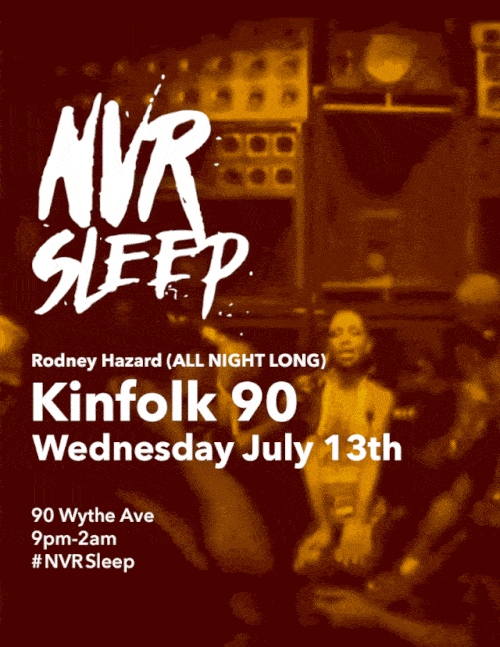 Hip-hop producer, and spoiled Media Creative Director, Rodney Hazard is cookin' up something dope at Kinfolk 90 in Williamsburg. NVR Sleep is always a good time, but this Reggae party, going down on July 13th, well, you're hard pressed to find something like it anywhere else in the neighborhood.
So, if you're wondering, "Can I kick it?" Yes. Yes, you can. Come kick it at Kinfolk 90. Rodney Hazard's dropping fire. All. Night. Long.
[anad2]
Sip (or throw back) on some cocktails, grab some grub, and pat yourself on the back for finding this gem without having to dig deep for a cover charge. Yes, it's free. Dance all night long, from 9 p.m. to 2 a.m. because, well, you can sleep when you're dead.
---
8. Brooklyn Hip Hop Festival - July 13th - 16th
charleshamiltonmusic Brooklyn, New York... I LOVE YOU #BrooklynHipHopFestival
This music fest is one of the longest running and largest hop-hop cultural events in New York City. It has hosted all of our hip-hop favs; artists like Jay-Z, Kanye West, Kendrick Lamar, Afrika Bambaataa, Q-Tip, De La Soul, Ghostface Killah, Lupe Fiasco, KRS ONE, and Busta Rhymes.

This year, you can look forward to catching Nas, Fabolous, Talib Kewli, Rapsody, DJ Rob Swift, and many more.
It's all going down from July 13th - July 16th, at multiple venues around BK - get tix here.
,
9. Lazer Brunch - July 16th
lazerbrunch Photos from our last event are NOW LIVE on our Facebook page and website! Go ahead, tag yourself, we dare you💥 #waitingfornextevent #lazerbrunch #lasertag #nycbrunch #newyorkcity #darty #getready
What if we told you we could combine your Saturday night festivities and your Sunday morning brunch into one epic event?
Yup. It's real: it's called Lazer Brunch.
[anad]
Once a month, the Hudson Terrace Rooftop hosts this super unique event, where guests can play heart-pounding rounds of laser tag, enjoy amazing drinks, and brunch their hearts out. And all the while, take in some of the most stunning views of Manhattan.
Sounds pretty legendary, right? Get your tickets here for the July 16th event.
---
10. Uncorked Wine Festival - July 16th
The wildly popular and super incredible Uncorked Wine Festival, at long last, is coming to New York City this summer!
The national wine tour will be coming to the Metropolitan Pavilion Saturday, July 16th, and if you love wine, you do not want to miss out.

But this event is not just a wine tasting. It's an all-encompassing sensory experience for wine lovers! The festival will feature over 50 wineries, more than 100 different wines to sample, a bar just for champagnin' and campaignin', and international wine market, a video DJ, a photo booth, and a blind tasting bar.

It's sold out in huge American cities like Los Angeles and Chicago, and now, after basically just twiddling our thumbs on the East Coast FOREVER, the party's finally coming to the beautiful Chelsea neighborhood! Get your tickets here!

---
11. M.I.L.P. (Moms I'd Like to Portray) @ UCB Theatre - July 20th & 27th
misscarrielynne Here's a screenshot of me and a strange child to celebrate tonight's performance of M.I.L.P: MOMS I'D LIKE TO PORTRAY UCB Chelsea, 6PM! BRING YOUR MOMS!
Actress/comedian Carrie McCrossen is not a mom, but gets her mother-loving chance to play all the mom roles of her dreams in MILP, a sketch show that celebrates Hollywood's depiction of women and motherhood.
Even if you're not a mom, its bound to be hilarious, mainly because you have a mom and she keeps you on the phone for 45 minutes just to tell you about the progress of her geranium plants.
You can catch the performance on July 20th & 27th at the UCB Theatre in Chelsea. Get your tickets here!
---
12. Panorama Music Festival - July 22nd - 24th
panoramanyc @anderson._paak 🔥⬆️ @foresthillsstadium last weekend. See you July 23 😎
Just as we were packing away our flower crowns from Gov Ball, yet another epic, jam-packed with talent music festival comes to NYC.
The annual Panorama Music Festival returns to Randall's Island Park July 22nd, 23rd, and 24th, and the lineup is looking pretty damn incredible.
Alabama Shakes, Sia, FKA Twigs, and Kendrick Lamar are just a few of the big names to be gracing the festival's stage this year.
Grab your passes here!
---
nycrestaurantweek Last day of #nycrestaurantweek! Where are you dining? 🍝📷 by @felicewinebar
It's no secret that NYC is home to some of the most incredible restaurants in the country. But, for a lot of us, we can't realistically afford to visit more upscale ones quite as often as we'd like (or as much as an episode of Sex and the City would lead us to believe is plausible).
That's where NYC Restaurant Week swoops in to save the day - the annual event celebrates fine dining at an affordable price, with participating restaurants offering three-course prix-fixe menus specially priced lunch and/or dinner.
It's all happening from July 25th - August 19th. Be on the lookout for the restaurant list, set to be available on July 11th.
---
14. Record Store Crawl - July 30th
heliotropesband JULY 30 >>> get on the bus with us >>> open bar at @babysallright >>> sick deals at local record stores >>> details at @recstorecrawl 🚌🎶 #recordstorecrawl
We New Yorkers love a good crawl - bar, restaurant, rooftop, you name it. One spot just isn't enough to satisfy our cravings; we want to experience as much as we can in one go.
The same principle applies to all us music lovers, which is why we're super psyched for this year's Record Store Crawl going down on July 30th.
[anad2]
The crawl will take attendees from record store to record store via bus, and will include all kinds of dope giveaways, discounts, and best of all, an open bar and $1 tacos all night at Baby's All Right.
Brooklyn-based alternative rock band Heliotropes will also be riding along, so you'll get to hang out with/be serenaded by one of BK's hottest bands throughout the night. Get tickets here!
---
15. Dîner en Blanc - TBA
dinerenblancnyc Did you hear about our #tabledecorating #dinerenblancnyc contest?? Submit your photos via our website - newyork.dinerenblanc.info/contest/celebrity_cruises to enter for a chance to win a #CelebrityCruise Europe vacation for two! 📷: @un_delice of the #delicegroup
Want to attend a fancy picnic where everyone has to wear white and you can do your best Daisy Buchanan impression?
Well, we would too, but unfortunately the date and location for the annual Dîner en Blanc event are kept under wraps until the very last minute.
We do, however, know that the picnic will be super chic, super Parisian, and BYOP (Bring Your Own Picnic). Check back here for more details to follow.
Check out 6 Best Day Trips to Take Right Outside of NYC This Summer.
[Feature Image Courtesy EventBrite]