If you haven't noticed... April is a rainy month. Which we are constantly reminded by the colloquial ditty, is a good thing, because April showers bring May flowers. And Mayflowers bring pilgrims. But we digress...
Although the weather can be temperamental, things are definitely warming up, and so are the events going down in the city this month.
This month is all about festivals and parades, so kick things off by letting out your inner Scot, and airing things out under your kilt at the NYC Tartan Parade!
Then get amped for the annual bonnet festival (#egghats), a margarita throwdown, a bacon and beer festival, and MORE.
We hope you're hungry. And thirsty. And have an umbrella handy, because these events are going down no matter the unpredictable weather.
---
1. NYC Tartan Week (April 3rd-April 8th)
Och Aye! It's Tartan Week in NYC! April 8th is National Tartan Day, and proud Scots are pouring into the city for a full week of celebrations!
Check out special musical and theatrical events celebrating Scottish heritage happening throughout the city all week long, then head to the 19th annual New York Tartan Day Parade, on Saturday at 2pm.
Lead by this year's Grand Marshal, actor Tommy Flanagan, the parade will march up 6th Avenue from 45th Street to 55th Street.
[anad]
Grab your tickets for the official after party at B.B. King's in Times Square for an open bar and live musical performances, or head to one of the city's many authentic Scottish Pubs to get your whiskey fix!
---
2. NVR SLEEP: Tax Season (April 13th)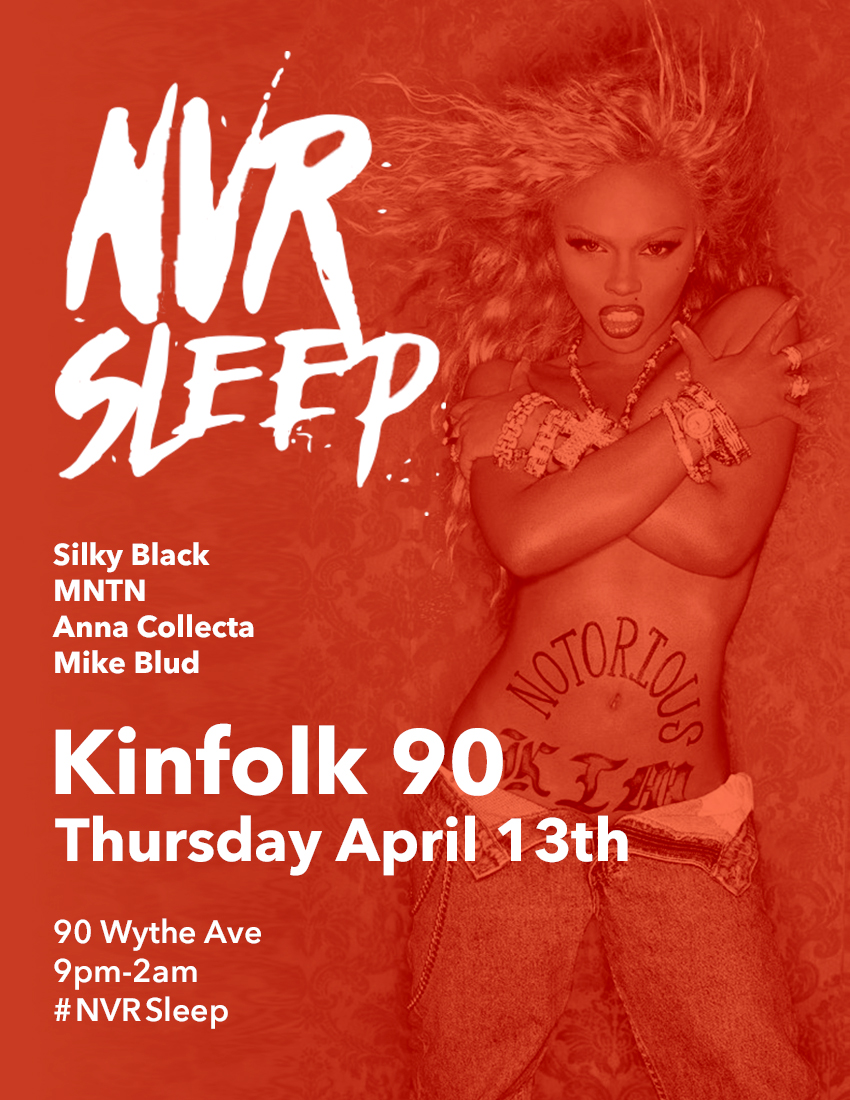 NVR Sleep is back this month at Kinfolk 90 in Williamsburg. What can you expect? 5 hours of dance, drink, and good vibes. Or, you know, everything you've come to expect from NVR Sleep.
Nothing makes us want to dance more than a free dance party, so grab a friend and get ready to shake it all night long, from 9 p.m. to 2 a.m. We believe in you. But don't get left out in the rain. RSVP here.
---
3. Easter Parade and Bonnet Festival (April 16th)
Re-enact your Judy Garland and Fred Astaire in the 1948 Easter Parade, Irving Berlin classic fantasy at the New York City Easter Parade and Bonnet Festival on Easter Sunday!
The parade goes from 10am to 4pm on Fifth Avenue from 49th Street to 55th Street and is the perfect excuse to don your pastel finest and rock a crazy hat that would put English Royalty to shame.
The Easter Parade is one of New York City's oldest traditions, and dates back to the 1870s. The best place to watch the fun is from St. Patrick's Cathedral. Just try to get a spot on the top steps so you can see over all the bonnets.
---
4. Tribeca Film Festival (April 19th-30th)
Try to catch a glimpse of the stars at the 16th Annual Tribeca Film Festival! Celebrating achievements not only in film, but in music, VR, TV, games, and with tons of talks from an array of guest speakers.
Going down in Lower Manhattan, at only $10 for weekly matinee (before 6pm) showings, tickets are cheaper than regular movie tickets! Which is dope!
Evening and weekend screenings are $20, and talks and special events go for $40. Individual day passes and or passes for the entire festival are available as well, if you really wanna go for it.
---
5. Artists Rise Up (April 20th)
New York has been and always will be a city of artists. Our creativity defines us, whether we are creating art or supporting art, it is the tangible evidence of humanity and hope.
As I'm sure you're aware, the Trump Administration plans to slash or completely eliminate funding to artistic programs, including PBS and the National Endowment For The Arts. This is an attack not only on current artists, but future generations, and children of all backgrounds who it has been proven time and time again, benefit tremendously from arts education.
So on April 20th, Artists Rise Up is holding a protest at 4pm, at Lincoln Center Plaza. People are encouraged to bring poetry, music, paintings, and more, to demonstrate the importance and necessity of the arts.
---
6. 1920s Themed Gatsby Party (April 21st)
Everyone's favorite silent dance party, Quiet Events, is kicking it old school with a 1920s themed Gatsby Party!
Costumes are, obviously, highly encouraged. Starting at 10pm on Friday April 21st, the Hudson Terrace will be transformed into a lavish '20s era ball—Except for the three competing DJs of course. Swap between remixes of classic 1920s party music and today's hits, '80s, '90s and 2K throwbacks, and more.
I guess the glowing headphones won't be too period accurate either. Hopefully they'll all be flashing green lights.
---
7. Vegan Pop-Up Market (April 23rd)
The Seed is bringing it's vegan and plant-based shopping experience to NYC's largest weekly curated market, Grand Bazaar NYC!
Over 30 of The Seed's top vegan merchants will be joining the over 100 vendors of the Upper West Side market on Sunday April 23rd, from 10am to 5:30pm.
Shop plant-based, cruelty-free, and eco-friendly products to help you live your greenest life.
---
8. Brooklyn Folk Festival (April 28th-30th)
What the folk?! It's time for the 9th Annual Brooklyn Folk Festival!
Going down the last weekend of April at St. Ann's Church in Brooklyn, this three day festival features over 40 plus bands, workshops, film screenings, and a banjo toss contest!
Honestly we want to go just to see what a banjo toss is all about.
---
9. Ali Wong (April 28th-30th)
You may recognize comedian Ali Wong from her very pregnant one-hour special, Baby Cobra, on Netflix.
You can see the very funny (no longer pregnant) stand up comic in person at the end of the month at Town Hall! With a whopping six shows the weekend of the 28th thru 30th. Don't be deceived... They will sell out and soon so get your tickets now!
---
10. Margarita Rumble (April 29th)
NYC's restaurants are duking it out for the title of the best margarita in the city, and we are MORE than happy to be the judges!
The fiesta kicks off at noon at Dobbin St, and three, three hour sessions will allow participants to sample Margaritas from over 15 competing mixologists representing bars and restaurants throughout the city, while dancing along to live music.
VIP tickets get you early admission to beat the crowds, so get your tickets ASAP!
---
11. Cherry Blossom Festival (April 29th-30th)
Sakura Matsuri, the annual Cherry Blossom Festival, is returning to the Brooklyn Botanical Garden!
From 10am to 6pm on Saturday and Sunday, you can enjoy over 200 blossoming Cherry Trees, and over 60 events and performances celebrating traditional and contemporary Japanese culture.
The festival marks the end of hanami, the Japanese tradition of enjoying every moment of cherry blossom season. Tickets can be purchased online, and are free to children 12 and under.
---
12. Bacon and Beer Classic (April 29th-30th)