Subscribe to spoiled NYC's official newsletter, The Stoop, for the best news, eats, drinks, places to go, and things to do.
We know it's hard to believe right now as we all sludge to work through the mess Winter Storm Stella left behind, BUT SPRING IS JUST AROUND THE CORNER!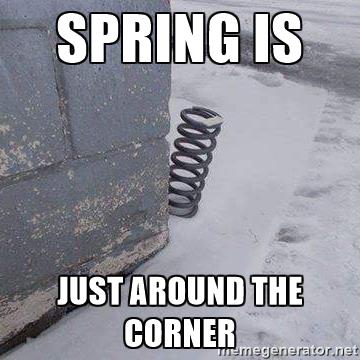 No, not that spring.
Real spring. The season. The beginning of warm weather (almost) every New Yorker lives for. And the start of flea market and street fair season!
Imagine your ideal Sunday: going to brunch, then wandering through one of our city's many awesome flea markets, sifting through vintage trinkets you totally don't but ABSOLUTELY DO need, then hitting up a food truck for brunch round 2.
Wow. We are ready for this snow to melt ASAP. Here's a list of our favorite 14 flea markets and street fairs in NYC and their opening dates and locations for the season.
(P.S. Don't worry, some flea markets are already open if your itching for some new vintage tchotchkes ASAP)
---
1. Brooklyn Flea + Smorgasburg (90 Kent Ave, Brooklyn)
bkflea Our opening weekend for the outdoor season is almost here! As we prepare to move outside, this April, for the first time, we'll be joining @smorgasburg at the East River State Park on Saturday, instead of our past Ft Greene location. "It's a bittersweet moment for us, as our flagship location in Fort Greene is where this whole trip began." Read more from @bedfordandbowery in the link in our profile about our big move this year. #bkflea
Saturdays, opening April 1st.
Brooklyn Flea is leaving behind it's flagship Fort Greene location after 9 years to join the food fair Smorgasburg in Williamsburg at the East River State Park this year.
---
2. Brooklyn Flea, DUMBO (Anchorage Place at Pearl Street, Brooklyn)
bkflea This is the last week of the 2016 #bkflea outdoor season and we are only open on Sunday. We'll see you then or inside at Skylight One Hanson all winter! 📷: @rikanasu
Sundays, opening April 2nd.
If you miss the Brooklyn Flea on Saturdays in Williamsburg, don't fret! You can head to the DUMBO location on Sundays for some equally thrifty thrifting.
---
3. Smorgasburg, Prospect Park (Breeze Hill, Brooklyn)
smorgasburg Wow! We're exactly one month away from opening weekend of #smorg2017! We can't wait to get back out there. Who are your favorite #smorgasburg vendors? 📷: @jet_newyork
Sundays, opening April 2nd.
Did you also miss Smorgasburg on Saturday? Dang, how hungover were you? Well don't worry, you also get a second shot at love/delicious food with Smorgasburg in Prospect Park on Sundays.
---
4. Bushwick Flea (16 Harrison Place, Brooklyn)
bushwickflea Due to the weather we've postponed our opening weekend for one week until March 25/26. See you all then! To be a vendor go to bushwickflea.info for details. #bushwickflea #bushwickfleamarket #brooklynflea #brooklynfleamarket #bushwick #fleamarket #fl
Saturdays and Sundays, opening March 25/26th.
Okay we're kind of jealous that Brooklyn has all of the good flea markets. I mean we get it—Brooklyn is hipster Disneyland. Bushwick Flea was originally supposed to open this weekend but postponed until next due to the crummy weather. #ThanksStella
---
5. LIC Flea & Food (5-25 46th Ave, Queens)
licflea www.QueensBeerFestival.com @queensbeerfest
Saturdays and Sundays, opening April 8/9th.
Huzzah, we made it out of Brooklyn! LIC Flea & Food is Queens' largest outdoor flea and food market. Enjoy a stroll along the East River while taking in the epic view of Manhattan while you stuff your face with the best of the best of Queens' street food.
---
6. Hester Street Fair (Hester Street at Essex Street)
hesterstreetfair Its official Season 8 schedule is posted and accepting applications. Check out the link in our bio to apply and stop by our new about page.
Saturdays and some Sundays, opening April 15th.
Finally! Manhattan! This popular LES street fair is more than just food and flea, it's also cultural and community gathering with different themes every week!
---
7. Queens International Night Market (47-01 111th St, Queens)
queensnightmarket It's almost time...#countingdays 45 nights to be exact. Mark your calendars and stay tuned! #foreversummer #endlesssummer #flushingmeadows #coronapark #queens #nyc #queenseats #queenscapes
Saturday nights, opening April 22nd.
YQY! We love a good night market! This family-friendly, open-air festival features over 100 vendors selling foods and crafts from around the world, and there are frequent live cultural performances to enjoy.
---
8. Mad. Sq. Eats (Worth Square – 5th Avenue between 25th and 26th Streets)
urbanspacenyc #MadSqEats! Today's the day! Come #eatUrban with your favorite vendors, old and new! This season is back and better than ever!
Opening April 29th - May 26th.
This is a bi-annual event so DON'T MISS IT. Or you'll have to wait until September to catch this gathering of the best of the buzzworthiest bites in town.
---
9. Artists & Fleas (70 North 7th Street, Brooklyn)
artistsandfleas Did anyone else confused and put shorts on this morning? Feels like #springtime in #brooklyn! #tbt spring 2016. We're feeling the colorful vibes and sunglasses weather at #afinbk #artistsandfleas
Saturdays and Sundays, open now!
Is this list making you want to go flea marketing like, this weekend? Well no worries, Artists & Fleas is open now! This is the best place to discover your the best of the best in indie design, fashion, art, and vintage.
---
10. Artists & Fleas, Chelsea Market (88 10th Avenue)
artistsandfleas Total eye candy. #AFinChelsea #chelseamarketny #vintage #nyc (📷@brennanhart1)
Monday-Sunday, open now!
Is this list making you want to go flea marketing like, RIGHT NOW? Well guess what, Artists & Fleas has a permanently open location in the Chelsea Market that you can go to every day of the week! Flea Bags rejoice (we're working on the nickname)!
---
11. Grand Bazaar NYC (100 West 77th Street)
grandbazaarnyc SUNNY + SUNDAY = Perfect Market Day at Grand Bazaar NYC WHEN: Every Sunday form 10am - 5:30pm WHERE: Columbus Ave. & 77th St . . #GrandBazaarNYC #fleamarket #marketsofnewyork #designermarket #nycmarket #handmadejewelry#upperwestside #madeinnyc #nycartists #madeinnewyork #marketsofnyc #etsynyteam #nycmarkets #ilovenyc #artistmarket #fleamarket #antiquemarket #nycshopping #nycfleamarket #fleamarketstyle #fleamarketstylemagazine #fleamarketfinds #fleamarketfind #vintagemarket #feelgood #markets
Sundays, open now!
Grand Bazaar is New York's largest, year round market on the Upper West Side. They've got it all: art, antiques, vintage fashion, jewelry, crafts, furniture, food, and more! They often host themed markets, and the best part is they donate 100% of their net revenue to four neighborhood public schools every week.
---
12. Chelsea Flea Market (West 25th Street between Broadway and 6th Avenue)
kgoebel22 Farmers' Market -----> Flea Market 🚶🏻‍♀️
Saturdays and Sundays, open now!
Another year-round, weather-pending, outdoor flea market, the Chelsea Flea is the Chelsea outpost of the 40 year old Annex Antiques Fair, and boasts a massive selection of vintage and antique goodies.
---
13. Hell's Kitchen Flea Market (West 39th Street at 9th Avenue)
annexmarkets Weather is going to beautiful this weekend!! Come visit @hellskitchenfleamarket and go #thrifting!! #vintage #antiques #hellskitchen #manhattan
Saturdays and Sundays, open now!
The Hell's Kitchen edition of Annex Antiques Fair, this is another year-round, outdoor flea market sure to impress the ultimate antique geek.
---
14. NoLita Market (Prince Street between Mott Street and Mulberry Street)

nolitamarket Bright and sunny day ☀️ #nyc #market
Fridays - Sundays, open now!
This SoHo outdoor street market features artisans peddling everything from hand-made jewelry, to custom screen printed t-shirts, to organic cotton baby clothes.
Got a hot tip or correction? Drop us a line at tips@spoilednyc.com