Subscribe to spoiled NYC's official newsletter, The Stoop, for the best news, eats, drinks, places to go, and things to do.
Ah February, arguably the most polarizing month of the year.
It's either the season of romance, or the season of highlighting how little romance exists in your life. Well, at least it's only 28 days, right?
Hear us out though, NYC is probably the best place to be on V-Day, whether you're cuffed, looking, or single and proud, because there is soooo much sh*t to do.
We've rounded up some of the best things for you to check out this month, and we have a feeling you won't even really be focusing on your relationship status (okay, we can't promise that, but just go with it).
If all else fails, remember that your Netflix queue will always be waiting for you at home to keep you warm.
---
1. Apollo Open House (February 4th)
apollotheater Come one, come all!! We're opening our doors for a FREE day of events at the #ApolloOpenHouse this Saturday in celebration of #BlackHistoryMonth. http://bit.ly/ApolloOH17
In celebration of Black History Month, the Apollo Theater in Harlem will be hosting an afternoon of free programming from 2 p.m. until 6 p.m. This year, the events will be hosted by Billy Mitchell, "Mr. Apollo," and co-hosted by members of the Apollo Theater Academy.
Highlights of their plans include performances by youth organization Urban Word NYC, who will be delivering relevant poetry and spoken word, performances by Amateur Night winners, music by Tre Trax, and a Family Workshop held by the Harlem Swing Dance Society.
Later, excerpts from Tell Them We Are Rising: The Story of Black Colleges and Universities, and the newly released I Am Not Your Negro, will also be screened. The latter, directed by Raul Peck, was adapted from Harlem writer James Baldwin's final un-finished work, and is narrated by Samuel L. Jackson. The clips will be followed by a panel discussion.
Like we said, admission is free, but you can register and read more about their programming on their website.
---
2. NO ENEMIES TO THE LEFT: An ACLU Benefit Show (February 4th)
aclu_nationwide In December a kindergarten class made original prints to benefit the ACLU and raised $1390! Now they're back with brand new artwork and trying to beat their previous goal. Here's Lady Liberty woke as ever 🗽✊️🖍 (Link in bio) #blacklivesmatter #makeamericakindagain #refugeeswelcome #loveislove #makeart #kidsart
It's very easy, while you're scrolling through your Facebook newsfeed, to feel like there is very little you can do to help this country in a direct way. We have the answer for you. Seriously. Just throw all your f*cking money at institutions like Planned Parenthood or the ACLU.
If you're like us, and throwing your money at problems isn't really within your financial means, that's still fine– but smaller donations at benefits where you're also having fun are not only charitable, but necessary to keep yourself sane.
At events like this comedy and music benefit, you'll know that everyone else in attendance supports the ACLU, and preserving a free America. Also, if you don't take the time to have a good laugh every once in a while (no really, you're gonna have to pencil it in), then yes, you will probably go insane.
Grab your tickets here, and check out the full list of musicians and comedians performing. It's going down at the Brooklyn Bazaar in Brooklyn.
---
3. Chinese New Year Parade (February 5th)
therenwicknyc We're not one to pass up a celebration. Head out for #ChineseNewYearNYC celebrations this weekend!
"If you were born in any of these years, you're a Rooster!
1945, 1957, 1969, 1981, 1993, 2005, 2017
You are practical and resourceful, and you use what you have to succeed without taking a lot of risks. A hard worker, you say what's on your mind and have a sense of style that sets you apart."
Celebrate your hard work, even if you're not a Rooster, you deserve it! Chinatown's Annual Lunar New Year Parade is not one to miss. There's incomparable visuals, yummy bites, and unique cultural performances. The all-ages party winds through Chinatown at 1 p.m.
---
4. NVR Sleep: The Lover's Edition (February 8th)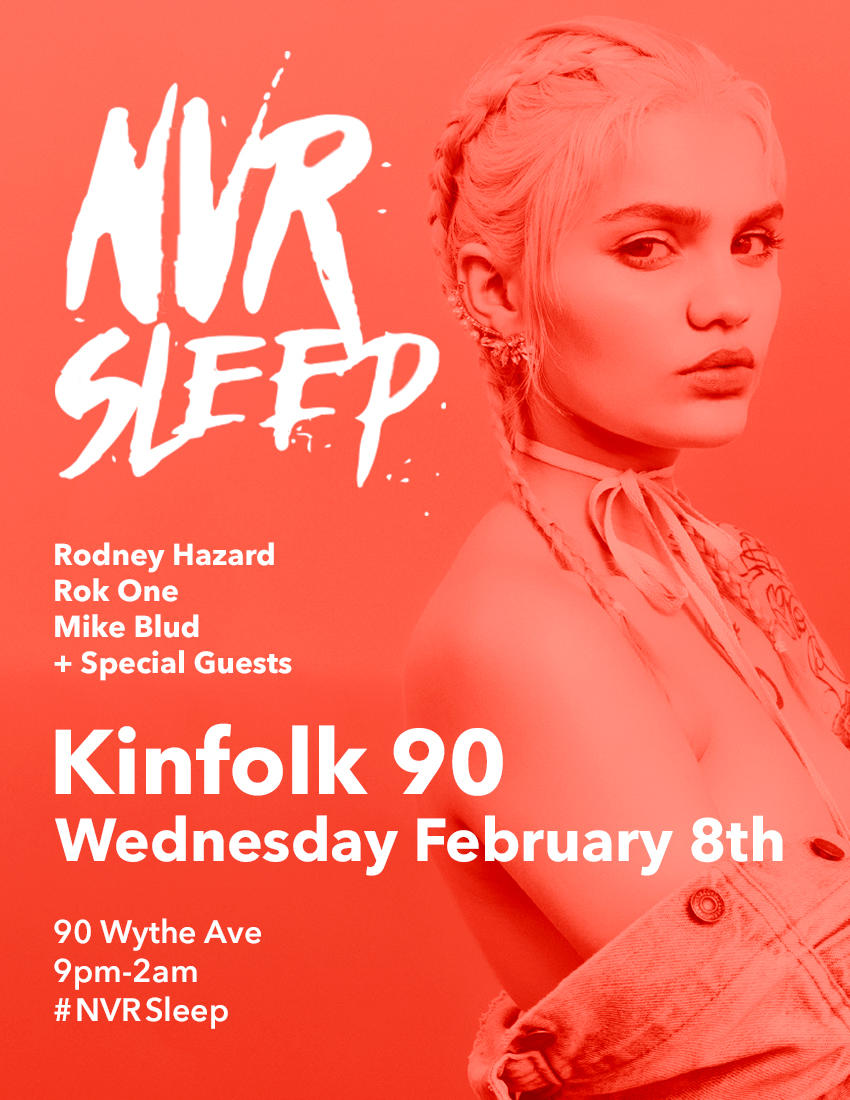 Hip-hop producer and spoiled Media Creative Director, Rodney Hazard—along with The Culture LP—is turning things up a notch or two at Kinfolk 90 in Williamsburg next Wednesday for the 1-Year Anniversary of NVR Sleep.
Oh you weren't there for the first-ever NVR Sleep? We don't blame you. It was f*cking cold. The wind was insane. It was miserable outside. But, make a point of going next week.
It's NVR Sleep: The Lover's Edition! So, grab your lover by the hand, sip (or knock back) a beverage or three, get your nom on, and give yourself a high-five for locating a Wednesday night party without scraping together cash for a cover charge.
Nothing makes us want to dance more than a free dance party, so grab a friend and get ready to shake it all night long, from 9 p.m. to 2 a.m. We believe in you. But don't get left out in the cold. RSVP here.
---
5. Ethereal Eve (February 9th)
houseofyesnyc NEVERENDING STORY tonight (sold out) and tomorrow (not sold out!) with @little.cinema!! Come see what immersive spectacles they've cooked up for you this time🎈#littlecinema #filmscreening #immersivemedia #neverendingstory #thingstodo #bushwick #bestvenueever #houseofyes 📸: @studiomadness
There's no party like a House of Yes party at their super hip warehouse.
Never been? No better time than the present, especially since this rager, Ethereal Eve, your contribution will be raising funds for the Urban Arts partnership, for art therapy programs that inspire children to transform their emotional and physical pain into strength, power, and creative self- expression.
Party responsibly and charitably, folks. Purchase your tickets here.
---
6. Lovecraft: A Valentine's Day Experience (February 10th - 12th)
popupnation.co Celebrating #sweettoothtuesday with @fineandraw | Get their Valentine's Day Collection at #lovecraft17! 🍫😍
Procrastinators unite and rejoice! Pop Up Nation presents Lovecraft: the answer to your Valentine's Day gift related woes.
The FREE couples and singles-friendly will be hosting the best up-and-coming NYC retailers for chocolate, jewelry, lingerie, pleasurables (not sure what that specifically means, but we'll guess), and dessert at 435 Broome Street in Manhattan.
"Singles-friendly" might not seem like the most welcoming phrase, but don't be dissuaded– they will have free makeovers, free massages, free hot cider tastings, a photo booth, and you'll be able to check out those pleasurables we were talking about earlier.
The pop-up shop will be that whole weekend too, so there's no reason you shouldn't stop by.
---
7. Central Park Ice Festival (February 11th)
sarahjeangilly #centralparkicefestival
Pray for the weather to stay as cold as it's been (what? why?), so the ice-carving artists setting up shop in Central Park will have ideal conditions (oh). They'll be transforming 6,000 pounds of ice into a shiny, cold replica of one of the Park's statues with electric chain saws, chisels, and picks.
The real party, however, starts when the sun goes down, and the Mall is illuminated by its colorful lights. Then, the DJs come out for a huge silent disco– they'll provide the headphones.
Best part? This is a free event, all you gotta do is head over to the Naumburg Bandshell in the Park between 3 p.m. and 7 p.m.
---
8. MOCA Eats: Dim Sum Brunch (February 12th)
goldenunicornnyc Fried dough Cheng fun. #dimsum #goldenunicornrestaurant #goldenunicorn #foodstagram #foodies #eeeeeats #chef #eatrealfood #forklift #feedyoursoull #nycfoodie #nyceats #dessertporn
Satisfy your ultimate dim sum cravings at the newest installation of the Museum of Chinese in America.
At this special weekend morning brunch at Golden Unicorn, you'll learn to order (and eat!) dim sum in Cantonese, and follow their traditions as they start the new year. Back at the museum, they'll walk everyone through a guided tour of Sour, Sweet, Bitter, Spicy: Stories of Chinese Food and Identity in America.

Seats are limited, so definitely purchase your tickets in advance.
---
9. Feed/Clothe the Homeless on Valentine's Day (February 14th)
njdotcom Penn Station is retiring an iconic structure today: its 10-foot-high train departure board. A network of video displays will replace the board in the main concourse. || 📷 by John Munson #pennstation #bigboard #commuter #trainstation
Flying solo this Valentine's Day?
Kill two birds with one stone, in a way, at this singles event, where everyone will feed and clothe the homeless people at Penn Station. Just saying, it's a lot easier to weed out the f*ckboys when you're at a volunteering event. BUT OBVIOUSLY, that's not the most important part.
February in NYC can get frigid, and even more so without that fuzzy Canada Goose Jacket. The best things you can bring are a couple of used hats, gloves, and coats– they have more suggestions here.
---
10. Annual Valentine's Day PPNYC Benefit: VILLAGE OF LOVE (February 14th)
ppbenefitshow join planned parenthood in the #idefy movement - - - - - #feminism #istandwithpp #istandwithplannedparenthood #ovariesbeforebrovaries #mybodymychoice #womenempowerment #equality
Do you hate women? No? Awesome, please support Planned Parenthood.
Here's an opportunity right here, to contribute funds to this extraordinarily important nonprofit at the Music Hall of Williamsburg in Brooklyn. Purchase your tickets here, they're $5 bucks cheaper in advance.
There will be special performances by Mac DeMarco, Boss Hog, Kevin Morby, Kid Congo, Skaters, Delicate Steve, Joseph D'Agostino (Cymbals Eat Guitars), Saint Rich, Cassie Ramone (Vivian Girls), Juan Wauters, Mutual Benefit, Alana Amram, Laura Gibson, Mark Eitzel, The Mystery Lights, No Eagles & more!
---
11. Heartbomb by Christybomb! (February 12th)
christybomb 🎨 Save the Date!!! 💘 "Heartbomb" by Christybomb. Solo show, Sunday Feb 12th, 2-6PM @ BAF Gallery: 210 24th St Brooklyn, NYC 11232. FREE brunch bites, boozy cupcakes, bubbly + outrageous wearable art for the low low. 🍾🍾🍾 @theculturelp © Christybomb™ 2017 | www.christybomb.com 💣 🚬 💀 🔫 💕 🚬 💀 🔫 💕 🚬 💀 🔫 💕 🚬 💀 🔫 💕 #art #fineart #soloshow #heartbomb #valentines #hellokitty #eyelashes #sugarskull #wearableart #jewelry #mixedmedia #kitsch #artcollector #tits #contemporaryart #googlyeyes #sculpture #sexdolls #brooklyn #nyc #followme #instafollow #instafamous #instacool #instagood #doubletap #glitterqueen #snapsparklepop #lebomb #christybomb
Stop by the opening reception for Heartbomb, a set of Valentine themed works including outrageous one-of-a-kind "wearable art," wall decor, and more. Christybomb draws inspiration from childhood fantasies like Candyland, Hello Kitty, and Willy Wonka, as well as unique trends like avant-garde fashion, cosplay, and drag queens.
The reception begins at 2 p.m. until 6 p.m., and there will be free brunch bites, boozy cupcakes, and bubbly. You can find them at the Brooklyn Arts Fellowship.
---
12. Cupid's Undie Run (February 18th)
cupidsundierun We're less than 2 months away... 🎉🚫👖 #ImWithCupid #CupidsUndieRun #braceyourself
Whether you're cuffed or flying solo, everyone will want to celebrate at Cupid's Undie Run. Is this just another re-hashed No-Pants Subway Ride? No, but kinda, but still no.
The gist is, you show up at Stage 48 to party at noon, and at 2 p.m., everyone strips down, goes for a quick mile jog, then commences getting lit. Sounds pretty dope, doesn't it? Also, all your proceeds benefit the Children's Tumor Foundation– and you get to say you went streaking in NYC for a cause.

---
13. Organizing 101 (February 23rd)
kimothyjoy What can we do daily? Thanks for your words and lifelong commitment @gloriasteinem 🙏🏻
Speaking of keeping sane in this *ahem* current climate, we can suggest two more things besides attending benefits, and donating to important non-profits.
One, delete all your social media accounts and never return, Simba. Or, well, you could mobilize. This workshop is perfect for baby activists, if you want to get involved, and this election cycle/inauguration/nationwide upset was your wake-up call.
They'll be going over organizing basics, political campaigns, and moderated dialogue, as well as discussing the failures of the Democrats' current model and ways that liberals and progressives can adapt and bounce back.
Head to Arts on Site at St. Marks Place to learn how you can start getting some sh*t done. Grab your tickets here.
---
14. Toasty-Warm Rooftop Party (February 25th)
ilyse128 #quietclubbing #stage48 #nyc #nofilter #skyline
Rooftop season isn't over until we say it's over! And that's pretty much never, because lucky for us, the best clubs, like Stage 48, are heated– and of course, it really only matters how cold it is when you're sober, anyway.
This quiet party will feature 3 live DJs spinning Top 40 Dance Hits (Green), 80's/90's/2000s Throwbacks (Red), and Hip Hop/Reggae/Soca (Blue). Quiet Events will provide you twith headphones, and all you have to do is fight for the best 'Grammable view of the NYC night sky.
Got a hot tip or correction? Drop us a line at tips@spoilednyc.com