And they said moving to New York City would be expensive.
Well, actually, it is. Like, absurdly expensive.
Writing your rent check every month causes you physical pain and the other day you paid $11 for a smoothie was mostly just juice.
But, despite all of this financial insanity, there are actually quite a few affordable, even FREE events going down every single day in NYC.
Yes, we speak the truth.
And now that it's officially summer, there's tons of festivals and shindigs happening in the lovely (albeit sweaty) outdoors, and we want to take full advantage of all of them.
Read on to discover the best free thangs to catch this July in NYC.
---
1. SummerStage concerts
summerstage Queens loves their own, #KidnPlay! #SummerStage16
This annual music, comedy, theater, and dance event is one of the most popular of the summer, and includes tons of free performances throughout the season.
The events go on all summer long (starting July 1st) at various venues around the city, and you can check out the full lineup here.
[anad]
The gratis performances are obviously quite popular, so make sure to show up early to secure yourself a spot.
---
2. Nathan's Famous Hot Dog Eating Contest
daniel4000 Nathan's Hot Dog Eating Contest 2016 #nathanshotdogs #Nikon #memorialcitymall #nathansfamous #hotdogs #nathansfamoushotdogeatingcontest
Nothing says 'Murica quite like watching people shove grotesque portions of hot dogs in their faces in competition with each other.
Head out to Coney Island on the 4th to catch this year's 100th anniversary contest, and marvel, yet again, at the physical fitness of people who eat lard professionally.
---
3. 4th of July Fireworks
shutterhoundphotography One more from last night. #4thofjuly #macysfireworks #nycfireworks #NYC
Now, there's tons of different ways you can catch the beauty of fireworks in NYC this 4th of July. Sure, you could go balls to the wall on a yacht cruise somewhere around the harbor, but this is one of the easiest things to hack your way around.
Find a friend with a rooftop (or climb as high as you can at somebody else's building so you don't get caught), chill out near the water at one of NYC's waterfront parks, or just gather around a TV so you can watch the display on NBC. It doesn't matter.
The best views aren't always free, but watching fireworks light up the sky actually is.
---
4. Broadway in Bryant Park
bryantparknyc The #BroadwayInBryantPark line-up is here! Check out our website for full dates and details. 🎭🎼 --- We're lucky to have @beautifulonbway return after a standout performance last year. #bryantpark #broadway #nycparks
Broadway lovers, rejoice! This annual event brings Broadway's best and biggest shows out of the theatre and into the park for a totally free performance series.
So if you've been struggling to get your hands on those ever-elusive Hamilton tickets...uh, you will actually continue struggling, because they're not performing this year.
BUT, tons of other incredible shows will be in attendance, such as Wicked, Matilda, The Color Purple, Fun Home, Waitress, and Phantom of the Opera.
The event goes down every Thursday in July beginning on the 7th in Bryant Park.
---
5. 4Knots Music Festival
thephotoladies Super Furry Animals (@superfurryanimals) played their first NYC show in 6 years this past summer at 4Knots Music Festival. They had the photographers shoot the last 3 songs rather than the first 3 because of their awesome costumes and visuals! 📷 by @estersegrettophotography #superfurryanimals #livemusic #musicphotography #thephotoladies #4knotsmusicfestival #sfa • • • • • #estersegrettophotography #livemusicphotography #concert #concertphotography #livemusicphotography #livemusicphotographer #musicphotographer #nyc #placidcasual #rockphotography #colorphotography #music
We all love catching up and coming musicians before they get big, right? It's a super memorable experience, but also, it provides us with top knotch bragging rights.
On July 9th, the 4Knots Music Festival returns to South Street Seaport, bringing NYC some of the best up and coming independent music talent.
Check out the lineup here.
---
6. Bastille Day
b9modeleventstaffing #ricardnyc#drinkup #bastilledaynyc
There's nothing New Yorkers love more than a good street fair. So head over to the Upper East Side for the annual NYC celebration of Bastille Day, an event chock-full of French culture, food and entertainment.
For over ten years, Bastille Day on 60th Street, presented by the French Institute Alliance Francaise (FIAF) has been the largest public celebration in New York commemorating France's Independence Day (July 14, 1789) and its historic friendship with the United States.
[anad2]
This year's event will feature chocolate and wine tasting, kid's events, and even a performance from the cast members of the Tony-award winning music, An American in Paris.
It all goes down from noon to 5 p.m. on July 10th, on East 60th Street from 5th Avenue to Lexington Avenue.
---
7. Dancehall/Reggae Party at Kinfolk 90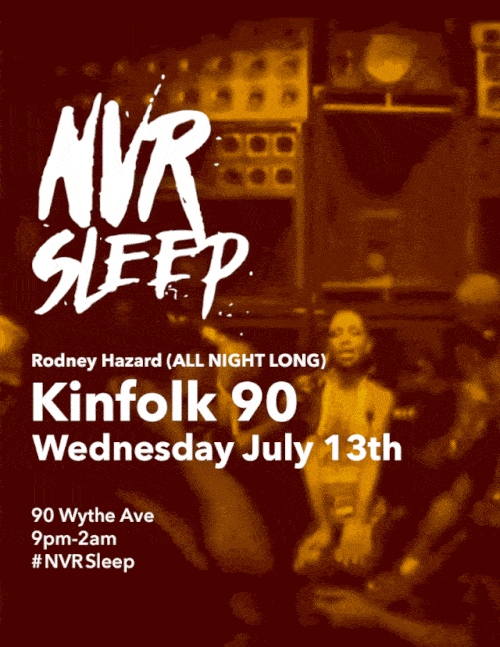 Hip-hop producer and spoiled Media Creative Director Rodney Hazard is cookin' up something dope at Kinfolk 90 in Williamsburg. NVR Sleep is always a good time, but this Reggae party, going down on July 13th, well, you're hard pressed to find something like it anywhere else in the neighborhood.
So, if you're wondering, "Can I kick it?" Yes. Yes, you can. Come kick it at Kinfolk 90. Rodney Hazard's dropping fire. All. Night. Long.
Sip (or throw back) on some cocktails, grab some grub, and pat yourself on the back for finding this gem without having to dig deep for a cover charge. Yes, it's free. Dance all night long, from 9 p.m. to 2 a.m. because, well, you can sleep when you're dead. Nvr Sleep. Evr.
Event is free, but that don't mean you shouldn't RSVP. So do that. Right here.
,
8. Books Beneath The Bridge
redelgrams #BooksBeneathTheBridge. #DatingMyself
We love a good audio book as much as the next person, but what if you could listen to authors read their own words aloud, right in front of your eyes?
Since this event began in 2012, nearly 5,000 people have gathered in Brooklyn Bridge Park to experience this unique literary event that includes readings, discussions, signings, and much more.
[anad]
You can catch Books Beneath The Bridge on July 11th, 18th, and 25th. Check out their website here for a full listing of featured authors and events.
---
9. City of Water Day
hmag_hoboken #Hoboken Celebrates City of Water Day at Maxwell Place #CityOfWaterDay
This free, all day event celebrates the NYC waterfront with boat tours, live music, kayak races, and food vendors.
City of Water Day is now in its ninth year, and since its inception has grown into the region's biggest harbor festival.

Head over to Governors Island on July 16th to catch all the nautical madness.
---
10. Waterfight NYC
Nothing brings on the sweet nostalgia of our childhood summers like a good old fashioned water gun fight.
So grab your Super Soakers and head to Central Park's Great Lawn on July 23rd for Waterfight NYC, the annual event that lets us act like kids again, even though we never really stopped.
It's basically a free for all, but DO NOT BRING WATER BALLOONS. Event officials are super strict about this and will make you dispose of any water balloons brought to the park.
---
11. TromaDance film festival
frazerbrownofficial Toxic Avenger 4: Citizen TOXIE screening. TROMA FANS💥 @lloydkaufman will be ANSWERING YOUR QUESTIONS after @toxicavengeruk - May 3rd - BOOK YOUR TICKETS NOW 💚💚💚 @tromateam APRIL #troma #toxicavenger #tromaville #lloydkaufman #tromeoandjuliet #latex #sfx #practicaleffects #moviefx #jamesgunn #surfnazismustdie #tromadance #marvel #newjersey #melvin #trash #retro #grindhouse #cult #cultfilm #cultmovies #toxieforpresident #votefortoxie #hottoxiclove #bmovie💚
If you're a fan of horror/sci-fi/absurdity, you'll definitely want to check out the annual TromaDance film festival, going down at Paper Box Music & Art in Brooklyn from July 29th-30th.
The event is free for attendees, but it also doesn't charge filmmakers a fee to submit their movies, which is almost unheard of in the film festival world.
It's pretty rad opportunity to check out some new independent and experimental film from some of NYC's most passionate creators.
---
12. Grand Bazaar Summer Ice Cream Blizzard
grandbazaarnyc Grand Bazaar NYC Opening Sunday, June 26th. Every Sunday 100+ top merchants will be selling the finest and most distinctive antique watches, vintage collectibles, handmade jewelry and furniture, and delicious macaroons & other artisianal edibles. Our social good mission is that we exist to fund four neighborhood public schools, benefiting over 4,000 children. That is why shopping never felt so good. #grandbazaarnyc #NYC #nycmarket #market #madeinnyc #fleamarket #antiques #artisan #handmadenyc #handmade #edible #nyceats #nycopening #openingday #nycshopping #socialgood #feelgood
Grand Bazaar is NYC's longest running weekly market featuring more than 100 food, jewelry, and clothing vendors. All of the Bazaar's proceeds go directly to four public schools, supporting over 4,000 local public school children.
Kicking off on July 30th, the Grand Bazaar will feature some of the greatest artisanal ice cream makers in the city at their Summer Ice Cream Blizzard event.
[anad2]
If you don't get your fill of artisanal treats then you'll have to wait until October 23rd for Grand Bazaar's Artisanal Sweet Treats event, where you'll be able to sink your teeth into more than just ice cream.
---
13. Harlem Week
harlemweek Time To Fill The Streets Again for "HARLEM DAY"
Before your neighborhood in Washington Heights had a Starbucks and an organic cheese shop, a hell of a lot of culturally important history went down there.
Harlem Week "celebrates what Harlem was, is and will be" starting on July 31st in venues throughout Upper Manhattan.
The majority of events are free, and you can check out the full listing here.
Check out 15 Absolutely Incredible Things Going Down This July in NYC.
[via Max Wei]