We like to think that every day is rosé day, but guess what?
There's an actual holiday dedicated to everyone's fave delicious, pink wine we love so much during the summer: National Rosé Day.
The holiday hits our calendars this coming Sunday, June 11th, and there are TONS of places to celebrate around New York City.
Mark your planners! You're about to see a whole lot of pink.
From brunch to happy hour and everything in between, NYC has you covered so you can sip rosé all day and night long.
---
1. SABBIA (200 5th Ave)
One of the new things at SABBIA this year is its dedicated menu of more than 50 rosé wines, and housemade frosé that people are going bonkers over.
Paired with the menu's coastal fare that is a natural fit for rosé, SABBIA is a full on go-to spot for rosé this summer and the perfect place to celebrate National Rosé Day!
---
2. Pergola (36 W 28th St)
Celebrate Rosé all week long! Pergola will offer half price Rosé bottle specials from June 5th- June 10th in honor of National Rosé Day.
Offerings include Whispering Angel, 2016 Provence for $28, Montrose, 2016 Provence for $24, Chateau De Pourcieux, 2016 Provence for $20 and Rodney Strong, 2016 Russian River for $24. Yes way, rosé!
---
3. Mel's Burger Bar (1450 2nd Ave)
Mel's Burger Bar on the Upper East Side (Second Avenue) will add rosé to their bottomless brunch offering weekly, beginning on National Rosé Day, for $40.
The price includes a choice of entree and all you can drink rosé for up to three hours. YAS.
---
4. sideBAR (118 E 15th St)
SideBAR in Union Square will serve up $5 rosé by the glass all day for National Rosé Day.
An awesome deal complete with outdoor seating that your wallet will love and your hangover will hate.
---
5. Bagatelle (1 Little W 12th St)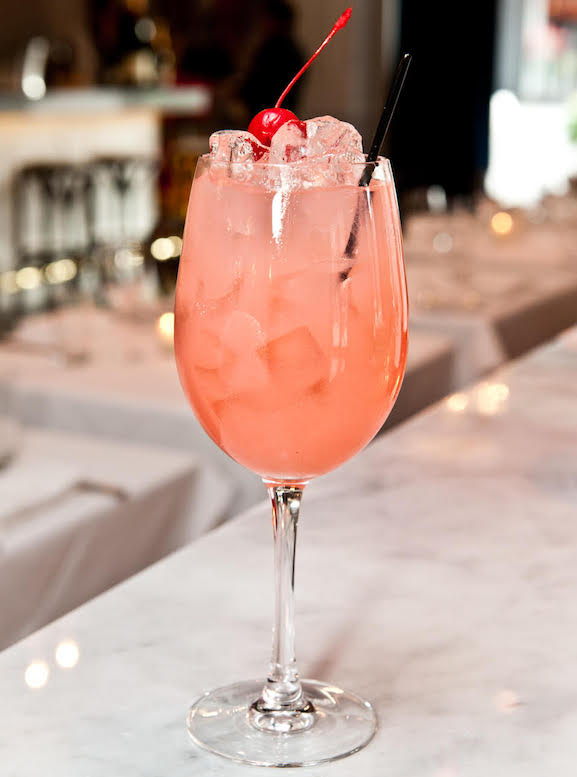 via Bagatelle
Bagatelle (your fave bougie brunch spot in Meatpacking) is serving rosé in the biggest way possible for National Rosé Day.
Since Bagatelle does everything bigger, it's time to go big or go home with magnum bottles starting at $130 with Côtes de Provence, Château Real Martin "Perle de Rosé", or for a night to remember a magnum bottle of Louis Roederer, "Cristal" Rosé for a price of $3,400.
---
6. Kellari (19 W 44th St)
Kellari, the delicious Greek spot on 44th Street, is debuting a Rosé All Day menu on National Rosé Day.
With a selection of frrom around the world featuring Domaine Costa Lazaridi, Mas de Gourgonnier, Moraitis Estate Rosé and seven others. Ranging from a bottle of Fritch at $40 to a bottle Chateau Sainte Marguerite Rosé Symphony at $65. To sweeten the Kellari one up they're offering 20% off their new Rosé All Day menu on National Rosé Day. Get to it!
---
7. Hudson's (Pier 81)
Hudson's at Pier 81 is featuring a beautiful sampler of 4 luxurious ways to enjoy rosé, including: Cloud Chaser, Laurent Miguel, Rosé' Sangria, and the Rosé' Cosmo.
In case you live under a rock and haven't heard, Pier 81 is a new social and culinary destination at the foot of Midtown Manhattan, serving surf 'n' turf, tapas & cocktails on a multi-level yacht on the Hudson.
---
8. The Beach at Dream Downtown (355 W 16th St)
The Beach at Dream Downtown is the perfect summertime escape, especially on National Rosé Day with their tropical-inspired Frosé, featuring cape mentelle rosé, peach liqueur, fresh grapefruit and kelvin slush.
Sip one (or two, or three) poolside at The Beach, which includes a glass-bottom pool, pool deck, sand beach, two private cabanas and over 50 chaise lounges.
---
9. VANDAL (199 Bowery)
VANDAL gets Brazilian with their Rio de Froze! Made from les voiles côtes de provence rosé, avuá prata caçhaca, cocchi americano, lemon and simple syrup. I'm not sure what half of those ingredients are but it sounds intoxicatingly delicious.
Spice up National Rosé Day with one of these cocktails, a side of street food and a big dosing of graffiti.
---
10. Ai Fiori (400 5th Ave #2)
A play on the classic Italian boozy dessert, the sgroppino is a super seasonal rhubarb sorbetto and appears on the Rosé Happy Hour Menu as a surprise delight in a glass of rosé upon request (usually topped with prosécco!).
Rosé Happy Hour menu is every Friday from 3pm to close, so make it Rosé Weekend and celebrate the holiday early.
---
11. Del Frisco's (1221 6th Ave)