Subscribe to spoiled NYC's official newsletter, The Stoop, for the best news, eats, drinks, places to go, and things to do.
When it comes to Thanksgiving dinner, turkey tends to steals the spotlight. However, if you ask us, the most underrated part of Thanksgiving dinner comes after the main event.
Yep, that's right. We're talking about dessert.
From pumpkin pie and sweet potato pie to an endless array of apple-laden treats, there's tons of tasty desserts that will give turkey a serious run for its money.
If you're looking for the perfect way to end your Thanksgiving feast on a sweet note, you're in luck. NYC's got all sorts of delectable dessert spots that are known for whipping up holiday treats that will make you extra thankful.
Whether you're looking to pick up a next-level pie for your Friendsgiving party, or impress your guests with some innovative autumn sweets, we tracked down some of the best Thanksgiving desserts to treat yo' self with on Turkey Day. No really, you'll want to go easy on the turkey and save some room for these bad boys.
---
1. Pumpkin Butterscotch Pie — Clinton Street Baking Company (4 Clinton Street)
clintonstbakingco #pies #pies thinking about #pies and #biscuits too #thanksgivingtogo #orderonline #clintonstbakingco Link in bio
For a Thanksgiving pie that will bring tears of joy to your eyes, head over to the Lower East Side.
In addition to cranking out impressive pancakes, this popular brunch spot also offers Thanksgiving desserts including a pumpkin butterscotch pie made with a pumpkin custard-like filling, butterscotch, and their flaky house crust. If you're looking for something other than pumpkin, they also have apple crumb pie and maple bourbon pecan pie.
---
2. Pumpkin Doughnuts, Apple Cinnamon Doughnuts — Doughnut Plant (Multiple Locations)
doughnutplant 📷by @leslieglewis | The new fall flavors have arrived: Pumpkin with Spiced Pepitas and Apple Cinnamon, and they are delicious. 🍁🍎🍂 #whereisthepumpkinemoji #doughnutplant
If you're looking for a Thanksgiving treat that doesn't involve pie, check out some of the fall-inspired snacks from Doughnut Plant.
This drool-worthy doughnut shop has apple cinnamon doughnuts and pumpkin doughnuts topped with spiced pepitas. It's a funky spin on classic flavors and trust us, these bad boys live up to the hype.
Doughnut Plant has locations throughout the city, including Chelsea, LES, Prospect Heights, and LIC.
---
3. Piecaken — David Burke (Bloomingdale's, 1000 Third Avenue)
dbbloomingdales The #PieCaken is the must have dessert for the holidays! Our festive confectionary creation is now shipping NATIONWIDE or Pick up at @dbbloomingdales in NYC! Order one now before they are gone! Link in Bio.
For the holy grail of Thanksgiving desserts, head to Bloomie's in Midtown and pick up a "Piecaken."
This almighty food frankenfood combines all of your favorite Thanksgiving treats into one epic dessert by stacking together a pumpkin pie, pecan pie, and spice cake, then smothering the whole thing in cinnamon frosting, oat crumble, and apple pie filling.
We're grateful for this ingenuity.
---
4. Salty Honey Pie — Four & Twenty Blackbirds (Brooklyn, Various Locations)
birdsblack Our friends @meatballers are serving up a collab with us this month. Look for the Pie'ce Cream - two minis of our #saltyhoney along with their homemade vanilla ice cream, whipped cream, and a sprinkle of cinnamon. Available at all locations of The Meatball Shop! #eatmorepie #pienot #piepiepie #thebestexcusetoeatpie #minimania #thanksgiving
When it comes to pies, this bakery doesn't mess around. They use locally sourced ingredients to make a variety of next-level Thanksgiving pies like their infamous salty honey pie. Other autumnally-inspired pie flavors include brown butter pumpkin, salted caramel apple, and bittersweet chocolate pecan.
Four & Twenty Blackbirds pies can be picked up from the Pie Counter located at 634 Dean Street in Prospect Heights, the Pie Shop located at 439 3rd Avenue in Gowanus, or the Brooklyn Public Library Cafe located at 10 Grand Army Plaza in Park Slope.
---
5. Autumnal Ice Cream flavors from Oddfellows Ice Cream (East Village & Williamsburg)
oddfellowsnyc 🍂🍁Fall Vibes with @brunchboys 🍂🍁 Flights are available at both shops. . . Chocolate Chunk | Pumpkin S'mores | Cherry Cheesecake | Pecan Pie | Thai Iced Tea | Tres Leches | Scooped by @cjenks609 | 📸 @brunchboys
For a frosty twist on Thanksgiving dessert, check out some of the autumn-inspired ice cream flavors at Oddfellows.
This renowned scoop shop has a rotating selection of Thanksgiving-approved flavors including Pumpkin S'mores, Pecan Pie, and Buttermilk Apple. Plus, a sweet and savory Honey Ham & Pineapple ice cream flavor that's sure to turn heads at the dinner table.
Oddfellows Ice Cream is located at 75 East 4th Street in the East Village and 175 Kent Avenue in Brooklyn.
---
---
6. Pumpkin Pie Cake and Truffles — Milk Bar (Multiple Locations)
milkbarstore do you have your #thanksgiving dessert spread set? not to worry, we're accepting shipping orders until TUESDAY at 2pm.
If you're looking for a modern take on the traditional Turkey Day desserts, make your way over to Milk Bar.
This badass bakery offers a pumpkin pie cake that consists of spiced pumpkin cake layered with graham cracker cheesecake and pumpkin ganache, covered with candied pumpkin seeds and pie crumbs. For a smaller taste, pumpkin pie cake truffles feature the spiced pumpkin cake mixed with pumpkin milk, covered in white chocolate, spiced pie and graham cracker crumbs.
If that's not enough to make you drool, Milk Bar also has a Thanksgiving Croissant, made with "stuffing" flavored bread, house roasted turkey, homemade gravy and cranberry sauce.
---
7. Pumpkin Cheesecake — Eileen's Special Cheesecake (17 Cleveland Place)
michael.hoover So basic... Eileen's makes a mean pumpkin cheesecake, though.
?
For a seasonal spin on a classic New York dessert, stop by Eileen's in Nolita.
This popular bakery serves up a light and fluffy pumpkin cheesecake for Thanksgiving that tastes like pure pumpkin-spiced bliss. If that's not convincing enough, they also crank out mini cheesecakes in a multitude mouthwatering flavors.
---
8. Thanksgiving Pies — Dominique Ansel (Soho & West Village)
dominiqueansel Heading into the homestretch of one of our busiest weeks of the year, Thanksgiving Week. Plenty of pie to go around, both whole pies and by-the-slice here at @DominiqueAnselKitchen, in Soho, and also in #London and #LA. Here's our Bourbon Pecan Pie, loaded with toasted pecans, gooey brown sugar molasses, in a vanilla sablé pie shell, with candied pecans on top. (Last chance for preorders in time for Thanksgiving at dominiqueansel.com for #Soho pick-ups, dominiqueanselkitchen.com for #WestVillage, dominiqueansellondon.com for 🇬🇧, and dominiqueanselLA.col for 😎).
You may know Dominique Ansel as the creator of the almighty cronut, but did you know that this famous bakery also whips up some impressive pies for the holidays?
Dominique Ansel dishes out a variety of traditional Thanksgiving flavors including a silky pumpkin pie, a bourbon pecan pie and a salted caramel apple pie that's sure to be a crowd pleaser.
Dominique Ansel is located at 189 Spring Street in Soho and 137 7th Avenue South in the West Village.
---
9. Maple Pecan Chocolate Dipped Bites — Becky's Bites (122 East 7th Street)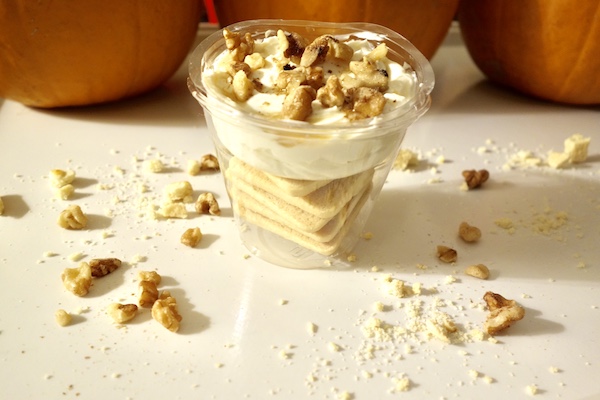 Becky's Bites
For a bite-sized version of your favorite Thanksgiving treats, make your way over to Becky's Bites in the East Village.
In honor of the holiday, they're offering everything from miniature pecan pies, and maple pecan cookie sandwiches to maple pecan chocolate dipped bites. For a spin on a favorite, try a pecan gobbler snack packs with a maple cream cheese dip and shortbread cookie dippers—think an updated version of Dunkaroos!
We love these minis because why should we have to choose between flavors?
---
10. Thanksgiving Cookies - Schmackary's (362 West 45th Street)
schmackarys Your favorite fall collection 💕✨👀
If you're looking for the perfect cookies to complete your Thanksgiving meal, check out Schmackary's in Hell's Kitchen.
This sweet spot is known for cranking out creative cookies in all sorts of fall flavors. There's caramel apple crisp, cranberry dream, pumpkin butterscotch, pumpkin spice, sweet corn and candied yams.
Sounds like a full Thanksgiving meal to us!
Got a hot tip or correction? Drop us a line at tips@spoilednyc.com