Subscribe to spoiled NYC's official newsletter, The Stoop, for the best news, eats, drinks, places to go, and things to do.
It's been an incredibly rough last week of an incredibly rough year.
Oh, your 2016 wasn't that bad?
Well, GOOD FOR YOU, BUD– the rest of us will hopefully just blackout the next 72 hours and wake up in a new, non-sh*tty year. Sounds good?
Hopefully, you've already got NYE weekend plans lined up (even if it's crouching in the bomb shelter you've created, to escape any last minute disasters... we might join you), because New York City is not kind to people who think "We can just barhop!" on the busiest night of the year.
Listen to us– once you find a spot, make that place your home until the ball drops. Also, you're gonna have to pay a cover, suck it up.
If you need more bar ideas, we got you. Oh, and we got you covered with more insane NYE parties.
We'll see y'all next year (we had to, you know we had to)!
---
Friday, December 30th
quotingwes #TheRoyalTenenbaums #WesAnderson
Everyone knows you can't get too wild the night before NYE. The perfect pre-pre-game is this screening of Wes Anderson's The Royal Tenenbaums, at Videology Bar & Cinema.
There's no fun in watching a Wes Anderson movie if you can't point out how peak Wes Anderson certain scenes are, so get ready for Wes Anderson Bingo– complete with '60s Brit Pop, berets, and precocious children.
If this were a drinking game, you'd be dead. Get your tickets here.
---
2. Faith, Freedom & Sex: A Celebration of George Michael
georgemofficial 'Be good to yourself, because nobody else has the power to make you happy...'
We lost many beloved figures during this terrible trash-fire of a year, one of the most beloved being George Michael, who passed away on Christmas.
Celebrate George Michael's music, which has moved many of us to both dance and cry, at Littlefield at 10 p.m. Music and videos will be provided by Brian Blackout of Feeling Gloomy and Stephen Pitalo of Music Video Time Machine.
Purchase your tickets in advance here.
---
3. Gingerbread Village at MOFAD
janbchan Gingerbread project installed! A village of bakeries featuring breads from around the world. Go see it @Mofad thru 1/1! @iccedu #gingerbreadhouse #pastry #pastrychef #newyorkcity #brooklyn

?taken-by=janbchan

If you've never visited the Museum of Food and Drink in Williamsburg, this is your chance. It's the last weekend that their insane gingerbread village, crafted from 20 pounds of gingerbread and 10 pounds of icing, will be on display.

The village was created by the International Culinary Center's head of pastry, Jansen Chan. It depicts teeny, edible bakers from different countries, which produce their traditional breads, such as pretzels from Germany, conchas from Mexico, and Challah from Israel.

Like we said, the village will be taken down after December 31st, you can visit Mofad at 62 Bayard Street. Tickets are $14.
---
Saturday, December 31st
hopeeatsnyc *when u wish u had 2 ☹️* ~chocolate waffle + green tea soft serve w/fruity pebbles, oreo crumbs, rainbow sprinkles, and pocky! ~ 😍🍫🍃🌈🍦
Do NOT go drinking tonight on an empty stomach! Visit Eggloo in Chinatown for buy one, get one free waffles.
They're offering new loaded savory (Pizza with Marinara dipping sauce, Chinese Sausage and Chives, Chicken in Waffles with maple syrup, and Takoyaki with Takoyaki sauce), and sweet (Cookies and Cream, Fruity Pebble, Almond, Red Bean, M&M) options.
---
starr.bar GUERILLA STYLE. TICKETS AT BIT.LY/STARRNYE ⭐️
The neighborhood watering hole, Starr Bar, in Bushwick, is letting you dance your way into 2017 with the all-female band Cumbia, DJ Bembona and Austin Lebrón. Appropriately titled "Phoenix Rising," this bar night encourages you to rise from the ashes of 2016 and spread your wings to a new beginning.
Get to the bar before 10 p.m. to earn yourself an additional free drink before the champagne toast at midnight. Proceeds from this NYE party benefit Mayday Space, which raises funds for social justice initiatives. Grab your ticket here.

---
6. NYE at Eataly (Downtown & Flatiron locations)
depintoj NYC. ❄️️🍾🏙
Head to Downtown Eataly's upscale Osteria della Pace restaurant serving up an indulgent 6-course tasting menu from 5 to 10 p.m. for $145 with an optional wine pairing menu expertly paired by our Executive Chef and beverage team.
Check out the full menu right here, and make your reservation right here. If you haven't been to Eataly Downtown, you're missing out.
Or, go head to Eataly's Flatiron location and ring in the New Year at Baita, their Italian Alps pop-up restaurant that's been taking over Eataly's roof this winter. Climb up to their absurdly cozy mountain ski lodge for a magical evening under the stars and the New York City skyline!
Feast on overflowing buffet stations featuring traditional Alpine fare, while welcoming the New Year with their seriously legit selection of wine, beer, specialty cocktails, and an exclusive Prosecco Bar featuring 10 different wines.
There'll also be a photo booth, a great night on the dance floor, and a final countdown to midnight while enjoying a Prosecco toast, and a bite of their 22-pound (yeah, you read that right) Panettone, with your new Eatalian family! Get your tickets right here!
---
7. The Greatest New Year's Eve Party Ever: F**k 2016
dirtyfinger Yeah basically... FUCK ❷💀❶❻ 3(!) floors of FUN while we END this ish... also there's a BALL PIT drop at midnight, wut?! @bkbazaar @titus_ndronicus @cousincole @dirtyfinger @mariobeedj @datrixta +++ @greatest_new_years_party_ever https://www.facebook.com/events/237838573303179/ - #nye2017 #djdirtyfinger #brooklynbazaar #fuck2016 #cousincole #djmichaelt #highwaistedband #titusandronicus #djmariobee #greenpointbrooklyn #fbp
It's commonly accepted that 2016 was just the worst. So come send it off with a 'good riddance' and a flip of the bird at The Greatest New Year's Eve Party Ever: F**K 2016, hosted by the Brooklyn Bazaar. Indie bands Titus Andronicus, High Waisted and Toys in Trouble star as the night's musical guests.
You're encouraged to bring your worst 2016 memory on a piece of paper, tear it up in their shredder and watch as everyone's woes become a confetti explosion at midnight. Other fun features are an adult-size ball pit, jumbo see-saws and their party game classic, Pin The Blame On The Politician!
You can get $40 advance tickets into all three of their floors full of festivity, as well as $80 VIP spots, or just pay $50 at the door.
---
8. RITUAL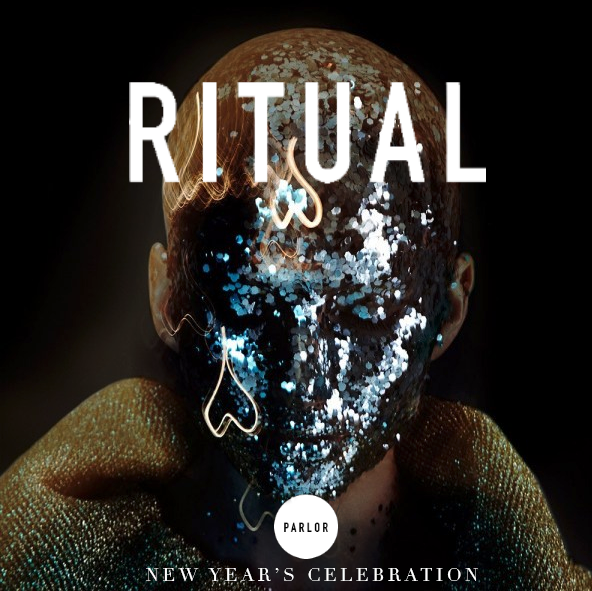 Step into a modern masquerade ball with Parlor for your last day of 2016 at Ritual, a masked black tie affair that's executed in four movements: Indulgence, Libation, Anticipation and Revelry, each offering a unique experience for a sublime New Year's Eve.
The evening starts off with a refined full-course dinner curated by the genius palates of Chef Matt Rojas (Eleven Madison Park, Rouge et Blanc) and Pastry Chef Brian Yurko (The Clocktower).
Enjoy carefully crafted cocktails and delicious champagne rounds crafted and curated by Salvatore Tafuri (Top of the Standard) and master sommelier Jared Fischer (Le Bernardin), respectively, all while dancing the hours before midnight to the beats of DJ MAAD.
A NYE champagne toasts gives way to pumping sets by DJ Dorian Duvall along with dance performances from the members of the House of Ninja.

Tickets run between $120 for the open bar up through $200 for the full dinner package if you reserve your spot early. Get into it.
---
Sunday, January 1st
9. Coney Island Polar Bear New Years Day Plunge
craftychrisi Its 50 degrees out and I'm cold (despite the fuzzy  blanket I'm lounging under), but I'm still taking the PLUNGE on January 1st for Camp Sunshine!!! Camp Sunshine is a retreat in Maine, for children with life threatening illnesses and their families.  Please help me by making a donation! No donation is too small! All funds raised go directly Camp Sunshine. Click the link in my bio or copy the URL below to donate. Thank you, Happy Holidays and Happy New year!!! http://events.campsunshine.org/site/TR?px=1046082&pg=personal&fr_id=1352&et=c-FtSdgaIDrCp4F9nJZbXw #coneyisland #coneyislandpolarbears #polarbearplunge #campsunshine #campme #donate #pleasedonate #fundraiser
We're pretty sure there isn't anything that'll kill your NYE hangover faster than a refreshing dip at the Coney Island Beach (god bless). Donations will go towards Camp Sunshine, a retreat in Casco, Maine for kids with life threatening illnesses, and their families.
The plunge begins at 1 p.m. (make a minimum $40 donation for entry into the earliest wave!), but they recommend arriving no later than 12 noon for registration. There is no fee for swimmers or observers, but you can also register or form a team here.
There will be a post dip celebration at the Coney Island Brewing Company and Peggy O'Neill's bar; $2 of every Coney Island Beer sold will also be donated to Camp Sunshine.
---
metrographnyc And this Carrie, too #whenharrymetsally #personalgrowth 💔
Need a little less intense way to nurse your hangover?
If you, can drag yourself out of bed, cozy up at Syndicated at 6 p.m. for a screening of the bonafide classic, When Harry Met Sally. We expect you to bawl whenever Carrie Fisher shows up on screen, because you can bet we certainly will.
Don't forget to pick up your tickets here.
Got a hot tip or correction? Drop us a line at tips@spoilednyc.com